Last December I told you about another egg preservation technique I was trying, liming (see "More on Egg Preservation: Liming"). This is said to be one of the most successful methods of egg preservation in terms of longevity. But I have also read that the eggs develop a "limey" taste which didn't appeal to me. Even so, I thought I'd give it a try and told you that from time to time I'd report on how they were doing.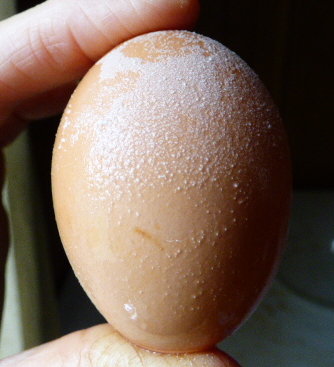 Eggs stored in lime water get a light coating of lime.
It is easily rinsed off, but perhaps this contributes
to the "limey" flavor people complain about.
So the eggs have been in a crock in my pantry, submerged in lime water. I've used them twice, now, for omelets. I didn't mention to Dan that I was using them, but each time you'd never know I was using anything different than fresh or refrigerated eggs.
Like the waterglassed eggs, I find the whites get a bit thin, but the quality hasn't suffered so far.
Because I'm so far south, I don't really need to preserve a lot of eggs. We may only have several weeks to a month at the most when the chickens are molting and we get no eggs. This is probably just as well, because it also means my unheated pantry doesn't stay cold enough for true long-term storage. Even so I always seem to preserve way more eggs than I need (I've still got about four dozen in the freezer as well.) I figure the year I don't preserve many eggs will probably be the year I need them!
Source:
http://www.5acresandadream.com/2017/03/a-quick-update-on-limed-eggs.html