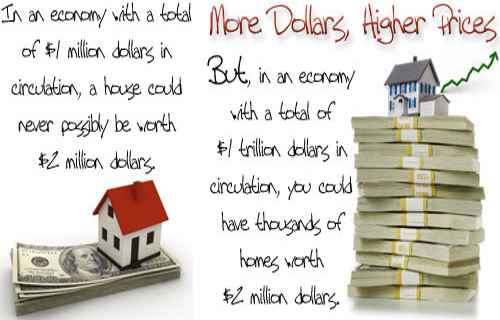 This is a tough topic, because people either don't won't to believe it or are not capable because they lack the knowledge to comprehend what is being said. When you understand that our country can only operate based on debt/credit, not physical dollars, you finally see that the USA is a huge Ponzi scheme built on nothing more that our ability to borrow money. Our status as the world reserve currency has allowed us to borrow money that we do not have.
The government says that there are 10 trillion dollars sitting in the US Banking system that we can go and easily withdrawal. How can that be true when there only exists 1.4 trillion of real money in circulation (dollars and coins) and more than one half of that is outside the US. This doesn't include the 10s of trillions more that we owe other countries that have purchased our debt. If our creditors were to all come and ask for their money at one time there would be less than $1 dollar for every $1000 dollars owed. The world economy collapses. All Great empires based on fiat currencies end in this way. People I talk to like my wife and friends have no clue what is coming. This is a long video and I have edited it to half of its original length. It is the single most logical and credible documentary I have ever watched on the future of the US economy. It makes be sick that the Fed decided to bailout the corrupt bankers instead of the US citizens. Instead of bailing out the banks, the Fed could have paid off every consumer debt in the country and freed up trillions of dollars for the consumer. Instead they padded the pockets of the banking elite. I wanted to puke. Now they are setting things up to try one last historic cash grab. Driving the stock market to all time highs so then can short the hell out of it. I think Trump will snuff if he is not assassinated first.
People do not want to acknowledge that the fall of fiat currencies is nothing new and that the US has made it this far ONLY because we are the default reserve currency of the world. There have been 440 economies based on fiat currencies in modern history…. They have all come to the same demise, FAILURE. Having an education in Engineering with a minor in mathematics I do not believe that the US is exempt from the natural laws of economics. Please watch the video and prepare as you deem appropriate. You may want to research "normalcy bias"; it explains why people have a hard time excepting the true outcome of a situation that has played out the same way again and again throughout history. I keep hearing from my friends and family that the US is different. That is true. The US is in much deeper shit than any country in history. If you doubt that watch the entire video. You cannot deny the logic!!
The U.S. economy had been living on borrowed money for a long time. The financial crisis scared businesses and families. That's why growth in this recovery is slower than in prior ones. You are witnessing a gradual deleveraging. It will continue for some time. In the United States, Europe, and Japan, it's aggravated by demographics. These countries have aging populations. Seniors don't need to spend as much on housing, cars, and furniture as young people starting a family. But this deleveraging is unlikely to be enough to cause a worldwide depression. That's thanks to growth in China, India, and other emerging-market countries that have excess cash reserves and younger populations.
If the United States had an economic downturn on the scale of the Great Depression of 1929, your life would change dramatically. One out of every four people you know would lose their job. That's because the unemployment rate would quintuplet from its current rate of 5 percent to 25 percent.
Economic output would plummet 25 percent. That means Gross Domestic Product (GDP) would fall from its current $18 trillion level to $13.5 trillion.
Many economists believe that the biggest economic crisis of all times is still on its way. This award winning film opens our eyes to what is really going on globally when it comes to the financial situation.
The story began on September 11, 2001 when the terrorists struck down the World Trade Center towers. They knew exactly what they were doing by attacking the very symbol of the global economy. Their timing was also well thought out; the Dotcom bubble had burst and the United States was already slumping slowly into a recession.
The Great Depression of 1929 was a worldwide economic depression that lasted for 10 years. Its kickoff was "Black Thursday," October 24, 1929. That's when traders sold 12.9 million shares of stock in one day. It was triple the usual amount. Over the next four days, stock prices fell 23 percent. That's called the stock market crash of 1929. For more, see When Did the Great Depression Start?
During the Depression, half of the nation's banks failed. In the first 10 months of 1930 alone, 744 failed. That was 1,000 percent more than the annual rate in the 1920s. By 1933, 4,000 banks had failed. As a result, depositors lost $140 billion. (Source: "Bank Failures," Living History Farm.)
People were stunned to find out that banks had used their deposits to invest in the stock market, so they rushed to take their money out of the bank. These bank "runs" forced even good banks out of business. Fortunately, that rarely happens anymore. Depositors are protected by the Federal Deposit Insurance Corporation, a program created during the New Deal.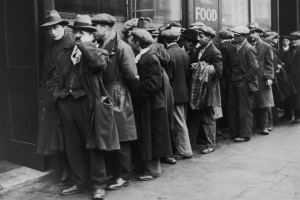 The Depression caused many farmers to lose their farms. At the same time, years of overcultivation and a drought created the "Dust Bowl" in the Midwest. It ended agriculture in a previously fertile region. Thousands of these farmers and other unemployed workers looked for work in California.
Many ended up living as homeless "hobos." Others moved to shantytowns called "Hoovervilles," named after then-President Herbert Hoover. For more, see Timeline of the Great Depression.
What Will Happen If the US Economy Collapses?
If the U.S. economy collapses, you will not have access to credit.
Banks will close. That means high demand, and low supply, of food, gas and other necessities. If the collapse affects local governments and utilities, then water and electricity will no longer be available. As people panic, self-defense becomes more important. The economy quickly reverts to a traditional economy, where those who grow food barter for other services.
A U.S. economic collapse would create global panic. Demand for the dollar, and U.S. Treasuries, would plummet. Interest rates would skyrocket Investors would rush to other currencies, such as the yuan, euro, or even gold. It would create not just inflation, but hyperinflation as the dollar became dirt cheap.
RELATED : Canning Your Own Meat Is A Skill You Need To Have
How to Prepare for a Collapse
It's difficult to completely protect yourself from a U.S. economic collapse because it can happen very quickly. In most catastrophes, people survive through their knowledge, wits and by helping each other out. Therefore, make sure you understand basic economic concepts so you can see warning signs of instability. For more, see What Not to Do in a Stock Market Crash.
Second, keep as many assets as liquid as possible, so you can withdraw them within a week. In addition to your regular job, make sure you have skills that you'd need in a traditional economy, such as farming, cooking, or repair. Make sure your passport is current, and you know where you would go, in case you'd need to quickly leave the country.
These elitists plan to ride out the coming American apocalypse in style while the world above them is literally going insane.
Meanwhile, most of the general population continues to be completely oblivious to what is about to happen to them, and so the events that are coming will close upon them suddenly like a trap and there will be no escape.
Survival Food Prepping Ideas/ULTIMATE Top Skills 2017
Discover how to survive: Most complete survival tactics, tips, skills and ideas like how to make pemmican, snow shoes, knives, soap, beer, smoke houses, bullets, survival bread, water wheels, herbal poultices, Indian round houses, root cellars, primitive navigation, and much more at: The Lost Ways
The Lost Ways is a far-reaching book with chapters ranging from simple things like making tasty bark-bread-like people did when there was no food-to building a traditional backyard smokehouse… and many, many, many more!
Here's just a glimpse of what you'll find in The Lost Ways:
From Ruff Simons, an old west history expert and former deputy, you'll learn the techniques and methods used by the wise sheriffs from the frontiers to defend an entire village despite being outnumbered and outgunned by gangs of robbers and bandits, and how you can use their wisdom to defend your home against looters when you'll be surrounded.
Native American ERIK BAINBRIDGE – who took part in the reconstruction of the native village of Kule Loklo in California, will show you how Native Americans build the subterranean roundhouse, an underground house that today will serve you as a storm shelter, a perfectly camouflaged hideout, or a bunker. It can easily shelter three to four families, so how will you feel if, when all hell breaks loose, you'll be able to call all your loved ones and offer them guidance and shelter? Besides that, the subterranean roundhouse makes an awesome root cellar where you can keep all your food and water reserves year-round.
From Shannon Azares you'll learn how sailors from the XVII century preserved water in their ships for months on end, even years and how you can use this method to preserve clean water for your family cost-free.
Mike Searson – who is a Firearm and Old West history expert – will show you what to do when there is no more ammo to be had, how people who wandered the West managed to hunt eight deer with six bullets, and why their supply of ammo never ran out. Remember the panic buying in the first half of 2013? That was nothing compared to what's going to precede the collapse.
From Susan Morrow, an ex-science teacher and chemist, you'll master "The Art of Poultice." She says, "If you really explore the ingredients from which our forefathers made poultices, you'll be totally surprised by the similarities with modern medicines." Well…how would you feel in a crisis to be the only one from the group knowledgeable about this lost skill? When there are no more antibiotics, people will turn to you to save their ill children's lives.
If you liked our video tutorial on how to make Pemmican, then you'll love this: I will show you how to make another superfood that our troops were using in the Independence war, and even George Washington ate on several occasions. This food never goes bad. And I'm not talking about honey or vinegar. I'm talking about real food! The awesome part is that you can make this food in just 10 minutes and I'm pretty sure that you already have the ingredients in your house right now.
Really, this is all just a peek.
The Lost Ways is a far–reaching book with chapters ranging from simple things like making tasty bark-bread-like people did when there was no food-to building a traditional backyard smokehouse… and many, many, many more!
SOURCE : http://www.prepperfortress.com/get-prepped-for-global-systemic-collapse-banks-will-crashcurrency-wont-exist/