With our recent bout of spring-like weather I switched the hoop house to shade cloth.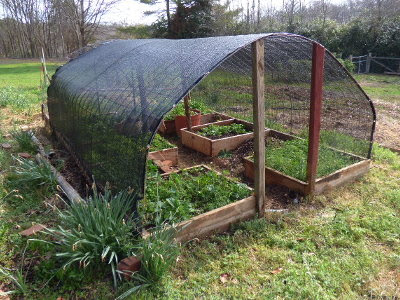 The setting sun comes in this side so I'll need one more piece to shade it.
Our chances of frost decrease to less than 50% by mid-April, so soon it will be time to plant warm weather veggies.
I've never used shade cloth before so this is something of an experiment for me.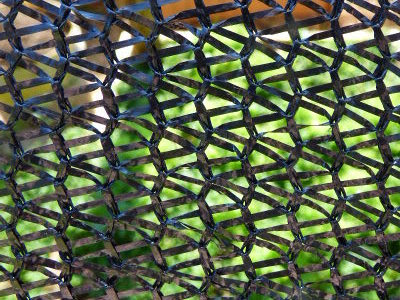 Shade cloth is knitted (or woven) polyethylene fabric.
This one by Agfabric gives 60% blockage of the sun.
Because of that I didn't choose a particularly expensive brand. It's a 60% cloth with grommets to tie it to the structure. Of course I had help.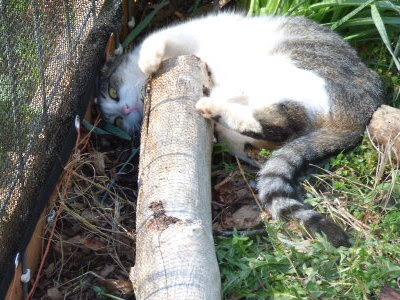 Meowy, log wrestling.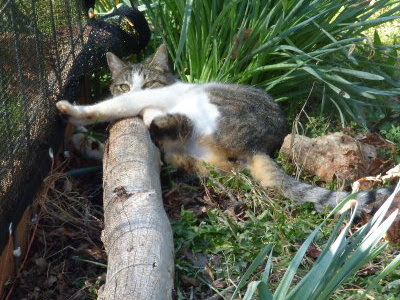 Hopefully I can extend the life of our salad garden so that we can enjoy fresh green salads for longer into the summer than we're usually able.
While I worked I reflected on the hoop house and it's usefulness. In the eight winters we've been here we've had two that were terribly cold and garden unfriendly. Then we've had a few that were extremely mild so that the winter garden was highly productive. Mostly the temperatures fluctuate from below freezing at night to above freezing during the day. This is tolerable for most cool weather vegetables, so a protected growing area is only occasionally necessary. It's just that I never know beforehand if any particular winter will need it.
This winter was unusual in that it was either mild or cold with less daily fluctuation than usual. The poly cover protected from frost but not freezing temperatures, although everything growing in the hoop house bounced back nicely. When we had our warm spells, however, the hoop house trapped the heat and was too hot to keep cool weather plants happy. I had to roll up the plastic and open the door to vent it. Even so, my arugula bolted in February!
My other concern was how quickly the raised beds dried out. Of course the poly cover kept out the rain, but with warm days and drying winds, it seemed like I had to water every day. I suppose the extra work ought to be worth all those salads we've gotten, but still, it's got me wondering if this was the best option and the best set-up for us.
No conclusions have been reached; I'm just recording my thoughts and observations. And I'm curious about your experiences with growing in a hoop house or poly tunnel. Has it gone well? Have you had problems? How have you solved them? What are your best tips? Care to share?
Source:
http://www.5acresandadream.com/2017/03/shade-cloth-thoughts-on-hoop-house.html