Latest post from MARKSVEGPLOT – a blog about food and gardening in England"
As I said the other day that I was going to do, I have now planted out my clumps of "Long Red Florence" onions.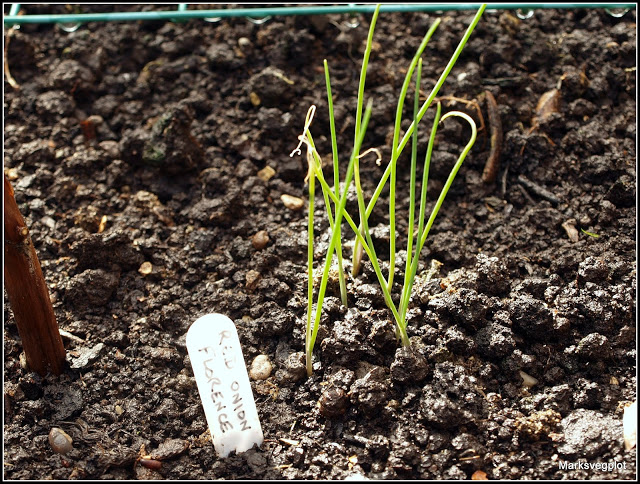 Onion "Long Red Florence"
Each clump contains about four seedlings.
In my usual fashion I have not planted them ALL at once. I had 9 pots, but I have only planted 6. I'll keep the others in reserve (under cover when necessary) until I'm sure that the 6 have established themselves successfully.
The sticks are there to dissuade animals from digging up the onions, and the green metal grilles (shelves from my mini greenhouses) are to deny cats the opportunity to use the vacant space as a toilet!
In due course the vacant space under the grilles will be filled with a row of Leeks. I think the Leeks could do with being a little bit bigger before I plant them out. I'll probably leave them another 10 days or so.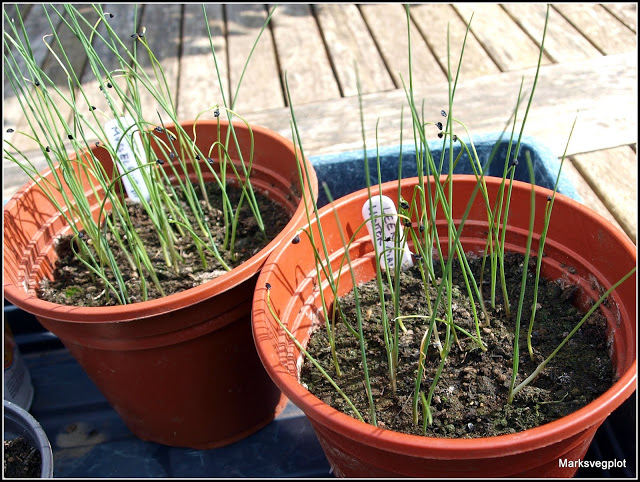 Leeks "Musselburgh" and "Winter Giant"
I'm progressively thinning them, discarding the weaker ones, because I will only have space for about 15 or so. When I do plant them, I'll be emulating the technique seen here. The young Leeks are just dropped into holes about 6 inches deep, spaced about 6 inches apart. They are watered in, but the holes are not backfilled.
To read more articles like this, on Gardening and Gastronomy, please visit * http://marksvegplot.blogspot.com/ *
Source:
http://marksvegplot.blogspot.com/2017/04/planting-onions.html