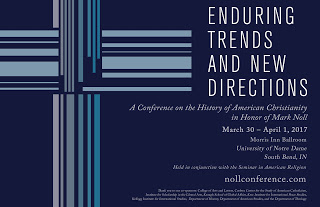 [Good morning! This month the Cushwa Center has invited James Strasburg and Jonathan Riddle to post a preview of the upcoming conference "Enduring Trends and New Directions: A Conference on the History of American Christianity In Honor of Mark Noll." Strasburg and Riddle are the co-chairs of Mark Noll's retirement conference and are also PhD candidates at the University of Notre Dame working under Noll's direction. Below the jump, their post includes information about the (free!) conference, as well as a brief interview with Noll himself. Hope to see you there!]

James Strasburg and Jonathan Riddle (with special interview guest Mark Noll)




At the end of the 2015-2016 academic year, Mark Noll retired from the University of Notre Dame. The end of his tenure as professor marks the end of era. To mark the occasion, this spring the University of Notre Dame will host a conference on the history of American Christianity in Noll's honor, entitled "Enduring Trends and New Directions." The conference begins on Thursday, March 30, and continues through Saturday, April 1.
True to form, Noll insisted that the conference be about the history itself, not the historian. He was especially eager to give younger scholars, including his students, an opportunity to present their work in progress. To that end, the conference will feature four panels showcasing new work in the history of American Christianity. The University Notre Dame, where Noll spent the last ten years teaching and advising, will be especially represented in these panels.
Yet the conference will also serve as an occasion to reflect on Noll's career and the influence of his scholarship. Students and colleagues from various stages of Noll's career will share personal reflections, John Wilson will host an interview with Noll during lunch on Friday, and Noll himself will deliver remarks at the Friday evening banquet. Further, two roundtables will be devoted to more reflective, retrospective conversation. The first will check in on the state of "the evangelical mind," while the second will examine the role of grand narratives in the history of American Christianity.
The conference coincides with and includes the Seminar in American Religion, hosted each semester by the Cushwa Center for the Study of American Catholicism. This semester, Laurie Maffly-Kipp and Thomas Bender will respond to John T. McGreevy's latest book, American Jesuits and the World: How an Embattled Religious Order Made Modern Catholicism Global (Princeton, 2016).
For the full conference program, and to register (for free), visit nollconference.com. The deadline to register is March 15.
To preview the conversations we'll be having at the conference, we asked Noll a few retrospective and forward-looking questions. For more along these lines, join us at the conference!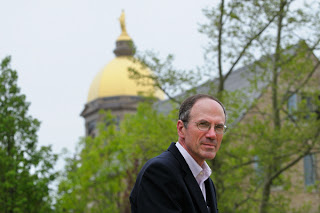 Mark Noll (Photo courtesy William Koechling)
JS & JR: Now that you've retired from the University of Notre Dame, what will you miss most about being a professor? What are you most looking forward to in retirement?
MN: I certainly will miss the regular interchange with graduate students that has been a real highlight of my time at Notre Dame. Regular contact with faculty colleagues will also be missed. I will not miss most committee work, though occasionally the chance to work on important issues (like graduate student admissions) was very meaningful. In retirement, I hope to be able to keep writing, with one book pretty clear in my mind how it should go, but also a few others less clearly foreseen. I also welcome the chance to spend more time with family, both in the Chicago area and in the far-flung places our children and grandchildren now inhabit, and also to feel a little freer in helping out church and philanthropic tasks.
JS & JR: What are a few of the most significant changes in the writing of American religious history that you've witnessed during your career?
MN: In the early 1970s Sydney Ahlstrom published his landmark survey, A Religious History of the American People, a splendid book that dwelt almost entirely on the history of Christian movements (and among Christian movements primarily Protestant, and among Protestant primarily proprietary Protestants). Over the past half-century, "American religious history" can no longer be considered synonymous with the history of Christianity in the United States. The main reason I describe myself as a "historian of Christianity" is to indicate my desire to continue on in the Ahlstrom trajectory, but now with what has become the need for more truth in advertising. "American religious history" has been greatly enriched in recent decades by contributions from many of the social sciences and by recognizing that the United States is now home to non-Christian traditions, and to traditions of no religion, that deserve serious consideration as historical subjects. For myself, as someone greatly interested in the history of Christian theology, Christian intellectual life, and Christian organizational development, I do not resent "religious history" or "pluralistic American religion," for I regard these fields as supplementary or complementary to my own work. But I do think the need to make such distinctions has become necessary.
The leaders of "American religious history" when I came on the scene were mostly seminary-trained men associated with research university divinity schools (i.e., Ahlstrom, Handy, Marty), with exceptions like William McLoughlin and Ed Gaustad. Now divinity-school training and divinity school-location have become less common.
Another set of great changes concerns the ever-increasing quantity of high quality publication in American religious history and the overlapping domains of the history of Christianity in the U.S. (Not as much, regrettably, has taken place in the awareness of U.S. historians concerning the significant parallel histories of religion/Christianity in Canada and Mexico, which also inhabit "America.") Attention to groups that once looked marginal—both Christian and non-Christian—is also much more obvious. It probably goes without saying that I'm delighted with the great surge in excellent publication on African American churches, Pentecostal and evangelical white Protestants, Catholics of all varieties, and more.
JS & JR: What would you say are the exciting new trends in the field?
MN: I'm looking forward to the conference to see what those are!
A Group Blog on American Religious History and Culture
Source:
http://usreligion.blogspot.com/2017/02/enduring-trends-and-new-directions.html