Story Views


Now:
Last Hour:
Last 24 Hours:
Total:
A Shamanic Perspective of Life's Purpose
Monday, March 6, 2017 5:22
% of readers think this story is Fact. Add your two cents.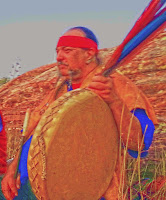 Jade Wah'oo Grigori
by Jade Wah'oo Grigori
The Shamanic perspective of life's purpose is radically different than the psychotherapeutic or metaphysical way of looking at things.
Try this on…
I would bet that you look at life as being a school, a place in which you are here to learn? Correct? Let's say you were going to a University in order to learn something, a particular skill set. You ace the tests, get your diploma, yada yada. The U offers the exact same class next year. So do you repeat the class? No, of course not! You got what you went there to learn, so you are outta there! Next example: Maybe you have, or know someone who has gone into a relationship in order to learn…to learn how to share, to be giving, accepting…whatever. What invariably happens to that relationship once you have 'gotten' what you went in to it to learn? Yep…it is over. You got what you went to learn, so it no longer serves a purpose.
Ok, now the biggie…stay with my logic of examples… Do you hold that you are here in this life to learn? If so, What? "I am here in this life to learn ______." Fill in the blank, it matters not with what…compassion, acceptance, finding your true self…whatever. Now…what will happen once you learn that? (Stick with the flow of examples/logic progression I provided!) That's right, you are outta here. And what does 'outta here' in regards of life equate with? Yep…death.
Shamanic drumming is considered one of the oldest methods for healing and accessing inner wisdom. The Shamanic Drumming Blog is an online journal devoted to news, events and commentary related to shamanic healing, music and arts. http://shamanicdrumming.blogspot.com/
Source:
http://shamanicdrumming.blogspot.com/2017/03/a-shamanic-perspective-of-lifes-purpose.html