(Minghui.org) Over the past several weeks, Falun Dafa practitioners in Europe have held various activities to raise public awareness of the nearly 18-year persecution of Falun Dafa (also known as Falun Gong) in China. People throughout Europe have shown their support for Dafa by signing petitions calling for an end to the persecution, especially the Chinese regime's crimes of forced organ harvesting from prisoners of conscience. Below are photo reports from recent awareness-raising activities in Stockholm, Bucharest, Cologne and Helsinki.
Stockholm, Sweden
The Konserthuset (Stockholm Concert Hall), next to the central train station, is a popular location in Stockholm that is visited by tourists and residents alike. Local practitioners held a Falun Dafa Information Day event last week outside the concert hall.
The practitioners set up display boards to introduce Dafa and provide information about the brutal persecution that has lasted for nearly 18 years. They also demonstrated the exercises and handed out flyers to people who wanted to learn more.
Stunned by the brutality of the persecution, especially the state-sanctioned forced organ harvesting of persecuted Falun Dafa practitioners and other prisoners of conscience, many passersby signed the petition to condemn this atrocity.
Demonstrating the Falun Gong exercises near the Konserthuset in Stockholm.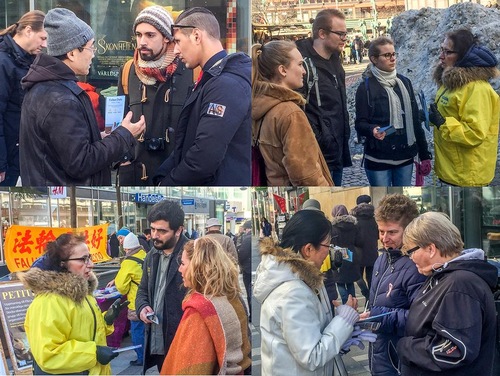 Talking to people about the persecution of Falun Dafa in China.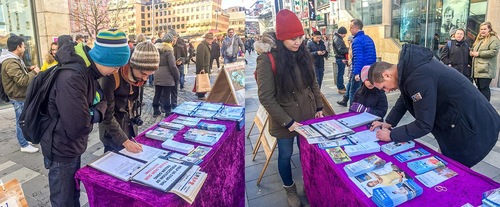 Many people signed the petition to show support for practitioners' peaceful resistance to the persecution.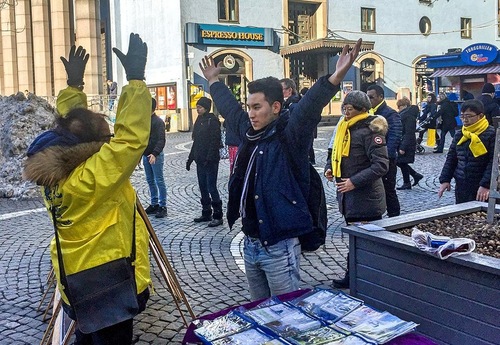 A tourist (left) learns the exercises.
Ahmed, a Chinese-American, read the flyer and talked to practitioners for a long time.
"I had wrong understandings of Falun Gong. I thought you guys were involved in politics, and I didn't like you. Today, I realize I was wrong. Falun Gong is great. I will read more about it on the internet. I am now very interested in it," he said, before signing the petition.
Two young Swedish men, both journalists, could not believe that the Chinese government harvests organs from living practitioners.
They talked to each other about what they could do to help, and decided to produce a radio show to expose this crime.
A father and his daughter carefully read all the display boards. The father said, "The communist party should not exist. No communist country is good. They did nothing good. I believe that the communist party will crash soon. This is why I'm urging my daughter to learn Chinese—I believe that China without the communist party will be the best."
Bucharest, Romania
Practitioners in Romania held a similar event at Statuia Lupoaicei, a busy location in downtown Bucharest, on March 5.
Tourists at Statuia Lupoaicei sign a petition calling for an end to the persecution of Falun Gong in China.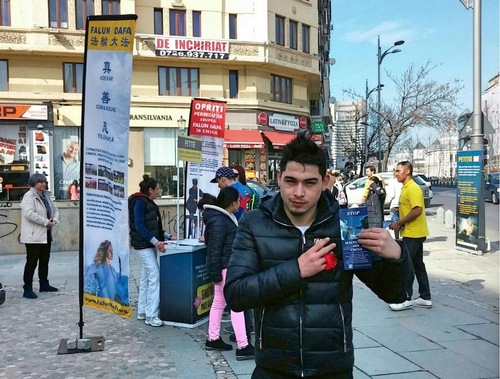 This young man lived in China for nine years. He expressed his support for Falun Dafa practitioners' peaceful resistance to the persecution.
Cologne, Germany
Practitioners in Cologne, Germany, often set up a booth outside the Cologne Cathedral, talking with tourists about the persecution and collecting signatures on a petition calling for an end to the atrocities. The following pictures were taken during such an event on March 4.
Helsinki, Finland
Falun Dafa practitioners in Helsinki participated a local health expo, the Joogafestival, on February 25 and 26. They introduced this ancient cultivation practice to visitors from all walks of life, including businessmen, priests, musicians, artists, and college students.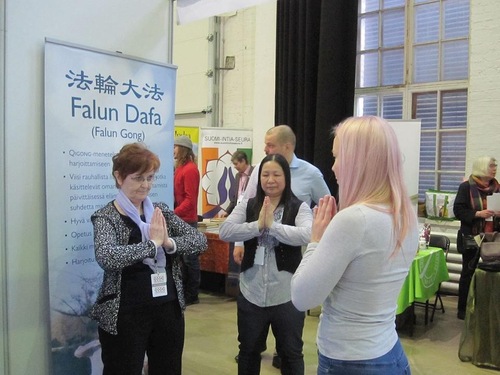 Many people stopped by the practitioners' booth and learned the exercises.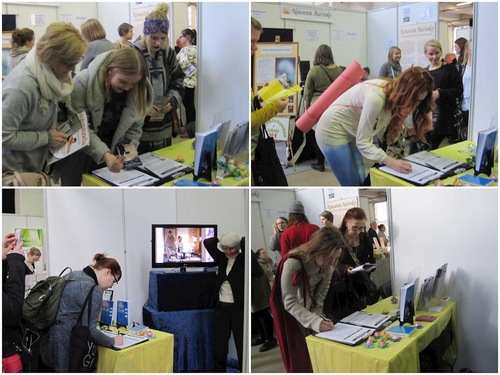 Visitors to the Helsinki health expo sign the petition calling for an end to the forced organ harvesting crimes in China.