(Minghui.org) Falun Gong practitioners from Gothenburg, Sweden participated in a health expo in Skövde on March 11, 2017. Skövde, is located about 150 km northeast of Gothenburg, in central-Southern Sweden, and is a rapidly developing city. The health expo provided an opportunity for many people to learn about the benefits of Falun Gong.
Many visitors paused at the Falun Gong booth after hearing the melodious exercise music and watching the practitioners' exercise demonstration. A number of people asked for more information about Falun Gong. Practitioners explained that it is an ancient spiritual discipline from China that offers great health, mental, and spiritual benefits. They also discussed how the practice has been persecuted by the Chinese Communist Party (CCP) since 1999.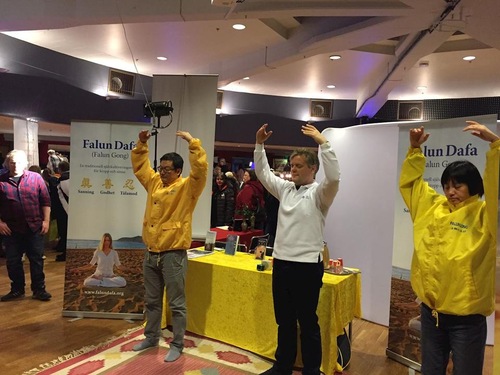 Falun Gong practitioners demonstrate the exercises at a health expo in Skövde.
Many visitors were astonished to learn that such a peaceful practice is so brutally persecuted in China. One woman said emotionally, after learning about the persecution of Falun Gong, "It is horrible that people in China cannot enjoy the freedoms of Swedish people." Quite a few visitors signed a petition calling for an end to the persecution.
Several visitors showed particular interest in Falun Gong and learned the exercises during the expo.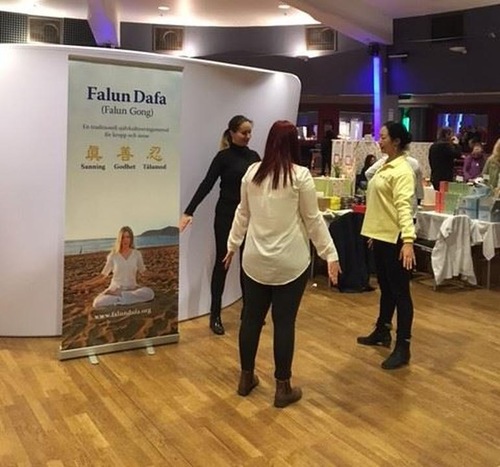 Visitors learn the Falun Gong exercises.
The event host arranged a separate room for people to learn the Falun Gong exercises. The room was full, as so many visitors wished to experience the exercises.
Another woman asked about locations of Falun Gong practice sites in Sweden. She has relatives in Gothenburg and was pleased to find out that there is a practice site in that city. She said, "I will introduce Falun Gong to them at our next gathering there, and we'll go to the practice site together."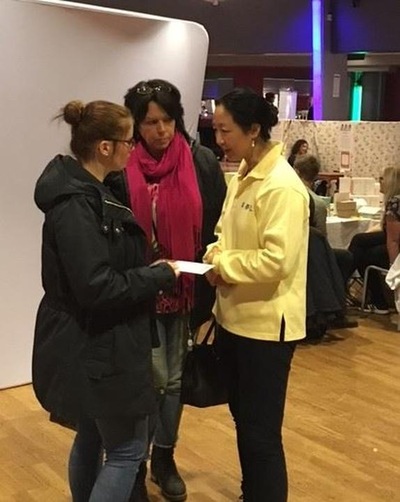 A practitioner discusses the CCP's persecution of Falun Gong with expo visitors.
A visitor from Borås was happy to learn that there is a practice site in her city, and made plans to join the practitioners there.
Several of the other exhibitors at the expo also stopped by the Falun Gong booth to learn about the practice. One exhibitor said he'd met Falun Gong practitioners in another city a few years ago. He was pleased to find practitioners at the Skövde health expo and greeted them warmly like old friends. Several visitors and exhibitors commented that Falun Gong brought a sense of peace to the expo and said that they'd benefited from the practitioners' participation.
Website Link: http://en.minghui.org/html/articles/2017/3/19/162544p.html