The Hidden Legacy in Bewitched & Beloved (Banner designed by Dar Albert©)
Hello!
Book 6 of the Legacy of Magick series is about to be released in a fantastic series crossover book entitled "Bewitched & Beloved" by me and my friend, Bestselling author Barbara Devlin.
Barbara and I had so much fun doing this crossover book. Wait until you see how we combined her historical series, and my paranormal contemporary series.
Pirates, Witches, enchanted heirlooms, sexy scoundrels, sassy women, and romance. What's not to love?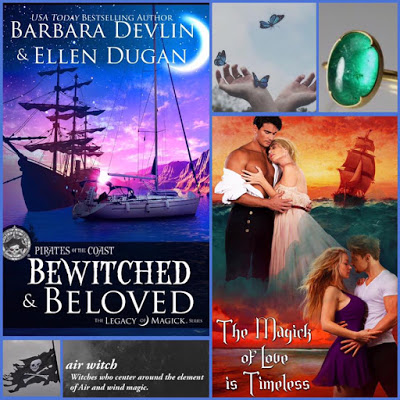 Bewitched & Beloved by Barbara Devlin & Ellen Dugan.
Story board featuring front and back cover art.©
From USA Today bestselling, Amazon All-Star Author Barbara Devlin and award-winning author Ellen Dugan comes a crossover event of two beloved series: The Pirates of the Coast and The Legacy of Magick.

The magick of love is timeless…

A ROMANCE FROM THE PAST
THE BUCCANEER
Armed with magickal gifts, Francie Osborne is a housekeeper by day and a witch by night. Ex-pirate Cager Tyne remains a conqueror, seeking something to soothe his restless soul. What happens when a brazen buccaneer develops a taste for virgin flesh?

A CONTEMPORARY LOVE AFFAIR FATED BY HISTORY
THE HIDDEN LEGACY
What could possibly go wrong when Hannah Osborne Pogue, a modern Witch sworn to keep her magickal legacy hidden from outsiders, and Detective Henry Walker, a charming southern scoundrel fall for each other? Just about everything under the moon and stars.

Bewitched & Beloved will be available on Kindle, iBooks, Kobo, Barnes & Noble and as a paperback. I had so much fun writing Hannah and Henry's story. I can't wait for you to meet them!
Here is the link to order your Kindle copy for only .99 cents right now. Bewitched & Beloved

iBooks: http://apple.co/2jBIV0q
B & N: http://bit.ly/2knsupe
Kobo: http://bit.ly/2jnTkcw
Happy Spring! Ellen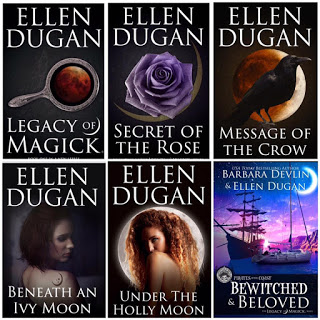 The Legacy Of Magick series by Ellen Dugan Books 1-6
Available on Kindle, Nook, and in paperback
For more information about the author's books and tour schedule, please visit Ellen Dugan's website at www.ellendugan.com
Source:
http://ellendugan.blogspot.com/2017/03/the-legacy-of-magick-series-continues.html