Tonight: The Braves meet the Pirates for round two at 7:05 in PNC Park. The game will be aired by 93.7 The Fan; no TV as the Pens bumped the Bucs. If you're attending, get there early: the first 20,000 fans get the Francisco Cervelli "That's Amore" Singing Bobblehead. And it will be typically early April weather – mid fifties at game time dropping to the mid-forties; no need for bonfires or down jackets.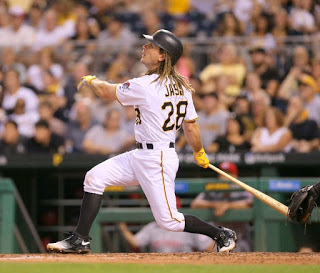 John Jaso gets tonight's start (photo Pittsburgh Pirates)
Lineup: Adam Frazier 2B, Starling Marte CF, Cutch RF, Gregory Polanco LF, John Jaso 1B, Fran Cervelli C, Josh Harrison 3B, Jordy Mercer & Chad Kuhl P. Kind of a mashed-up unit; we think Clint is going to be trading lineup pieces all year. Fraze in, Freeser out (tho he may be feeling the effects of a ball played off his chest yesterday); JJ in, Josh Bell out…at least the schedule has fallen in place so Fran can get steady work. Hopefully, the Amore Kid can avoid any major bumps and bruises this year.
Pitchers: Tonight is one of those always interesting young gun/wily vet matchups. Chad Kuhl gets his first start of the campaign after being rained out in Beantown. Cool Chad slashed 5-4/4.20 in 14 starts last year and was the favorite to land in the four-hole of the rotation this year. A solid spring (WHIP 1.02 but ERA of 4.30 thx to a couple of dingers) was enough to hold that slot. He needs to control his fire (think Gerrit Cole) and work down in the zone a little more. The well-traveled Dickey has spent the last four campaigns in the AL with Toronto, where he was a solid innings eater. RA signed a free agent deal with Atlanta in the winter after being bumped from the Jays' rotation by Frankie Liriano. The 42-year-old RH knuckleballer does have a Cy Young to his credit (2012). As a former Met, he's seen the Bucs before (3-2/2.55 in eight appearances) but not since 2014. RA hasn't had much help at PNC Park – he's given up more unearned runs (4) than earned (3) in his three starts (21 IP) here.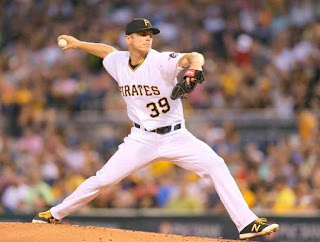 Cool Chad gets his first start of the year (photo Dave Arrigo/Pirates)
Notes:
Yesterday was the fourth straight Home Opener won by the Buccos.
After going long in back-to-back games, Indy IF Max Moroff got a mention in Baseball America's Prospect Report. BA said "Moroff's versatility is his strong suit and he's knocking on the big league door, if needed". MM is the first Indian to hit homers in consecutive games since Pedro Alvarez in 2010.
Alex McRae set a new career high with nine strikeouts (in five IP) as the Curve beat the Harrisburg Senators 5-3 in the season opener last night at FNB Field. Altoona's batters were led by Edwin Espinal, who reached base four times and finished 2-for-2 with two RBIs. Kevin Newman added three hits, including a double, and drove in a run.
25-year-old P Junior Lopez (Bradenton, High-A) was suspended 25 games for an undisclosed violation of the Minor League Drug Prevention and Treatment Program.
40-year-old Bronson Arroyo is making his first start since 2014 after TJ surgery. He's on the hill for the Reds as they take on the Redbirds.
Source:
http://oldbucs.blogspot.com/2017/04/saturday-bravos-bucs-kuhl-v-ra-dickey.html