The rain came; the tarp was rolled out pre-game and then rolled back up at 7:45 with the first pitch scheduled for 8:20. JT tossed a 1-2-3 first and the Bucs kept dancin' to the same beat, stranding Cutch and Gregory against Rookie Davis. The streak ended in the second when Adam Duvall parked a Taillon heater into the stands in left center. The Bucs barreled up in their half to no avail; Fran and J-Hay had balls run down on the track and after a Jordy walk, JT banged a loud foul before K'ing. It was a clean third frame for Jameson.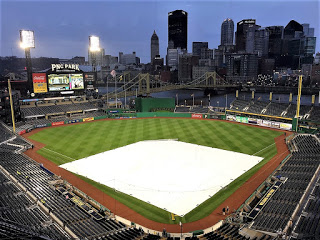 April in Pittsburgh (photo Cincinnati Reds)
Starling opened the Buc half with a knock, went to second on a wild pitch and scooted to third on a right-side bouncer. Cutch K'ed looking after missing a couple of cutters down the middle, fouling them off. Gregory walked and with a 1-2 count on Freeser, Clint again called for the little league decoy steal of second, delay steal of home. Much to everyone's surprise, it worked, even after review (the ball beat Marte home but the swipe tag was late), so it's knotted 1-1 after three.
Jose Peraza opened the fourth with a pop double; Cutch's throw beat him but was off target. Then it was Gregory's turn to snooze; he corraled Joey Votto's liner but missed a golden chance to double up Peraza, who then stole third base. His charmed life paid off when a two-out knock brought Jose home. Rookie followed up like a vet, throwing his first clean frame. A Scooter Gennett infield single was followed an out later by a pitcher plunking (the pitch caught Rookie's forearm as he was trying to bunt) to put JT in the hot seat again in the fifth but he worked out of it without any drama. Tony Cingrani replaced the bruised Davis. Cutch walked with two gone to provide the Pirate action.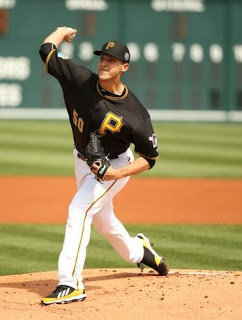 JT did good again, but his teammates, not so much… (photo Dave Arrigo/Pirates)
No damage by the Reds in the sixth except for a walk and Drew Storen climbed the hill. He plunked Fran with one gone, followed by a J-Hay knock. A force on a botched DP ball put Pirates on the corners and Fraze grabbed a stick for JT, who was done after just 82 pitches (two runs, four hits, one walk, four K). The Reds gave back their gift run when Peraza airmailed Adam's grounder to tie it again. Juan Nicasio got the call in the seventh and gave up a leadoff double to Scooter (slow down Hamilton and Gennett kills ya!) who was bunted to third. Arismendy Alcantara pinch hit and sat down after an eight-pitch battle, but Juan couldn't put Hamilton away and his single on a 1-2 slider out of the zone made it 3-2. Wandy Peralta was waved in and put away the 2-3-4 hitters 1-2-3.
Trevor Williams answered the phone and gave up back-to-back one-out knocks. They trotted home after Scooter Gennett (yes, him) was fed a center-cut sinker that he drilled over the RF wall. Blake Wood took his turn in the queue and after a couple of singles with a whiff in between, Raisel Iglesias jogged in to close it down. The same duo exchanged zeroes in the ninth and the Bucs were whupped again 6-2.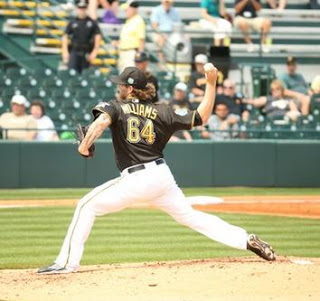 Trevor's second outing wasn't such smooth sailing… (photo Dave Arrigo/Pirates)
The Bucs are kinda rough on the eyes so far this season, with the disclaimer that's it's only seven games into the season. The fielding has been subpar and the Pirates are anything but clutch, going 0-for-19 w/RISP in the two games against the Reds. After tomorrow, the Pirates visit Fenway Park, Wrigley Field and Busch Stadium, then entertain the Yankees and Cubs at PNC Park immediately afterward. The potential for this April to play out like last September is an ugly but quite possible scenario – and remember, games in April count just as much as the ones in the dog days. Ivan Nova will try to salvage a game from the set tomorrow against Amir Garrett.
Notes:
Scooter Gennett was 2-for-16 before tonight. He went 3-for-4 this evening with a homer & double after smacking a four-bagger last night. He and Hamilton have gone a combined 8-for-18 with four runs scored and five RBI in two games. The curse continues…
Cutch and J-Hay had two hits; Gregory and Freeser also reached base twice.
The last Pirate to double-steal home before Starling Marte was…Starling Marte on 6/27/15 during an 8-4 win over Atlanta.
Five of Cincy's six runs scored after two were out.
Freeser collected his 800th career hit tonight.
What's a rainy April night game against the Reds get ya? How about a crowd of 11,027.
Forbes has its MLB team valuations out; the Pirates are worth $1.25B by its estimate. The article also has other financial tidbits on the teams for those into the business end of baseball.