Tonight: The middle game of the Reds' set starts at 7:05 at PNC Park. It will be carried by Root Sports and 93.7 The Fan. Might get a bit damp; off-and-on showers are forecast during the evening. And arf – it's the season's first Pup Night.
Lineup: Starling Marte CF, Josh Bell 1B, Cutch RF, Gregory Polanco LF, David Freese 3B, Fran Cervelli C, Josh Harrison 2B, Jordy Mercer SS & Jameson Taillon P. Starling moved to leadoff and J-Hay is back; guess his calf has loosened up after being bopped.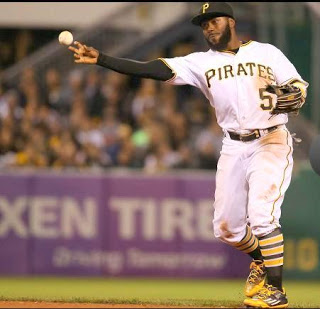 J-Hay is back in the lineup (photo Dave Arrigo/Pirates)
Pitchers: Jameson Taillon (0-0, 0.00) gets his second start; he built off a nice rookie campaign with seven shutout innings against Boston. He wasn't overwhelming, but he showed maturity and moxie by working between some raindrops without letting an inning get away from him. JT was 1-0/3.27 in two starts against the Reds last season. Rookie Davis (0-0, 12.00) is indeed a rookie. The 23-year-old righty got a rude introduction to MLB hitters when the Phils chased him after three innings in his first big league start, homering twice. He became a Red as part of the Aroldis Chapman deal and has just 24 IP at the AAA level (0-2. 7.50) and seems to be in the show out of necessity rather than merit at this point. Fun fact: Rookie Davis' real name is William Theron, but his dad dubbed him "Rookie" at birth, back when young Mr Davis was the rawest of rookies. Guess pap was a baseball fan; if he followed college hoops, we might be facing "Diaper Dandy" Davis today, lol.
Notes:
Starling Marte has hit safely in five straight games. Fran has a five-game on-base streak.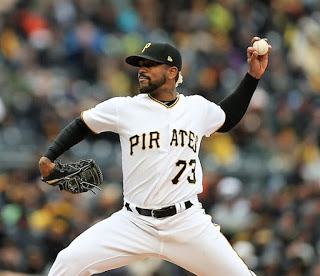 Felipe has been a busy guy (photo Dave Arrigo/Pirates)
The Bucco bullpen has been called on 21 times (Felipe Rivero worked five straight games before getting a blow last night) and tossed 25-2/3 IP in the first six games, slashing 1-1-2/3.86. The workload is fairly heavy (the Pirates are 18th in the number of relief outings but 8th in IP) as the starters average just five frames per game. Some seven-inning starts would do wonders for the pen.
The hitting, both in getting aboard and especially in power, is off to crawl. The Pirates BA is .237 (MLB - 17th), walk rate 8.2% (MLB – 27th) OBP .309 (MLB – 18th), slugging % .309 (MLB – 27th) and ISO .072, the worst in the league. Small sample size to be sure, but geez… (stats from Fangraphs)