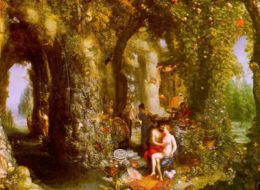 Copyright 2017, InterAmerica, Inc.

In Homer's Odyssey resides the tale of Odysseus (Ulysses) who was subjected to many ordeals after leaving Troy, one being his capture and retention as told by Homer and explained by Wikipedia thusly:
"Ogygia (/oʊˈdʒɪdʒiə/; Ancient Greek: Ὠγυγίη Ōgygíē [ɔːɡyɡíɛː], or Ὠγυγία Ōgygia [ɔːɡyɡíaː]) is an island mentioned in Homer's Odyssey, Book V, as the home of the nymph Calypso, the daughter of the Titan Atlas, also known as Atlantis (Ατλαντίς[1]) in ancient Greek. In Homer's Odyssey Calypso detained Odysseus on Ogygia for 7 years and kept him from returning to his home of Ithaca, wanting to marry him. Athenacomplained about Calypso's actions to Zeus, who sent the messenger Hermes to Ogygia to order Calypso to release Odysseus. Hermes is Odysseus's great grandfather on his mother's side, through Autolycos. Calypso finally, though reluctantly, instructed Odysseus to build a small raft, gave him food and wine, and let him depart the island."
More can be read at Wikipedia:
https://en.wikipedia.org/wiki/Ogygia
Are abductions part of our collective memory (as Jung might have it)? And do such abductions resonate with UFO abductees (experiencers) in some odd way, resplendent in details that are unique to the UFO abductee? Does Jose Caravaca's Distortion Theory apply?
Painting above "Odysseus and Calypso in the caves of Ogygia" by Jan Brueghel the Elder(1568–1625)

RR http://ufocon.blogspot.com – The UFO Iconoclast(s)
Source:
http://ufocon.blogspot.com/2017/03/a-early-classic-abduction-that-provides.html