Copyright 2017, InterAmerica, Inc.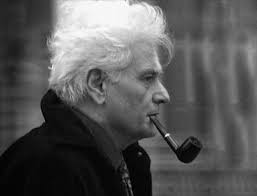 A review in TLS [March 17, 2017, Page 29] by Gill Partington of Juliet Fleming's book Cultural Graphology: Writing after Derrida reminds us that, even though Jacques Derrida's influential literary method known as "deconstruction" has become passé pretty much in academia and among literary critics, his "infamous credo, 'there is nothing outside the text,'" still resonates with "his legion of followers" and those of us who see the text in every writing medium as the sine qua non of intellectualism.
That is, the most important thing about writing is not how it's packaged or presented in situ but what the (written) text is telling us.
All the filigree that one finds in newspapers, books, and especially magazines is detrimental to the text. The New Yorkeris an example of a magazine that uses Derrida's credo opportunistically whereas a magazine like WIRED and many others vandalize their text by inserting graphics and/or photos (even advertising) to the detriment of the text.
Web-sites and blogs are real credo destroyers, clogging text with attempted efforts to capture the intended reader's attention but actually warping the attention away from what really matters.
To read more about Derrida, check out these links:
But your own commonsense should alert you to the fact that many books, magazines, and the internet sites you visit are marred by accretions to the text, even illustrative elements (such as graphics and photos) do much to destroy the meaning of the text.
UFO witness accounts are often similarly distorted by the addition of drawings or bad photography, not to mention the insertion of attendant text that is superimposed on the witness's text.
Absurd commentary about the original text also intrudes on the purity of the text, if one tightly follows Derrida's credo: "there is nothing outside the text."
The [text] purity that Derrida expounded is a must for making sense of material that we read, not only in books, but everywhere when we come in contact with text.
RR
http://ufocon.blogspot.com – The UFO Iconoclast(s)
Source:
http://ufocon.blogspot.com/2017/03/text-even-ufo-text-all-by-itself-is.html