Utah –-(Ammoland.com)- This week, our friends Todd and Tyler are participating in an exciting long-range shooting competition — the Vortex Extreme Shooting Competition at Spirit Ridge Rifle Golf in Tremonton, Utah.
The Competition: Part 1
The competition includes about seven miles of running and shots up to about 1200 yards. The score is based on how fast you complete the course and number of shots (lower the better). Targets are six- to eight-inch plates.
Long Range Pursuit Tutorial: Ammunition Manufacture
The first tutorial segment of the video deals with the components and steps that go into manufacturing Gunwerks premium long-range ammunition. Gunwerks uses Lapua brass, Hodgdon Extreme powders, and Berger bullets loaded on a progressive preload press. The segment explains the entire manufacturing process — which is comprised of sizing, priming, powder-charging, and bullet-seating.
The Competition: Part 2
After an exciting start to the action, the guys settle in for their first targets. Tyler hits his first three shots. Todd hits on his second for the first two targets, and his first for the last target. After an impressive display of shooting, the guys take off for the next stage of the run.
Long Range DIY Tip
In this week's Long Range DIY Tip, Aaron shows us how use the GSeven Ballistics program to make a field card with calculated ballistics data that you can into the field.
You'll need to start by going to gseven.com and creating an account that will allow you to save all your ballistics data. Once in the ballistics calculator, you'll start by creating a new profile. The next three areas (2, 3, and 4) are where you'll input your data. The two key pieces of information that you'll need are an accurate ballistics coefficient and a true muzzle velocity.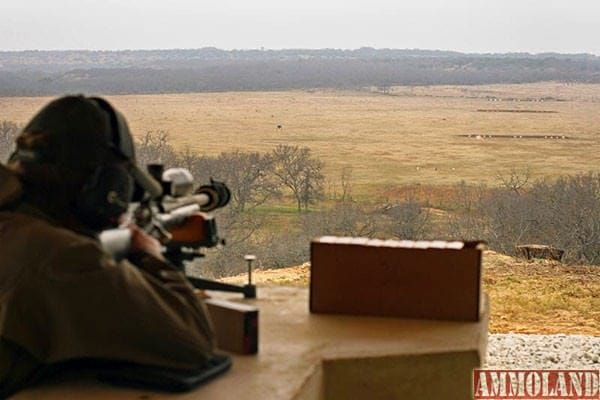 Once you're done with data input, you can click over to your ballistics calculation chart. You can print the whole chart if you'd like, but you can also print a smaller version to take with you into the field. The smaller card gives you data for wind (in MOA) and drop at different distances and inclines. Once you print your card, tape it to your stock or put it in your wallet — you're all ready to go!
Long Range Pursuit Tutorial: Minute of Angle
The second tutorial defines a Minute of Angle (MOA) and discusses why this is the most common unit of measure in long-range shooting. A complete circle is divided into 360 degrees, then each of these degrees is divided into 60 units — Minutes of Angle. One Minute of Angle equals 1.047 inches at 100 yards. For most calculations, this measurement can be rounded to 1″ per 100 yards — a useful unit of measure for long-range shooting.
The Competition: Part 3
We rejoin Todd and Tyler at the final target area. The guys continue to squeeze off shots at long distance, all under the pressure of the clock. Unfortunately, the pressure starts to get to them a little bit, and their shots are high. Afterward, the guys talk to the camera about how they feel the competition went. When the final results come in, Tyler and Todd take second in a mentally tough and physically taxing competition. Congratulations, guys!
About Gunwerks:
Gunwerks is a company with a laser focus on providing the ultimate long range shooting experience. The products that we bring to market are game changers! The LR-1000 has set the standard for a complete system. It includes calibrated optics and ammunition. The Gseven BR2 Rangefinder combines four devices in one to give a long range shooter a perfect drop and wind solution with a simple button press. The Long Range University combines a world class training facility and unique instruction into an unmatched package. At any level, Gunwerks can support you in your long range shooting endeavors.
For more information, visit: www.Gunwerks.com.
This post Gunwerks: Long Range Pursuit – S1 E18 Long Range Competition in Utah appeared first on AmmoLand.com Shooting Sports News .
Source:
https://www.ammoland.com/2017/03/gunwerks-long-range-pursuit-s1-e18-long-range-competition-utah/