(Before It's News)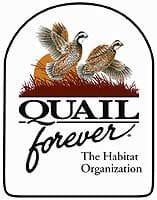 WICHITA FALLS, Texas -(Ammoland.com)- Quail Forever members and upland supporters in Texas will convene on March 25th at the Wellington Conference Center in Wichita Falls for the organization's 2017 State Convention.
Open to the public, the event will feature informational presentations related to bobwhite quail conservation, land management, chapter partnerships, firearms, and pollinators.
"The 2017 Texas State Convention is an important annual meeting to connect chapters, agency partners, and landowners to the organization's overarching mission of wildlife habitat conservation," stated Laura McIver, regional representative for Quail Forever in Texas. "We encourage the general public to attend seminars running throughout the day to learn more about 'The Habitat Organization' and our partners who are working in tandem to help quail thrive in the state of Texas."
2017 Quail Forever State Convention Highlights:
8:30 a.m. – Welcome to the 2017 Texas State Convention: Laura McIver, QF Regional Representative
9:00 a.m. – Welcome to Texas: Robert Perez, Texas Parks & Wildlife Department
9:40 a.m. – Reaching Today's Youth for Tomorrow's World: Rich Wissink, PF/QF Dir. of Education & Outreach
10:20 a.m. – Partnerships are the Heart of Habitat Work: Chris McLeland, PF/QF South Region Manager
10:40 a.m. – Celebrating 5 Years of Partnership with Texas NRCS: Jordan Menge, PF/QF Farm Bill Biologist
11:00 a.m. – Quail Forever & Private Landowners: Jim Willis, Wildlife Habitat Federation
Concurrent Breakout Sessions: The sessions will start at 11:25 a.m. and end at 3:15 p.m. The breakout sessions will cover Quail Forever chapter education, pollinators, habitat management, and state partnerships.
Following the breakout sessions there will be an evening banquet starting at 7:00 p.m. The banquet will include a cocktail hour, award ceremonies, live actions, raffle drawings, dinner, games, and prizes.
Quail Forever's 2017 Texas State Convention is open to members, agency partners, and the general public. For more information or to order tickets, please contact Laura McIver at (907) 750-2600 or visit the convention webpage.
To attend, tickets are $25 for the Saturday seminar schedule which includes a hearty breakfast and lunch.
About Quail Forever:
Pheasants Forever, including its quail conservation division, Quail Forever, is the nation's largest nonprofit organization dedicated to upland habitat conservation. Pheasants Forever and Quail Forever have more than 149,000 members and 720 local chapters across the United States and Canada. Chapters are empowered to determine how 100 percent of their locally raised conservation funds are spent, the only national conservation organization that operates through this truly grassroots structure. Since creation in 1982, Pheasants Forever has spent $708 million on 517,000 habitat projects benefiting 15.8 million acres nationwide.
This post Texas Quail Forever Hosts Annual State Convention on March 25th appeared first on AmmoLand.com Shooting Sports News .
Source:
http://www.ammoland.com/2017/03/texas-quail-forever-hosts-annual-state-convention-march-25th/