(Before It's News)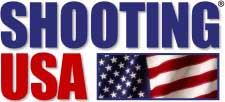 USA – (AmmoLand.com) – For more than three decades the World Speed Shooting Championship has been the one to win for handgun shooters. It's called the Steel Challenge, and the challenge is to shoot five steel targets for time measured in hundredths of a second. And this year a world record may be broken at the Hogue Ranges in San Luis Obispo, California.
Plus, Georg Luger not only created one of the first semi-auto handguns but also the nine-millimeter cartridge to go with it. The Pistole Parabellum 1908, or the Luger P08, is now one of History's Guns.
And, another edition of Gun Matchmaker with a young couple testing and choosing a first home-defense gun. Tune in Wednesday to Outdoor Channel!
AIR TIMES BY TIME ZONE
The Shooting USA Hour Wednesday:
Eastern Time: Tuesday 3:00 PM; Wednesday 9:30PM, 1:00 AM
Central Time: Tuesday 2:00 PM; Wednesday 8:30 PM, Midnight
Mountain Time: Tuesday 1:00 PM; Wednesday 7:30 PM, 11:00 PM
Pacific Time: Tuesday Noon; Wednesday 6:30 PM, 10:00 PM
Shooting USA is listed as a one-hour show in your cable menu.
Stay Connected!
Subscribe to the Shooting USA YouTube Channel to watch full shows. And, be sure to "Like" Shooting USA on Facebook for behind-the-scenes action, and "Follow" us on Instagram too.
About Shooting USA:
Jim Scoutten, America's Most Watched Firearms Reporter, has been on the beat for 24 years, reporting the stories of the Shooting Sports and the firearms Industry. The show produces a series of popular segments focusing on historical guns, the personalities in the sport and industry, insider reports from gun tests, and practical tips from shooting sports pros. The show appeals to shooting sports enthusiasts of all ages and skill levels by providing practical tips on safely handling, modifying and repairing their favorite guns.
For more information, please visit www.ShootingUSA.com.
This post This week on Shooting USA: Speed Shooting at the Steel Challenge appeared first on AmmoLand.com Shooting Sports News .
Source:
http://www.ammoland.com/2017/03/week-speed-shooting-steel-challenge/