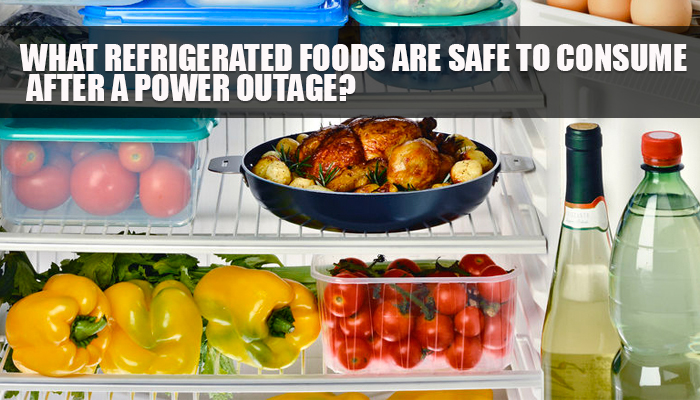 Time is not your friend when the power goes out and your refrigerator stops cooling. Typically, if the door is not opened food should stay within a safe temperature for four hours. What is a safe temperature for fresh meats, and other perishables? Forty degrees Fahrenheit or below, if raw ground beef, for example, is stored for longer than two hours above 40° F it must be discarded, it is simply not safe to eat because of the growth of possibly harmful bacteria.
You never know how long the power may be out so you have to note the time the power went out and when it came back on, that is if it comes back on. After four hours, you have to start throwing foods away. Not all foods, but some.
Examples of What to Discard
Raw or leftover cooked meat, poultry, fish, or seafood and soy meat substitutes must be discarded after two hours above 40 degrees F or after four hours in a refrigerator that is not cooling

Thawing meat or poultry same as above

Salad, tuna, shrimp, chicken, or egg salad same as above

Lunch meats, hot dogs, bacon and fresh sausage must also be discarded after the prescribed times

Soft cheeses must also be thrown away and some examples are blue cheese, Brie, Roquefort, cottage cheese, ricotta, Muenster, Monterey Jack, Mozzarella, this list does not cover all of the cheeses that would have to be discarded, so you will have to read the manufactures' label carefully about refrigeration of a particular product.

Eggs must be thrown away as well as milk, sour cream, soymilk, yogurt, and eggnog, for example.

Cut fresh fruits while not as critical as say milk or eggs, they typically will not be edible after two hours at room temperature.

Mayonnaise and prepared horseradish while they typically have a vinegar base should be thrown away after 8 hours above 50 degrees.

Cooked pasta, cooked rice, and cooked potatoes
Safe to Keep
Hard cheeses can be kept at room temperature but after removing from the refrigerator pat any moisture off the product if out of the packaging.

Jelly, relish, taco sauce, mustard, catsup, olives, pickles

Bread,

rolls, cakes, muffins, quick breads, tortillas

Raw fruits and vegetables are safe on the counter, but once cut up eat as soon as possible

Pies, and cakes (Foodsafety.gov, n.d.).
Of course, the products listed are not every possible item one might find in a refrigerator, but it gives you an idea of the types of foods that do require refrigeration, and thus, not safe to consume when there is a lack of cooling for over two hours.
Having a thermometer in your refrigerator that is not built in and relies on power is ideal. While you want to keep the door shut, you can take a quick glance at the thermometer to gauge where you are temperature wise.
To extend the four hour time, you can place a heavy blanket over your Fridge to keep the warmer outside air from conducting to the cooler air, remember warm air always conducts to cold so when you open the door the cold does not rush out but rather the warmer air rushes in.
Having a small generator that could run a refrigerator and freezer would be prudent. It is not just the expense of the wasted foods, but also the fact you have limited your food choices during a crisis, not to mention trying to get rid of spoiled foods.
Having spoiled meat and other foods on your property can become a crisis in and of itself when sanitation services are not available. You certainly cannot store garbage inside the home and if the crisis is extended, you would have to consider burying the waste or at the very least sealing it in barrels that rodents and insects cannot gain access to.
You have to plan for this type of scenario and cover all the what-ifs.
Foodsafety.gov. (n.d.). Retrieved 2017, from https://www.foodsafety.gov/keep/charts/refridg_food.html
The post What Refrigerated Foods are Safe to Consume after a Power Outage? appeared first on Preparing for shtf.
Source: prepforshtf.com
Source:
http://prepforshtf.com/refrigerated-foods-safe-consume-power-outage/