Discover the concept case during MWC in Barcelona!
Missing or permanently lost luggage is the nightmare of every traveller. Samsonite has been creating innovative travel solutions for over 100 years and also wants to help mediate the problem of lost luggage.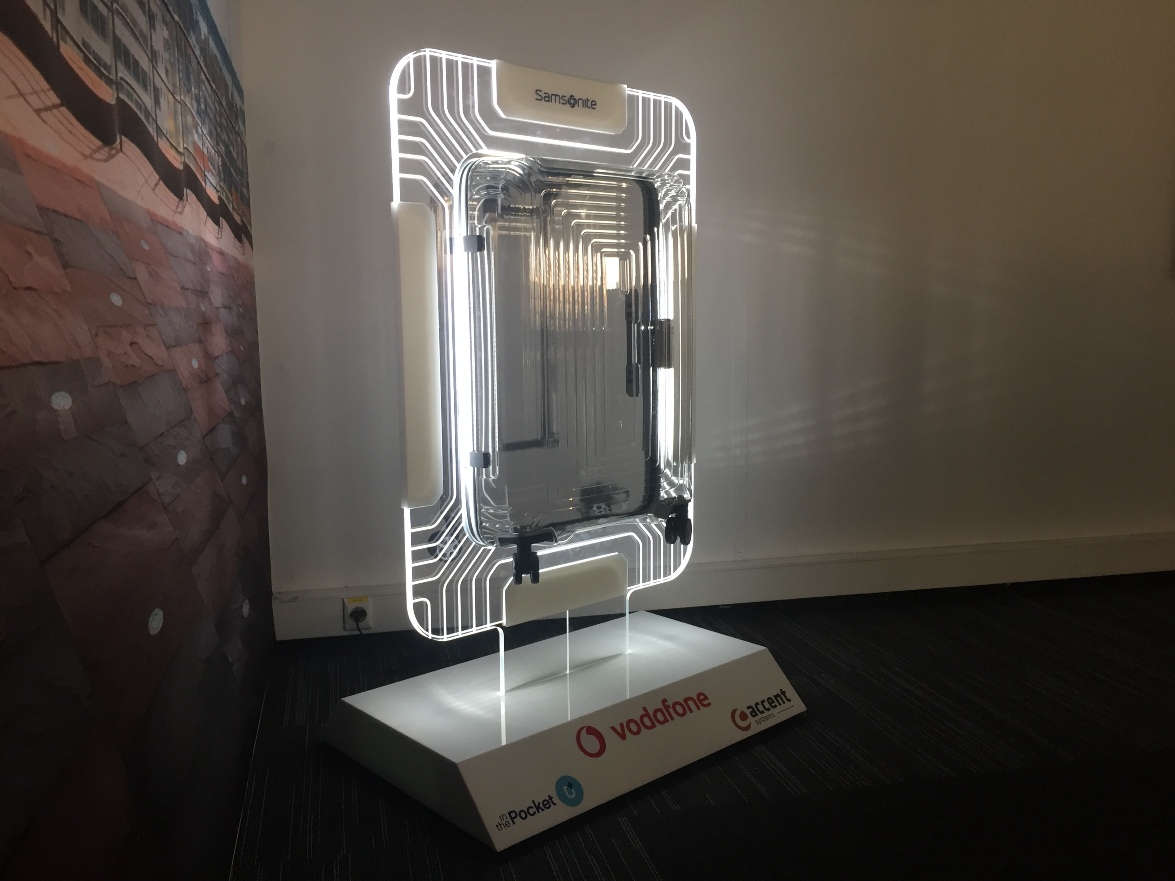 Therefore our innovation team is closely following all developments on smart luggage and the technologies available in the market.
An important step in this process is to work with leading technology companies. That's why Samsonite is very happy to be trialling a new longer battery life, wider range technology called Narrowband-IoT (NB-IoT) with Vodafone, as an additional option for their Track&Go solution. Track&Go is a device that can be put into your travel or business bag, and can easily and privately be tracked by its owner. Together with Vodafone, Samsonite is excited about the advantages that NB-IoT technology can bring. This technology will allow a new generation of telemetry tags to be built which are less intrusive and more efficient, using less power so can accommodate smaller batteries with a longer life.
The Track&Go solution is based on two principles: proximity alerts and geolocation. Thanks to the proximity alerts integration, you will instantly receive a smartphone notification when your bag gets out of your range. This will enable you to confidently leave your luggage in the dedicated compartment, while still enjoying your trip without any stress, for instance when travelling by train. This new proof of concept test with NB-IoT will look into the future possibilities of geolocation. It would make it possible to track your valuables, anytime, anyplace. In case your bag gets lost, you will be able to see its current location and the necessary contact details to get your belongings back, if applicable.
Since technology is changing constantly, Samsonite will continue the research and development of user-centered solutions and new technologies that help the travel industry achieve their goal when it comes to mishandled bags and which will further improve your travel experience. The travel industry is very sensitive to safety and security, therefore our primary intention is to be compliant with all airline regulations in place, while bringing a reliable solution for the consumer.
Visit the Vodafone booth 6B30 in Hall 6 during MWC in Barcelona to discover our Track&Go concept case!
Together Everyone Achieves More
To progress with this innovative solution, we also need the support from Accent Systems who will develop the hardware and from In The Pocket (Digital Product Studio) for the app integration.
Travellers' worst nightmare addressed
In 2015, 23.1 million pieces of baggage were mishandled worldwide, meaning they were temporarily or permanently lost. Of these 23.1 million pieces, the vast majority is successfully delivered back to the passengers, on average within 48 hours. Unfortunately, 6% of all mishandled baggage is never reunited with its owners.