Story Views


Now:
Last Hour:
Last 24 Hours:
Total:
Most Important Travel Accessory – Sunglasses
Monday, March 6, 2017 6:23
% of readers think this story is Fact. Add your two cents.

Keep Your Eyes Healthy, Wear Sunglasses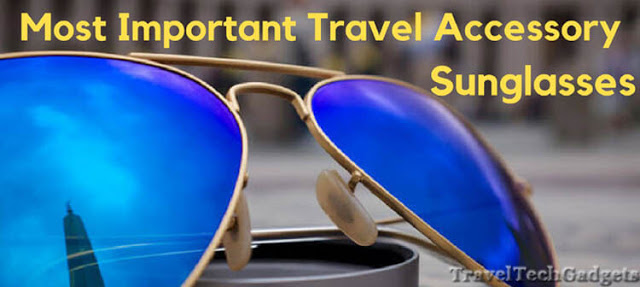 Travel gadget that many do not think about until it hits them in the eyes, is sunglasses. Sunglasses' most important job is to protect your eyes from the sun's ultraviolet (UV) rays. These days most sunglasses are high-tech accessory compared to the glasses of the past. Even lower priced sunglasses provide UV protection. And these are also lighter, better fitting, and come in a lot of various styles.
When purchasing sunglasses, look for ones that block out 99 to 100% of both UVA and UVB radiation, so you can keep your vision sharp and eyes healthy.
Sun's effects on the eyes include:
Cataracts, a clouding of the eye's lens that can blur vision. An estimated 20% of cases are caused by extended UV exposure.
Macular degeneration, resulting from damage to the retina that destroys central vision. Macular degeneration is the leading cause of blindness in the United States.
Pterygium, a tissue growth over the white part of the surface of the eye that can alter the curve of the eyeball, causing astigmatism.
Protect from other elements as well:
Snow
You might be surprised to know that spending time in the snow can be very damaging to your eyes. Snow reflects 80% of UV rays from the sun and can cause a condition known as snow blindness, where glare from the sun actually burns the cornea.
If you're skiing, climbing snowy mountains or spending time in the snow (at any time of year), wear sunglasses or ski goggles with UV protection. Make sure they cover and protect the bottom of your eyes, because of the reflective nature of the snow.
Sand, Wind, and Dust
Getting sand in your eyes can be very painful and dangerous. Tiny grains of sand can actually scratch your eye and can cause permanent damage. Sunglasses that fully cover your eyes are a great way to keep sand out. Good to have on the beach, sand dunes, and other destinations with drifting sand.
Headaches
Bright sunlight can be a trigger for migraines and headaches. Wearing sunglasses can help reduce both the frequency and intensity of these painful occurrences. And even if you're not a headache or migraine sufferer, wearing sunglasses when out in the sun can help reduce eyestrain and fatigue.
Driving
When driving into bright sunlight, sunglasses can definitely help you see better and drive more comfortably. Also spending just two or three hours in bright sunlight can hamper the eyes' ability to adapt quickly to nighttime or indoor light levels. This can make driving at night after spending a day in the sun more hazardous.
Check out great Amazon Fashion sunglasses
Try Amazon Music Unlimited 30-Day Free Trial
DJI Osmo Mobile Silver – Turn Your Phone into a Smart Motion Camera, Now $299.
Sound-off: What do you think? Let us know below
Travel Tech Gadgets-the go to place for travel gadgets prior to traveling anywhere and everywhere. About
Source:
http://www.traveltechgadgets.com/2017/03/most-important-travel-accessory.html