Photo: Izumo class warship (pic via Jeff Head's website).
According to three different sources, Japan has decided to dispatch its largest Izumo class aircraft and helicopter carrier on a three-month tour through the South China Sea starting in May. This will be Japan's biggest show of naval force in the region since WW2.
Fueled by the China's growing military presence of the disputed waters, both Japan and the United States patrol the areas both on air and sea to enforce freedom of navigation.
The Izumo carrier has been has been in active duty not more than two years and during the planned trip will make stops in Singapore, Indonesia, the Philippines and Sri Lanka. After this, it will be taking part the Malabar joint naval exercise with Indian and U.S. navy in the Indian Ocean in July. It's return to Japan has been planned for August, sources say.
"The aim is to test the capability of the Izumo by sending it out on an extended mission," said one of the sources who have knowledge of the plan. "It will train with the U.S. Navy in the South China Sea," he added, asking not to be identified because he is not authorized to talk to the media.
There has not been any verification to this from Japan's Maritime Self Defense Force as it's spokesman declined to comment.
South China Sea areas have been had partial claims also from Taiwan, Malaysia, Vietnam, the Philippines and Brunei. The sea is known for it's rich fishing grounds, oil and gas reserves and as a sea route carrying around $5 trillion of global trade every year.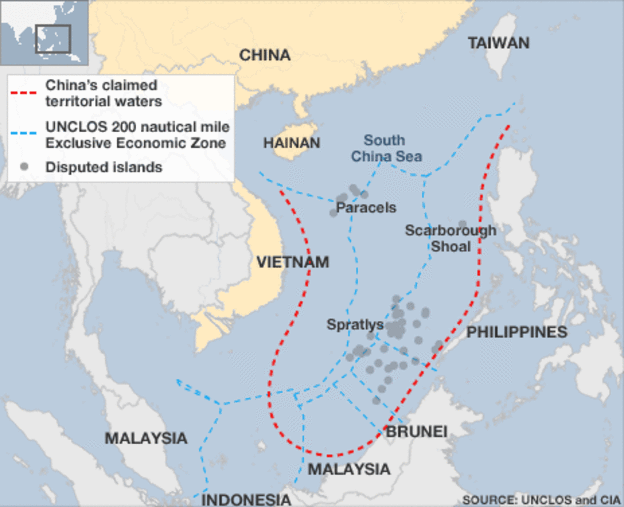 Japan's interest here are not based on claims, but a separate maritime dispute it has had with China in the East China Sea. Another of the sources said that the Philippine President Rodrigo Duterte has been planned to be invited to visit the Izumo during it's visit at Subic Bay, which lies about 62 miles (100 km) west of Manila. Duterte has been creating ties with China during recent months criticizing the old alliance with the United States.
When having been asked during a news conference about his view on the Izumo visit, Duterte said without elaborating, "I have invited all of them" and added: "It is international passage, the South China Sea is not our territory, but it is part of our entitlement. To the question would he visit the warship at Subic Bar, Duterte responded: "If I have time."
Japan is flexing it's muscles well timed and aligned with the President Donald Trump's tougher attitude towards China, whose construction of man-made islands and a build-up of military facilities Washington has criticized with arisen worries that the China's actions could be used to restrict free movement.
In January, the message from Beijing was that it had "irrefutable sovereignity over all the disputed islands". China made this statement after White House had vowed to defend "international territories".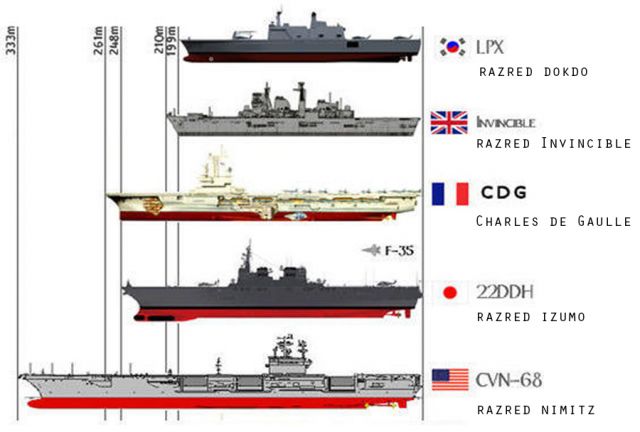 Photo: comparison between similar category naval vessels (source: http://defense.pk)
Izumo is a 249 meter-long (816.93 ft) carrier & destroyer and comes as large as Japan's WW2-era carriers. It has the capability to operate up to 14 helicopters. It closest counterparts on U.S. Navy side are the amphibious assault carriers by U.S. Marines, but Izumo lacks the deck for launching landing craft and other vessels. However, this had been rumoured to be possibly changing at least what comes to Japan's
Beijing based China Youth Daily categorizes the Japan Maritime Self-Defense Force now equipped with the Izumo class warships "one of the most lethal offensive forces in the world". This is not an understatement as the Izumo-class vessels greatly enhance Japan's anti-submarine, anti-ship, air-combat and amphibious assault capabilities.

When making future plans for it's air power, Japan chose to purchase the F-35A fighter jet after a long decision period, because it was concluded to be more capable all around fighter than the others. This choise was first announced in December 2011 and agreement to buy up to 42 fighters was signed in June 2012.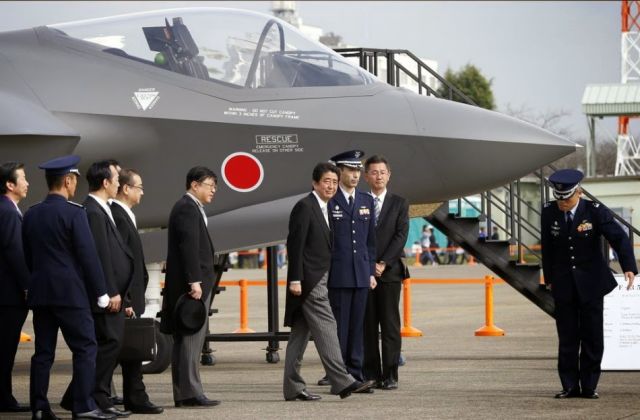 Photo: F35 during visit in Japan
"The key strategic factor behind the F-35 is that it is used in concert with the US Air Force as well as the Japanese Maritime Self-Defense Force and the US Navy to enhance allied operational capabilities and flexibility", said Corey Wallace, a security policy analyst at the Graduate School of East Asian Studies at Freie Universität, Berlin.
The F-35B's STOVL (Short Take Off, Vertical Landing) capabilities might make it an especially valuable option, as a defensive aircraft that could operate from dispersed land locations, or modified Izumo class carriers, rather than bases that are easily targeted by enemy missiles.
Japan has extended it's post-war pacifist constitution limits especially under Prime Minister Shinzo Abe. The constitution forbids the acquisition of offensive weapons, so Japan has designated the Izumo as a destroyer. Izumo's primary task is anti-submarine warfare. With this setup Japan has all the needed military power for to show off on international territories.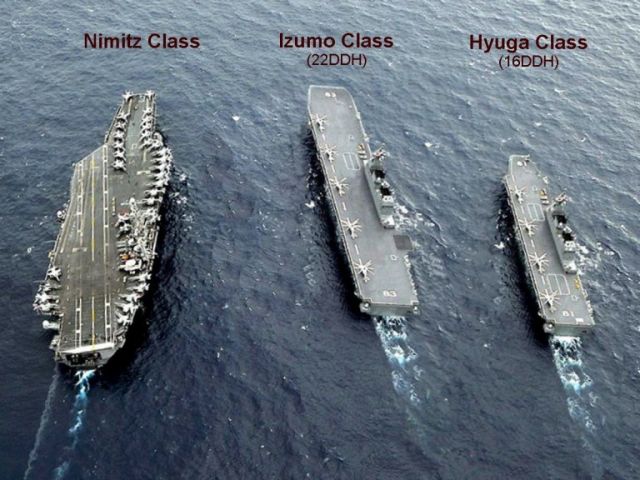 Photo: U.S. Nimiz and Japanese Izumo Class and Hyuga Class carriers (source http://cimsec.org)
Story by Siv Thoresen