AT LEAST six people have been killed in a bomb attack on a road leading to the Great Pyramid of Giza – a tourist attraction popular with British holidaymakers.
The explosion appeared to have come from a rubbish bin in Cairo along a route used to access the entrance to the world heritage site, which lies in a western suburb of the capital.
Giza, one of the the seven wonders of the world and the only one to remain largely intact, welcomes thousands of British tourists every year.
However the dead are said to all be policemen and adminstrative officers working close to the landmark.
There have been no confirmed foreign casualties although four civilians were also injured.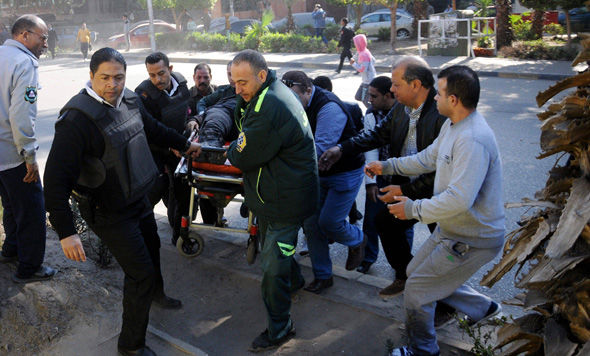 Rescue workers and security officials shift an injured person out of the site of a bomb blast
There was no immediate claim of responsibility for the attack in Al Haram street – a main thoroughfare between central Cairo and the pyramids.
The attack, close to a government building in a middle class neighbourhood, was the latest in a series of security incidents in Egypt often claimed by radical Islamists.
Security forces killed three gunmen on Tuesday in a raid on a hideout in southern Egypt used by what they described as an armed wing of the Muslim Brotherhood.
Hundreds of soldiers and police have been killed in an Islamist insurgency led by Islamic State in the Sinai Peninsula.
Attacks have stepped up since the military overthrew President Mohamed Mursi of the Muslim Brotherhood, Egypt's oldest Islamist movement, in 2013 following mass protests against him.
Most people who use social media have figured out that Facebook and Google are in cahoots with the government. For those who are well aware of the issues, it's high time you switched over to Seen.life.
Seen.life is a website that is similar to Facebook but without all the censorship. Firearm friendly, you may buy sell or trade anything allowed by site TOS rules.
http://www.express.co.uk/news/world/741644/Egypt-Giza-Great-Pyramids-bombing-dead-attack-entrance-tourist-attraction