Original article on OddityCentral.com – a blog on oddities and wacky news http://www.odditycentral.com/
Designed to help frequent flyers bypass airport baggage queues, reduce baggage fees and virtually eliminate the risk of lost luggage, this modular Airport Jacket features 14 pockets and two detachable "pocket panels" that fit around 15 kilograms of luggage.
"With airlines beginning to charge for overhead carry-on baggage as well as severely restricting baggage allowances for the low fare economy traveler, my partner and I have designed a modular jacket that allows you to wear your laptop, tablet, two pairs of shoes, a pair of jeans, five t-shirts, a jumper and an SLR camera," designer Claire Murphy explains. "It totals 14 deep pockets, including eight pockets at hip length, 11 pockets at three-quarter length and 14 pockets at full length. It includes two detachable pocket panels, and a carry-on size duffle bag."
Claire and Benke Murphy came up with the idea for the Airport Jacket while traveling home with their newborn child. They had so much extra carry-on luggage, because of the baby, that the airline tried to charge them $140 for it, more than the cost of their tickets. So they had to clothes, gadget chargers, diapers and toys into their pockets, until they were just over the weight limit. They dodged the tax, but everything was sticking out of their pockets and it was a pretty uncomfortable plane ride. That's when they decided that there was a massive need for a solution to this problem, and the idea for the Airport Jacket was born.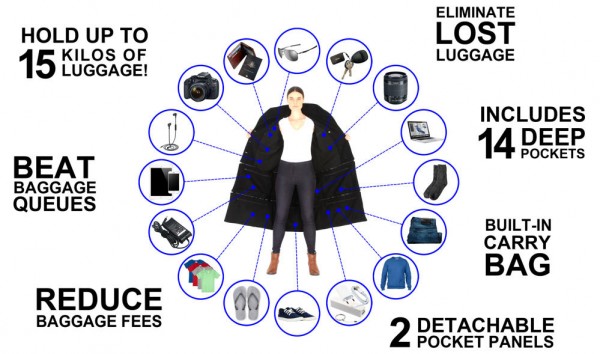 Source:
http://www.odditycentral.com/news/inconspicuous-airport-jacket-lets-you-wear-33-pounds-of-luggage.html