Original article on OddityCentral.com – a blog on oddities and wacky news http://www.odditycentral.com/
Going out to the same restaurants and bars every week can get pretty boring after a while, but if you like in a large UK city, you now have the chance to spice up your nights on the town in one of the most macabre ways imaginable, thanks to Anatomy Lab Live. The unique experience involves a fancy dinner followed by a live dissection of what looks to be a real human body.
There's nothing like watching a pathologist sink his hands into a corpse and pulling out bloody organs to help the digestion after a hearty meal. At least that's what Sam Piri, the man behind the Anatomy Lab Live experience seems to think. Sam, who works as a school teacher, claims to have been inspired by the excitement of his students while studying biology, and becoming familiar with pig organs. He decided adults might get a kick out of seeing a live dissection and learning more about the wonders of the human body, but why he thought it would be a good idea to feed his guests beforehand is a mystery.
Anatomy Lab Live, which debuted recently at the Village Hotel in Solihull, outside Birmingham, starts off with a fancy dinner of salmon, served with roast potatoes, green beans and roasted butternut squash and carrots. Dessert includes apple pie and custard or Eton mess, and for drinks, guests get to choose between wine and beer. As they feast on the generous spread, the only sign that something unnerving is about to happen is a center table full of syringes, medical waste bags and petri dishes.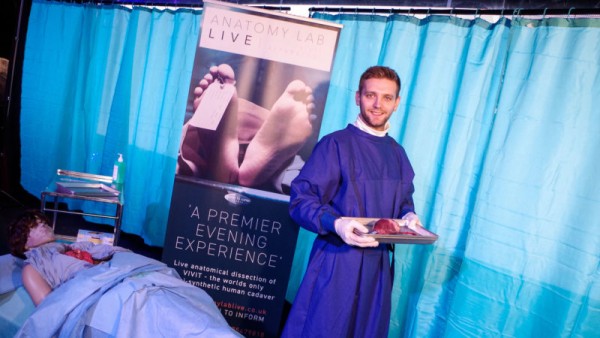 Source:
http://www.odditycentral.com/news/looking-for-an-exciting-night-out-how-does-dinner-and-dissection-sound.html