Original article on OddityCentral.com – a blog on oddities and wacky news http://www.odditycentral.com/
Three years ago, Brian Sullivan and his wife Starla lived in a rented apartment that cost them $1,500 a month plus utilities. At one point they decided it wasn't worth it anymore, so they bought an old school bus and turned into a comfy home for their big family.
It was in March 2014 that 29-year-old Brian and his wife Starla, 26,  of Renton, Washington, got tired of wasting so much money on rent. The apartment was over an hour away from Brian's workplace, and he had to work overtime just so they could afford the rent. Plus, they wanted to be homeowners and spent a lot of time watching YouTube videos of people building their own tiny houses, or converting all kinds of things into comfortable living spaces. It was one of these videos that convinced them to take a leap of faith, so in April 2014, they bought a disused school bus for $2,800, and spent another $30,000 turning it into a home for their three kids.
"The apartment was about an hour away from Brian's work and the commute was awful," Starla says. "He would work overtime trying to pay the rent, then he would sit in a car for three hours and we would never see him, so we decided to make a change. We pay a third of the cost now and we have money to pay off debts and student loans!"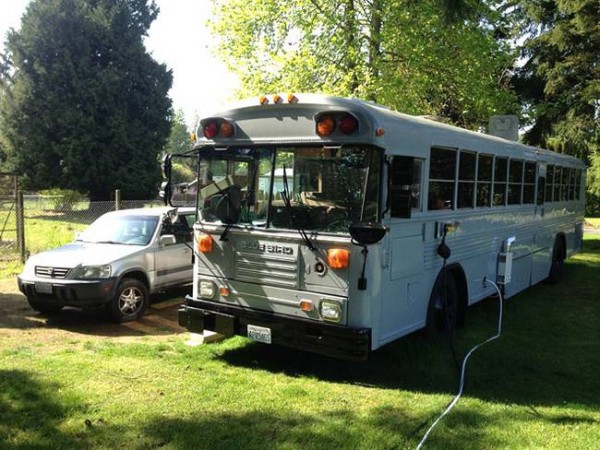 Source:
http://www.odditycentral.com/architecture/rent-is-too-damn-high-so-this-family-of-five-moved-into-an-old-school-bus.html