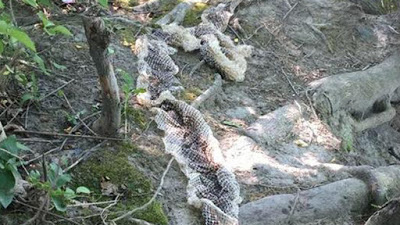 Westbrook Wessie, Maine's very own cryptid snake has vanished. Which is pretty common for cryptids.
Mainers have likely seen the last of a big snake that created a media sensation when it was spotted eating a beaver along a riverbank.

The Portland Press Herald reports a state biologist says the snake dubbed ''Wessie'' by Westbrook, Maine, residents likely didn't make it past October due to the cold.

Reptiles are coldblooded, meaning they can't control their own body temperature.

The 10-foot-long snake caused a stir in June when police saw it eat what appeared to be a beaver and then swim across the Presumpscot River and disappear. Biologists said the snake, likely a boa or a python, is probably an escaped pet.
Source: BostonGlobe and YOUTUBE
Check out more contributions by Jeffery Pritchett ranging from UFO to Bigfoot to Paranormal to Prophecy
~~~~~
Most people who use social media have figured out that Facebook and Google are in cahoots with the government. For those who are well aware of the issues, it's high time you switched over to Seen.life. It is a website that is similar to Facebook but without all the censorship.
Firearm friendly, you may buy sell or trade anything allowed by site TOS rules.