Dylan Baddour, Houston Chronicle Updated 5:38 pm, Friday, July 10, 2015


When the troops land in Texas for Operation Jade Helm next week, someone will be waiting for them. Hundreds of people have organized a "Counter Jade Helm" surveillance operation across the Southwestern states and in an effort to keep an eye on the contentious military drill that's sparked many suspicious of Uncle Sam's intentions.
Eric Johnston, a 51-year-old retired firefighter and sheriff's deputy who lives in Kerrville, is a surveillance team leader in Texas. He'll coordinate three groups of volunteers, about 20 folks in total, who hope to monitor the SEALs, Green Berets and Air Force Special Ops in Bastrop, Big Spring and Junction when Jade Helm kicks off on July 15.



With media prohibited at the drills, the volunteers could be a main source of information for the highly-anticipate seven-state exercise. But locations more precise than the towns around which troops will drill remain unknown. For the citizens' surveillance operation, therein lies the first challenge.
"If a team member sees two Humvees full of soldiers driving through town, they're going to follow them," Johnston said. "And they're going to radio back their ultimate location." They aren't worried about martial law, he said, but feel like they can't trust the 'government', and want to make sure the military isn't under orders to pull anything funny.
The Texas volunteers are just one regiment of a national effort organized by 44-year-old former Marine Pete Lanteri, a New Yorker living in Arizona with plenty of experience on civilian border patrols. He founded the Counter Jade Helm, Facebook page, with six thousand members and he made the webpage and forum to which field reports will be uploaded. "We're going to be watching what they do in the public," he said.
"Obviously on a military base they can do whatever they want but, if they're going to train on public land, we have a right as American citizens to watch what they're doing."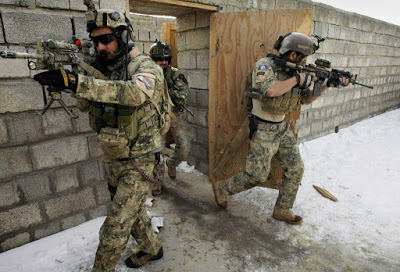 He said the volunteer force includes about 200 people, with the largest group in Arizona. Many former military and law enforcement, as well as lifelong civilians, have joined the cause.
Lanteri will coordinate the whole seven state operation from his home in Phoenix, Ariz., where each field report will be received. Other individuals, like Johnston, will lead the efforts in each state, and others still will oversee the operations in each town where Jade Helm will take place.
There, volunteers will locate the drill sites and observe. Johnston said there's a strict no-camouflage policy to avoid the appearance of a more radical group, and they'll all be unarmed. With binoculars and spotting scopes, they'll record troop numbers, uniforms and activities.
One of Johnston's men, a licensed pilot, even plans on making surveillance flights with his personal aircraft.
They'll relay all reports to the headquarters in Arizona. There, Lateri said an intelligence staff, some whom are former Army intelligence workers, will review and verify information before posting it publicly on their website.
"We just want to see what they're doing and make that information public," Johnston said.
That work seems similar to the task Texas Gov. Greg Abbott gave the Texas State Guard — one of three branches of the state-owned Texas Military — in April when he ordered them to "monitor" the federal troops in Jade Helm. However, the Texas Military won't share the details of their orders. In response to a query, a spokes person said "We are unable to speak about ongoing operations."
Abbott called up the guard after Texans flooded his office with fearful questions and comments about the impending exercise. Most thought Jade Helm was a front for a federal invasion and institution of martial law. Those comments mirrored theories about the drill that circulated online, some of which incorporated suspicions of shuttered Walmarts-turned-death camps, giant underground tunnels and century-old global conspiracies. Those notions drew chuckles from across the country, and eventually landed Jade Helm in the national headlines. But the organizers insist the radically conspiracy-minded have been filtered from the surveillance volunteers, and no one among their group fears the imminent opening of concentration camps.


Lanteri said he struggles to keep that bloc off his Facebook page. "Once I saw the freaking nut-jobs coming out of the woodwork, I was spending half my day discrediting what they were posting," he said. "No nut-jobs will be put in the field," but that's not to say they aren't suspicious. Both Johnston and Lanteri think the military is up to something.



As far back as November, Johnston heard rumblings of an unprecedented multi-state military drill on web forums he visits for law enforcement training and former military. That was months before the public learned of Jade Helm in March through a military slideshow document with a map that labeled Texas as a "hostile" territory.
The uproar that followed pushed the U.S. Army Special Operations Command to send a spokesperson to Bastrop to address the fears of concerned citizens. The crowded town hall meeting did little to ease tensions. Johnston was there. He said it made him suspicious, though he doesn't think Jade Helm is a front for martial law. "If the government wants to put troops in place for a takeover, they aren't going to put them in Bastrop," he said, but he said he doesn't know what is up. He's "got a gut feeling," so he'll return to Bastrop, 130 miles from his home, next week to personally oversee the start of Operation Counter Jade Helm.


With an unknown number of federal troops moving between vaguely-specified Texas locations for two months, volunteer staffing will be tight, but they'll try to have someone on call at each location at all times. The first crew is heading out to Bastrop this weekend. Two volunteers took their summer vacations next week, and will take their trailer homes to the piney town and wait for the Humvees to roll by.


Army Special Operations didn't address questions about the civilian surveillance operation, but said in a statement, "This training exercise will go mostly unnoticed, not interfere with private citizens and not violate their privacy and rights. It will not disrupt their economies or livelihoods. State and local officials will receive updates as the exercise progresses and they are equally committed to ensuring the training occurs smoothly."


http://www.chron.com/news/houston-texas/texas/article/Texans-organize-Operation-Counter-Jade-Helm-to-6378017.php
NESARA- Restore America – Galactic News
Source:
http://nesaranews.blogspot.com/2015/07/texans-organize-operation-counter-jade.html