CHECK OUT OTHER STORIES BY THE UN-SILENT MAJORITY HERE:
Science has told us that black holes exist, here on earth archeologists have told us they've found a hold leading to the Largest City Ever? – An Enormous 5,000 Year-Old Underground City Recently Discovered. Furthermore, Worm Holes in space have been speculated, although never proven, however #1 will take your breath away. Hats of to science for finally confirming this!
THIS VIDEO WILL WARM YOU UP, BUT BRACE YOURSELF…
CHECK OUT OTHER STORIES BY THE UN-SILENT MAJORITY HERE:
BE SURE TO GO MY PROFILE'S BELOW AT OTHER SOCIAL MEDIA:
FACEBOOK | TWITTER | PINTEREST | STUMBLE UPON | TUMBLER
Number 10. The Darvaze Gas Crater. In Turkmenistan is the burning, stinking, sulphurous crater known as the Gate to Hell. In 1971 Soviet engineers were drilling the area known to hold one of the largest deposits of natural gas.
Number 9. The Well Of Chand Baori. Legend has it that this 13 story water well was carved out of the rock by spirits in a single night, and dedicated to the Hindu goddess of happiness. There are 3500 perfectly symmetrical steps leading to the bottom, which is about 10 degrees cooler than at the surface.
Number 8. The KTB Superdeep Borehole. Starting in 1982, the German Ministry of Research began a scientific exploration drilling program, deep into the earth's crust, that would last more than 12 years and cost more than a third of a billion dollars, their most expensive geo-science project ever.
Number 7. The Guatamala City Sinkhole. In 2010, a massive hole suddenly opened up in the middle of the city and swallowed a three story factory house, along with fifteen people inside. The cause was attributed to Tropical Storm Agatha, which impacted Guatamala just three days after the eruption of Volcano Pacaya.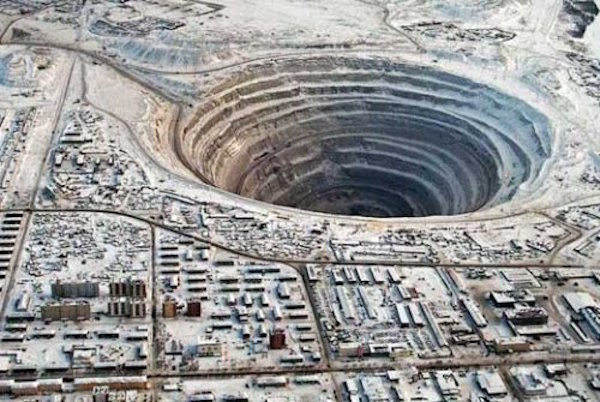 Number 6. Siberian Craters. Yet another new geological phenomenon was discovered in 2014 when a reindeer herder discovered a two hundred foot crater in a remote area known as The End Of The World.
Number 5. Indiana Dunes National Park. An amazing new geological phenomenon was only discovered in the last few years, when shifting sands have suddenly opened up massive sinkholes beneath travelers' feet.
Number 4. Monticello Dam Hole – This Majestic spillhole, also known as the "glory hole" is part of the Monticello Dam in Napa County, California. This hole is the largest spillhole in the world and leads down a 304 foot or 93 m tall hole which drains out out of the bottom of the dam.
CLICK HERE TO FIND OUT WHERE THE TOP 3 MOST INSANE HOLES EVER DISCOVERED ARE AT RIGHT.IS:
TOTAL RANDOM FUN LISTS:
10 Extremely Bizarre Phobias People Have – #2 is NO Joke!
10 Dumbest Lottery Winners of All Time (Video)
25 Strangest Disappearances In History That Are Still Unanswered
14 Photos That Prove The World's Going To Hell – #10 is Crazy!
7 Insanely Advanced Weapons History Somehow Forgot About
10 TV Shows That Changed the Course of History
Ten Star Wars Mysteries Stand Alone Films Could Answer
7 Actors Who Really Hated Being In Star Wars
27 Most Shockingly Creepy Pictures on Google Maps With Video
27 Terrible '90s Problems That Kids Today Will Never Understand
57 Wild and Zany Sparsely Known Facts About Major Brand Names We Love
20 Mind Blowing Facts Will Destroy Your Understanding Of Time!
Thirty-one Rare and Interesting Pictures Of the World History
Thirteen Crap-Your-Pants Photos That'll Keep You Out of the Ocean Forever
15 Space Pictures That Will Actually Make You Think
The 8 Most Hazardous Places In The World
Ten Notorious Internet Trolls Who Were Exposed
Ten Amazing Scenes Cut From Your Favorite Movies
FOR MORE CONSPIRATORIAL TYPE LISTS:
The 20 Most Restricted Areas On Earth – #1 is Insane!
Top 8 "Conspiracy Theories" That Turned Out Completely True
14 Believable Conspiracy Theories
Top 10 Obscure Conspiracy Theories
10 Insane UFO Conspiracy Theories That Might Actually Be True
10 Reasons the Moon Landings Could Be a Hoax
Ten Crazy Conspiracy Theories About Celebrity Deaths
CHECK OUT OTHER STORIES BY THE UN-SILENT MAJORITY HERE:
BE SURE TO GO MY PROFILE'S BELOW AT OTHER SOCIAL MEDIA:
FACEBOOK | TWITTER | PINTEREST | STUMBLE UPON | TUMBLER
~ THE UN-SILENT MAJORITY ~