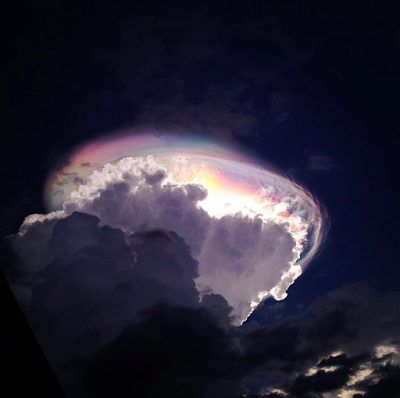 Images from Russia Today Article
HERE
. I am not going to repost the article here and lend my energy to the speculation on the RT.COM article given its religious themes of "guilt", retribution on impious evolutionists, and divine punishment themes (which is not happening!). Guilt, judgement, punishment and redemption are tools of the controllers to instill a "less then mentality" inbodyments of Source, when they are in reality ALL Source beings of I AM.
I have an inquiry to the Sphere Alliance Data Collectors as to what these clouds are. The pillars of light displayed a few weeks ago were holographic projections by the former controllers, using HAARP and satellite holographic projectors in attempt to stage a fake 2nd coming event. HAARP and those satellites have been shut down, along with CERN. The Sphere Alliance said that when the Spheres/City of Lights land, the beams of light they produce remain steady and do not shut down and move about.
So I am being a bit cautious as to speculating what these clouds are until I have more data. I will post that here when it arrives.
My intuition say they Sphere's inner-grating back into Earth, which is primal spot of creation, otherwise known as heaven/paradise. 4 Spheres make up the original energy of this realm, EARTH (recently overlaid with NEWEARTH pattern of the LOVEJOY energy), PARALLEL EARTH, RARE EARTH (a contingency Earth should the "WHAT-IF" experiment go very badly – and which the Dragons discovered and mined magnetic minerals from), THE SPHERE NEPTUNE. There is a 5th component of the original realm of paradise which is all the other Spheres and realms combined.
Former "densities/dimensions" are being folded back into the original primal point as realms, many are leaving their former realms preparing to rejoin the expanded and re-united Earth realm. Some have asked if "space travel" goes away. It was never really space travel, the distances were an illusion within Source, there will continue to be intra-realm travel as the Sphere Alliance is not referring to the former "galaxies" and densities. The various densities/dimensions were created to experience separation by separating the original creation into spectral octaves of existence, which some missing frequencies between them (which added to the illusion of separation – and in some cases believing they were in higher and more advanced realms).
Intra-realm travel is a capability of the new-Human inbodyment which has been in place since early 2013, its only habits of belief in the former limitations that keep people from experiencing the abilities that lie within. The systems of control were always based on belief. Go within, and discover all that awaits. People hate being told "Go Within" but its not a trite statement, its where all the information and abilities await.
We do know that Commander Thorac/"Thor" came into this realm from the former density known as 6D a few days ago into his Earth body, rainbow dimensional targeting patterns appeared in SKYe's and Denice's homes when there was no sunlight coming through the windows. Thor volunteered to be the first one to do so work out any issues and/or fears the others may have. Thor is in safe location at the moment where no agencies and secret societies can intercept him as is their habit.
Here are the images from SKYe's kitchen… similar images appeared in Denice's house at the same moment.