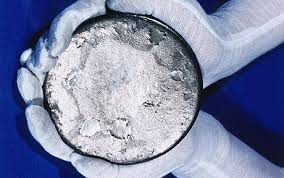 At least three times in the last ten years, samples of highly-enriched uranium of the type used to make a nuclear bomb have been smuggled into Moldova, a small landlocked country in Eastern Europe bordered by Romania to the west and Ukraine to the north, east and south, on their way to a prospective buyer.
Five current or former U.S. officials who have tracked nuclear smuggling are alarmed because the uranium appears to have the same origin – a restricted military installation in Russia.
Documents filed in the Modovan Supreme Court detailed that the uranium was smuggled into the country in a bag by a policeman through the capital city of Chişinău. But the bag was actually a lead-lined cylinder, shaped like a thermos, to contain radiation from the fissile material.
From there it was picked up by the wife of a former Russian military officer, who handed it off to a friend while she went shopping.
The bag full or uranium was then retrieved by a 57-year old lawyer named Teodor Chetrus, from a provincial town near the Ukrainian border. He brought it to a meeting with a man named Ruslan Andropov. According to Moldovan police, earlier in the day the two men had visited a local bank, where Chetrus confirmed that Andropov had deposited more than $330,000 as an initial payment for the uranium.
The uranium in the bag was meant to be the first of several shipments totaling 10 kilograms (22 lbs), about a fifth of the uranium needed to fuel a Hiroshima-sized nuclear explosion. But it is enough uranium to build a more technically-advanced "implosion-style" nuclear bomb.
Unknown to the smugglers, Andropov was working with Moldovan police, who were monitoring communications between those involved, with advice from the U.S. embassy in Chishinau. On June 27, 2011, they arrested Chetrus on a sidewalk in front of the bank. He would eventually be sentenced to five years in prison.
His arrest ended one of four attempts in the past five years by Moldovan residents to smuggle dangerous nuclear materials into the West through Moldova. U.S. Intelligence officials believe that thieves inside of Russia somehow made off years ago with a full bomb's worth of highly enriched uranium. But the government of Russian president Vladimir Putin has refused to provide any information on the stolen uranium, or even admit that some of it is missing.
© 2015 AllNewsCenter.com