by Robyn Reisch; unisoultheory.com
An Earth Angel is a being who has come to spread light throughout a world that seems to be living in chaos.
Some believe that their origins are divine. Others believe that they are simply souls like any other that are highly advanced.
Wherever they come from, an Earth Angel serves as a source of inspiration, comfort, healing, and hope for those around them.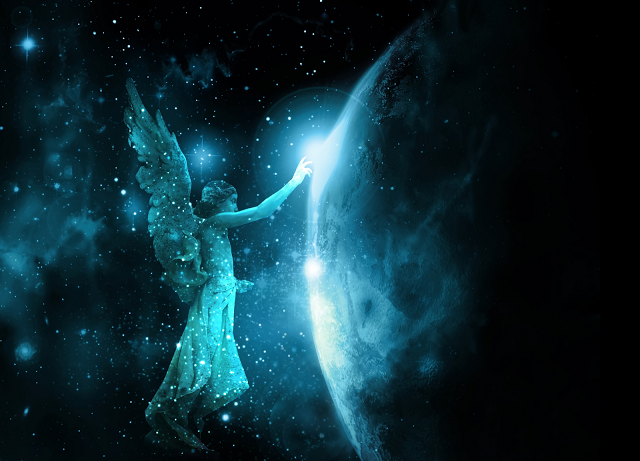 Could you be one of these people? Here are 27 signs that you are:
1. You enjoy spending time in nature. You feel at peace after a long hike, and often seek solace near bodies of water.
2. You have a deep aversion to violence. You dislike horror movies, action movies, and violent video games. This is true even when the violence is animated or highly unrealistic.
3. You question authority more than most. As a teenager, you were likely a rebel, a loner, or both.
4. You are profoundly creative. Whether your medium is art, music, science, or literature, you prefer to process your emotions through a creative outlet.
5. You may or may not identify with an organized religion. Either way, your personal spirituality is very important to you.
6. You often feel disconnected from modern culture. Reality TV, pop music, and trendy fashion do not speak to you.
7. You are easily overwhelmed. You avoid crowded places, loud venues, and areas of conflict.
8. You relate well with animals. When you visit someone's home, their pets often find a spot in your lap.
9. You engage in some aspect of humanitarian work, either through your job, volunteer pursuits, or spiritual engagement.
10. You do not buy into our culture of consumerism and material wealth.
11. You are an activist. You donate your time, talents, and money to causes which are important to you.
12. You feel that modern life causes us to isolate from one another in a way that is not healthy.
13. You have endured trauma in your lifetime, and worked to grow from it. You emerged from these difficult times with a greater sense of empathy and understanding.
14. You feel a deep connection with small children. You can even get the shy ones to come out of their shells.
15. You put a high value on comfort – both physical and emotional. You may have a "safe place" at home that exemplifies both.
16. You feel a deep sense of purpose. You may feel called to help a particular group of people, or to help all people with a particular skill or gift.
17. Your heart and spirit speak to you much louder than your brain does. This sometimes gets you into trouble.
18. You feel drawn to pregnant women. You can often sense a woman's pregnancy before she is showing, and may even be able to accurately guess the baby's gender.
19. You have a tendency to absorb the emotions of others.
20. You are a homebody. You enjoy spending time alone, and may be a self-described introvert.
21. You have a deep interest in politics, but need to limit the degree to which you engage with it. Too much political talk can make you feel angry, frustrated, or even hopeless.
22. You dislike the fast pace and achievement-driven nature of modern life.
23. You have a garden. You feel a strong compulsion to grow and nurture the plants there. It's a small way to bring life to the earth.
24. You have a powerful sense of intuition. You are wise enough to follow it often.
25. You have a deep commitment to environmental causes, and you back these ideals up by living your life in an environmentally friendly way.
26. Racism, sexism, and other forms of injustice make you feel extremely angry and sad. They touch you in a highly personal way, even if you are not familiar with the group being discriminated against.
27. If you had to choose, you would rather live a life that you find fulfilling than one that your loved ones would consider to be successful.
As Molly Friedenfeld wrote, "Earthly Angels do not allow other souls to dim their light; they just keep shining bright as the sun, for this helps other souls to reconnect with their own light and shine brightly too!" Being an earth angel is not easy, but it is a rewarding path to travel. Shine on!
Every Day is Earth Day
Source:
http://feedproxy.google.com/~r/riseearth/KZKa/~3/eboE4vBluqI/27-signs-you-are-earth-angel.html