Story Views


Now:
Last Hour:
Last 24 Hours:
Total:
Five for Friday #43
Thursday, March 23, 2017 4:34
% of readers think this story is Fact. Add your two cents.

I am a mother of four in my mid 30′s and I have been told that I have some psychic abilities, mainly psychometry, paranormal, and lately remote viewing. Things come to me in the form of pictures in my mind, feelings and impressions, and sometimes sounds. I typically get them when asked to focus on specific objects or events. I clear my mind, think of the question or object and this blog is an example of what I get. This blog is a way for me to organize all my thoughts. by Lynn & Da-da
Hi all, and welcome to

Friday

Five #43, special truth-out edition. As always, Da-da's questions and comments appear [in brackets]. Here we go.
Image #1: Saturn's Gilligan Hat Moon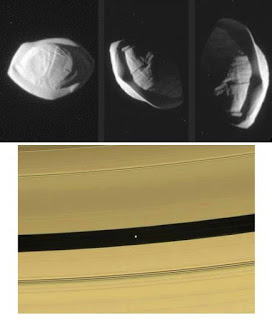 This is PAN, one of Saturn's many bizarre moons, this one is inside the rings. (It's that tiny speck in the gap, only 22 miles wide.) What the heck is that? A beat-up ship? (A recent Wilcock post told about a war long ago where a huge base around Saturn was destroyed at the same time the one big planet was destroyed. The debris around Saturn was apparently rife with chunks of huge transparent-aluminum "rooms" for beings 100-foot-tall, and that that's what now makes up the rings.)
"It's Gilligan's hat. No. Actually, what I see is this handful of big meteorites traveling fast near Saturn. They collided and created extreme energy and hot-melted debris that immediately stuck together, spinning fast, and then flash-froze within a few seconds. The heat from the explosion created this weird formation, a product of extreme heat and extreme cold. It's totally natural."
[So, the Wilcock info wasn't all that accurate.]
"I don't feel like he is a liar. I get that he gets a lot of conflicting information, and has to sort through it. There is an overwhelming amount of info being blasted to him, even disinfo."
Image #2: Saturnian Ice Spikes
Here's more of Saturn, this time super tall ice chunks in the rings… or it it something else?
What Lynn Saw
"Again, I see this as totally natural. I hear the phrase, 'ice spikes.' These are basically water crystals (and some other elements/molecules in there) growing in this spiky way due to the intense magnetic field."
Image #3: The Pic in the Vault
Meanwhile, back at the studio… is this an astronaut's family photo (in a baggie) *really* left on the moon? Or in the fireplace ash of the "moon studio" in the Hollywood Hills? Where is this photo today?
"I keep hearing that song, "Californication," that talks about space not being the final frontier cause it's made in a
Hollywood
basement. Yes, this is a movie set pic, and that's fireplace ash. The photo is in a vault, down deep in area 51." [Makes you wonder at the hideously expensive, top-secret, barbed-wire-fenced facilities and armed guards necessary to guard all those lies.]
This was billed on the internet as a "moon UFO," but isn't that one of the studio lights? And if this is a studio, how did they do that deep canyon on the left?
"I get that there was some kind of dark screen at the back of the set. That's a light shining too brightly through that black screen. As for the "canyon," I hear that that's all lighting. That's a built-up platform lighted just right to make it look like a deep canyon, and a model of the lunar rover, giving the illusion of depth. It's all illusions. This is not really as hard as people think it would be. Kubrick, who did all this, was brilliant in this kinda stuff, a master. He was way ahead of the cutting-edge in terms of photographic tricks." [Kubrick always said that his greatest work was the one that no one knew about.]
Image #5: We Martian Towers Three
Here are what look like three mile-high towers on Mars. What's their purpose and who made them?
"I get they were made by humans (astronauts that really made it there) for the purpose of transmissions. I get they have been there for over a decade now."
And the Fake Envelope Goes To…
"Not sure who's trying to pass this off as Mars, but this is NOT mars. The sky on Mars is rusty red, a reddish tint."
And that's it. Join us next time for Episode #45!
Source:
http://psychicfocus.blogspot.com/2017/03/five-for-friday-43.html