(Information about BIN: some of the videos I send in my articles are being disabled each time.
But that comes from BIN, not me. )
Islam is the worst thing existing in the world. I'm Buddhist, the highest form of culture in the world. Obama's an evil Muslim and also the Antichrist.
REVEALED: The Obama administration's support for Hamas was not passive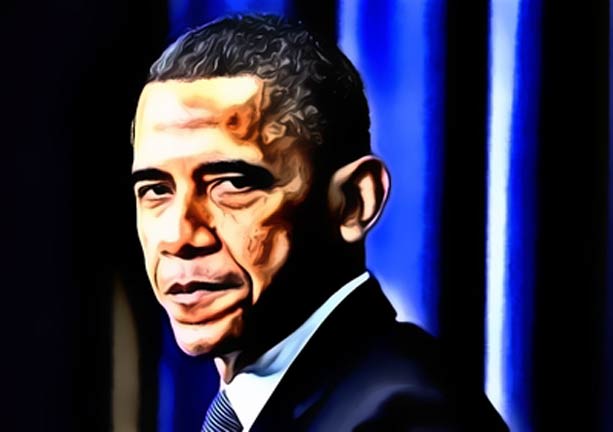 In the next inevitable confrontation with the terror group, the lessons of the Hamas War must not be ignored
Israel's State Comptroller's Report on Operation Protective Edge, the Jewish state's war with Hamas in the summer of 2014, is exceedingly detailed. The problem is that it addresses the wrong details.
Israel's problem with Hamas wasn't its tactics for destroying Hamas's attack tunnels. Israel faced two challenges in its war with Hamas that summer. The first had to do with the regional and global context of the war. The second had to do with its understanding of its enemy on the ground.
War between Hamas and Israel took place as the Sunni Arab world was steeped a two-pronged existential struggle. On the one hand, Sunni regimes fought jihadist groups that emerged from the Muslim Brotherhood movement. On the other, they fought against Iran and its proxies in a bid to block Iran's moves toward regional hegemony.
On both fronts, the Sunni regimes, led by Egypt under President Abdel Fattah al-Sisi, the Saudi regime and the United Arab Emirates, were shocked to discover that the Obama administration was siding with their enemies against them.
If Israel went into the war against Hamas thinking that the Obama administration would treat it differently than it treated the Sunni regimes, it quickly discovered that it was mistaken. From the outset of the battle between Hamas and Israel, the Obama administration supported Hamas against Israel.
America's support for Hamas was expressed at the earliest stages of the war when then-secretary of state John Kerry demanded that Israel accept an immediate cease-fire based entirely on Hamas's terms. This demand, in various forms, remained the administration's position throughout the 50-day war.
Hamas's terms were impossible for Israel. They included opening the jihadist regime's land borders with Israel and Egypt, and providing it with open access to the sea. Hamas demanded to be reconnected to the international banking system in order to enable funds to enter Gaza freely from any spot on the globe. Hamas also demanded that Israel release its terrorists from its prisons.
If Israel had accepted any of Hamas's cease-fire terms, its agreement would have constituted a strategic defeat for Israel and a historic victory for Hamas.
Open borders for Hamas means the free flow of armaments, recruits, trainers and money to Gaza. Were Hamas to be connected to the international banking system, the jihadist regime would have become the banking center of the global jihad.
The Obama administration's support for Hamas was not passive.
Obama and Kerry threatened to join the Europeans in condemning Israel at the UN. Administration officials continuously railed against IDF operations in Gaza, insinuating that Israel was committing war crimes by insisting that Israel wasn't doing enough to avoid civilian casualties.
As the war progressed, the administration's actions against Israel became more aggressive. Washington placed a partial embargo on weapons shipments to Israel.
Then on July 23, 2014, the administration took the almost inconceivable step of having the Federal Aviation Administration ban flights of US carriers to Ben-Gurion Airport for 36 hours. The flight ban was instituted after a Hamas missile fell a mile from the airport.
The FAA did not ban flights to Pakistan or Afghanistan after jihadists on the ground successfully bombed airplanes out of the sky.
It took Sen. Ted Cruz's threat to place a hold on all State Department appointments, and Canada's Conservative Party government's behind-the-scenes diplomatic revolt to get the flight ban rescinded.
The government and the IDF were shocked by the ferocity of the administration's hostility. But to his great credit, Prime Minister Benjamin Netanyahu surmounted it.
Netanyahu realized that Hamas is part of the Muslim Brotherhood nexus of jihad and also supported by Iran. As a result the Egyptians, Saudis and UAE rightly view it as a major enemy. Indeed, Egypt was in a state of war with Hamas in 2014. Gaza serves as the logistical base of the Salafist forces warring against the Egyptian military.
Netanyahu asked Sisi for help in blunting the American campaign for Hamas. Sisi was quick to agree and brought the Saudis and the UAE into an all-but-declared operational alliance with Israel against Hamas.
Since the Egyptians were hosting the cease-fire talks, Egypt was well-positioned to blunt Obama's demand that Israel accept Hamas's cease-fire terms.
In a bid to undermine Egypt, Obama and Kerry colluded with Hamas's state sponsors Turkey and Qatar to push Sisi out of the cease-fire discussions. But due to Saudi and UAE support for Sisi and Israel, the administration's attempts to sideline the Egyptians failed.
The cease-fire terms that were adopted at the end of the war contained none of Hamas's demands. Israel had won the diplomatic war.
It was a strange victory, however. Netanyahu was never able to let the public know what was happening.
Had he informed the public, the knowledge that the US was backing Hamas would have caused mass demoralization and panic. So Netanyahu had to fight the diplomatic fight of his life secretly.
The war on the ground was greatly influenced by the diplomatic war. But the war on the ground was first and foremost a product of the nature of Hamas and of the nature of Hamas's relationship with the PLO.
Unfortunately, the Comptroller's Report indicates that the IDF didn't understand either. According to the report, in the weeks before the war began, the then-coordinator of government activities in the territories, Maj.-Gen. (res.) Eitan Dangot, told the security cabinet that the humanitarian situation in Gaza was at a crisis point and that hostilities were likely to break out if Israel didn't allow humanitarian aid into the Strip.
On Wednesday we learned that Dangot's view continues to prevail in the army. The IDF's intelligence chief, Maj.-Gen. Herzi Halevi, told the Knesset's Foreign Affairs and Defense Committee that Israel must send humanitarian aid to Gaza to avert a war.
There is truth to the IDF's position. Hamas did in fact go to war against Israel in the summer of 2014 because it was short on supplies.
After Sisi overthrew the Muslim Brotherhood regime in Egypt the previous summer, he shut Egypt's border with Gaza because Gaza was the logistical base of the insurgency against his regime. The closed border cut off Hamas's supply train of everything from antitank missiles to cigarettes and flour.
The problem with the IDF's view of Hamas is that providing aid to Gaza means supplying Hamas first and foremost. Every shipment into Gaza strengthens Hamas far more than it serves the needs of Gaza's civilian population. We got a good look at Hamas's contempt for the suffering of its people during Protective Edge.
After seeing the vast dimensions of Hamas's tunnel infrastructure, the then-OC Southern Command, Maj.-Gen. Sami Turgeman, told reporters that Hamas had diverted enough concrete to its tunnel project to build 200 kindergartens, two hospitals, 20 clinics and 20 schools.
Moreover, the civilian institutions that are supposed to be assisted by humanitarian aid all serve Hamas. During the war, three soldiers from the IDF's Maglan unit were killed in southern Gaza when they were buried in rubble of a booby-trapped UNRWA clinic.
The soldiers were in the clinic to seal off the entry shaft of a tunnel that was located in an exam room.
Hamas had booby trapped the walls of the clinic and detonated it when the soldiers walked through the door.
All of the civilian institutions in Gaza, including those run by the UN, as well as thousands of private homes, are used by Hamas as part of its war machine against Israel.
So any discussion of whether or not to allow humanitarian aid into Gaza is not a humanitarian discussion. It is a discussion about whether or not to strengthen Hamas and reinforce its control over the population of Gaza.
This brings us to the goals of the war in Gaza in 2014. At the time, the government debated two possible endgames.
The first was supported by then-justice minister Tzipi Livni. Livni, and the Left more generally, supported using the war with Hamas as a means of unseating Hamas and restoring the PLO-controlled Palestinian Authority to power in the area.
There were four problems with this notion. First, it would require Israel to reconquer Gaza.
Second, the Obama administration would never have agreed to an Israeli conquest of Gaza.
Third, Israel doesn't have the forces to deploy to Gaza to retake control of the area without rendering its other borders vulnerable.
The final problem with Livni's idea is that the PLO is no better than Hamas. From the outset of the war, the PLO gave Hamas unqualified support. Fatah militias in Gaza manned the missile launchers side by side with Hamas fighters. PLO chief Mahmoud Abbas represented Hamas at the cease-fire talks in Cairo. He led the political war against Israel in the West. And he financed Hamas's war effort. Throughout the war Abbas sent a steady stream of funds to Gaza.
If PLO forces were returned to Gaza, they would behave precisely as they behaved from 2000 until Hamas kicked them out in 2007. That is, they would have acted as Hamas's full partners in their joint war against Israel.

The second possible endgame involved a long-term strategy of defeating Hamas through attrition. This was the goal the government ended up partially adopting. The government ordered the IDF to destroy as much of Hamas's missile arsenal as possible and to destroy its offensive tunnels into Israel. When the goals had been achieved to the point where the cost of opposing Obama grew greater than the battle gains, Netanyahu agreed to a cease-fire.
For the attrition strategy to have succeeded, the cease-fire would have only been the first stage of a longer war. For the attrition strategy to work, Israel needed to refuse to resupply Hamas. With its missile arsenal depleted and its tunnels destroyed, had Israel maintained the ban on supplies to Gaza, the residents would have revolted and Hamas wouldn't have had the option of deflecting their anger onto Israel by starting a new war.
The IDF unfortunately never accepted attrition as the goal. From the Comptroller's Report and Halevi's statement to the Knesset this week, it appears the General Staff rejected attrition because it refuses to accept either the nature of Hamas or the nature of the PLO. Immediately after the cease-fire went into force, the General Staff recommended rebuilding Gaza and allowing an almost free flow of building supplies, including concrete, into Hamas's mini-state.
The Comptroller's Report is notable mainly because it shows that nearly three years after Protective Edge, official Israel still doesn't understand what happened that summer. The problem with Hamas was never tactical. It was always strategic. Israel won the diplomatic battle because it understood the correlation of its strategic interests with those of the Sunni regimes.
It lost the military battle of attrition because it permitted Hamas to resupply.
I AM A Muslim BY BARACK OBAMA!!! Does It Really Matter
http://www.unitedjerusalem.org/index2.asp?Curr=24
I'm also revealing that Obama's real name is Barry Parks; he's the son of Jim T. Parks.
People, investigate that by Googling it.
Why is no one recognizing me as Messiah and Jesus' 2d Coming? Just askin'. It seems strange that that news won't get out. But "no one knows the day and hour of that news being spread", not even me, says the Bible.
Now to give a short timeline of events leading up to today, let's look at my youth when I was brought up in the USA and France to a family influenced by Theosophy and schooling such as Rudolf Steiner's schools. Theosophy's basic influence is Buddhism from Helena Blavatsky's Russian background where the influence of Tibetan Buddhism is rife due to the Mongolian Buddhists within the Russian Federation of nations.
My family relative the Royal Count Tolstoy was also a Theosophical spiritualist and corresponded with Gandhi, who also was himself influenced by Buddhism and Theosophy.
My wife and I studied Tibetan language and culture at Paris University for five years in the mid-80s..
But when still a child, when I reached 15 years old, I was attracted to the religious life and sought to find a master to teach me meditation or yoga.
This brought me to Tibetan Buddhism which I practised for many years as a religious Buddhist starting from 1970.
In the late 90s, I sought to pass on my knowledge on Internet and particularly my research upon Kalachakra the deity-teachings which announce the Apocalypse within Tibetan Buddhism.
My work on Internet suddenly screeched to a halt though when Obama started running for president in early 2007 because I saw on Internet a school registration to Obama's name stating his faith as Muslim: that was a signal of a red flag to me.
Indeed, that set up a red alert signal to me and during the whole of 2007 I dedicated myself solely to fighting against Obama's election.
To achieve that, I sought to find the most powerful anti-Obama video that I could find on You Tube so as to go and find people to share my convictions with.
Through that same logic I tried to find all kinds of venues, forums, blogs, videos, articles' comments on Internet etc…so as to criticise and block Obama but I ended up on the video with most views and most comments that deals with the birther issue: Obama Citizenship: I Invented the Internet (Ep. 6: October Surprise)
Obama Citizenship: I Invented The Internet (Ep. 6: October Surprise)
I spent the full time I had left before the election battling pro-Obama forces in the comments there during several heady weeks. I literally littered that video with endless series of comments.
We've been legitimized now since that time 9 LONG YEARS AGO by Sheriff joe Arpaio's press confernce where he said Obama's birth forgery is the greatest criminal fraud in US history. And it's thanks to all our efforts that the truth has come out now.
At 0:10: Obama's birth fraud is diabolical!… the biggest mass fraud in US history.
Zullo: Obama BC Crime/Biggest Criminal Fraud in U.S. History!
———–
Then Obama won the election and I went into guerilla mode because things were starting to look bleak for us.
Then = a miracle happened.
Out of the blue, I found an article on Internet by a Newsweek senior editor, Lisa Miller, called "Is Obama the Antichrist?"
That article stated that the day after Obama's election the lottery in his homestate drew the Mark of the Beast of 666: And everybody knows that's the Antichrist.
That fact is ironclad and anyone can go to the Illinois State Lottery website and
browse the "Winning Number History Search"
at November 5,2008 – Pick 3 and they'll find that the draw was indeed 666 on that day.
Armed with that weapon, I set out to Christian websites to announce to them that Obama was revealed as the Antichrist by a miracle sent from heaven.
I hit a big brick wall with Christians.
Briefly, my logic during the first years of Obama's power was that I wasn't interested in being the Messiah.
Indeed, I am a Buddhist and very content with that. I have no wish to be Christian seeing I'm an ex-Christian.
I have famous people in my family that are Christians.
I have 2 ancestors who were the Pope's Chamberlain: Baron Wilhelm Wedel-Jarlsberg and Count Christopher de Paus (he's of Royal Count Tolstoy's branch of our family).
I'm Buddhist and have rejected Christianity as an evil faith: Tibetan Tantric Buddhism is the highest form of culture in the world and Buddhism hasn't made war and therefore isn't evil in making war like Christianity has.
My family was into evil ways when it was Christian – and when it was Anarchist as Tolstoy is the great Anarchist/Communist hero, (who is world-famous).
How did I get pressured against my will to be the Messiah?
Well, I had set my goal on revealing that Obama was the Antichrist of Christianity: indeed, I had the ironclad proof because the lottery draw of 666 cursed Obama the day of his celebration of victory.
I thought of myself as a messenger dropping in on Christians and telling them who their Antichrist was.
I thought of it as "delivery" end times prophecy. We live in the age of drop-off, home-delivery, through Amazon or Domino's Pizza.
Indeed, Christianity is alien to me. So I wouldn't want to even be caught dead being the Christian Messiah. I had the idea I'd just drop off the message – like a mailman – and MOVE ON to other stuff (my mission as a Buddhist fits with the King of Shambhala prophecy of the world's saviour and not with the Christian prophecy of the "Messiah").
But Christians went overboard when I showed up with that message for them.
Indeed, they more or less grabbed me and dragged me inside for an in-depth soul-searching conversation and scan of my innermost soul. But I got fed up with the spiritual moments with them….as I'll explain now.
Off the bat indeed, they went BEZERK and harrassed me with questions about who I was and what my beliefs were. It was a mix of fear and awe at me. Very scary.
They were interviewing me for the job of Messiah in fact (and they weren't liking what they were seeing me as, because to them in their book, Buddhism meant "blasphemous heresy".).
I got so fed up of them 'killing the messenger', that I got mad and said: "Like the message or not I'm the Messenger. I never said I'm the Messiah, it's you who keep hammering away that I must be the Messiah." So I said: "Seeing you don't like me being Buddhist etc… well tough luck for you, I'm the Messiah whether you like it or not because my message is ironclad and I'll ram it down your stupid ugly Christian throats by force if need be."
This message which is pretty simple is so hard to grasp, that people in the comments just can't get their heads around it.
The problem with the Christians was that they were killing the messenger (they're hateful anti-Buddhist bigots at the core).
The people in the comments here are stuck in Christian-towards-heathen oppositions that block out all rational thinking.
And I didn't want them to 'kill the messenger' and for me to take that sitting down. The backward fundie-style Christians who were killing the message I was bringing, were evidently ugly people who were not worthy of any intellectual exchange.
So that's how I got suckered into being the Christian Messiah because all the Christians were rejecting me WHOLESALE.
Because of the cluelessly low level of the Christians who were attacking me, I decided to do it my way. I didn't need those backwards. I just went out and proclaimed the Apocalypse.
But more obstacles lay further along the road.
To retrack the evennts: I went to Wikipedia to edit the pages about the 'Antichrist', about '666′, about the 'Hideous Beast', about the 'Apocalypse', the 'Revelation' etc….
Well, Wikipedia's people flipped their coils so fast when I got there that it made my head spin.
They banned me from editing and warned me to stop trying to edit that 666 had turned up the day of Obama's celebration of his victory.
They came to my personal email to warn me they'd monitor what I wrote on Internet and that they'd make a special website to smear and slander me at wikidot.com. But the incredible thing is that the words they told me then, back in 2008 or 2009, they actually went through with. They faithfully monitored my posts throughout Internet (I'd like to request Team Trump to investigate how they did that. Did they put mics and moniroting devices on my computer etc… It looks like this was governement spying. This could be a major investigation like WIkileaks so I'd request Trump to send me his staff to find out what's going on.)
They set up the said wikidot website and they MAINTAINED IT TILL TODAY!!!!!!!!!!!!!!!!!!!!! We're talking about severe mentally challenged people here. They did all this because I'm saying Obama's the Antichrist. This is a case of the "lady protesting a bit too much".
Why are they so nervous that I say Obama's the Antichrist? They're hiding SOMETHING….
I took that into my stride at first. But I realized that they would have to be overcome by force because they were really riled up in a bad way.
I realized that I had determined foes facing me and during these years I've seen now that they were not taking me lightly at all.
I also realized that they were many and that they were in this fight ttill it's bitter end. They didn't see this battle as a small one and for me to win was not acceptable for them.
That's when I realized that this was really the Apocalypse, because such a rallying of forces was only possible by one single person and that was the Antichrist, aka Satan-in-Person.
After a lot of floundering around on Internet, and fighting Obama through the birth issue battle, I found BeforeItsNews which is a haven of peace and calm amidst the raging realm of Internet. Internet does not allow anyone to speak freely and gangs of Nazis troll it continuously and effortlessly.
BIN's the only place on Internet where ordinary thinking is more or less proscribed. Commonplace, prejudiced thinking is not practised at all BIN. The only thinking that's accepted there is out-of-the-box, creative, special thinking.
I obviously fit in immediately, seeing I was fleeing the middle-ages thinking of Christians, of Leftist/Communists and backward inbred, homo dorks of all stripes, kinds and form. Obama really draws evil to him. I was searching for any place in the WHOLE WIDE WORLD where I could freely say Obama's the Antichrist and put forth my proof of that without being targeted by Jihadist-style, medieval people.
Obama Minions were threatening me and hounding me throughout Internet.
To make a long story short, I set up making articles regularly, building myself a fan-base which is impressive now, spreading the news and hounding down Obama seeing the Bible announces his final defeat and the Apocalypse.
Now is the time.
So to recap that period of events, the most anti-Christian people I met in the world, were Christians, during those 2008-2009 years. They covered up for Obama lock, stock and barrel, he who is the most anti-Christian of all time = seeing he's the Antichrist..
They answered to me when I spoke about the lottery draw of 666 marking Obama, that as I was a Buddhist, I could not be the Messiah and Jesus so therefore, anything I said must be false. Therefore, they denied the divine heaven-sent miracle of 666 cursing Obama.
This non-plussed me, because I had never ever exchanged with Christians since converting to Buddhism, and I was flabberghasted and honestly disconcerted to face their intolerance, biggotted puritanism and flatout ignorance.
Furthermore, being of Christian background myself, this was my first confrontation with my fellow Christians since I had entered into Buddhism: so it took some mustering up of forces for me.
Now though, the proof that I'm indeed the Messiah and Jesus' Second Coming is clear: there's no doubt possible.
First of all, Christians who say I'm disqualifed as a Buddhist to be the Messiah and Jesus, are THEMSELVES disqualifed from claiming that.
Jesus was very clear when he announced that at the time of the end days, all Christians would be corrupted and to not follow them when they invoked him. He himself would not return as a Christian because of that widespread corruption.
Secondly, all Christians who claim I'm not the Messiah are furthermore also false christs because the Bible states that no one will know the day and hour of the Second Coming of Jesus.
Why will no one know the day and hour?
Because they won't know who the Messiah and Jesus is.
That's slearly shown by the statement that the "Second Coming will occur like lightning falling to earth". How does lightning fall? UNEXPECTEDLY.
Indeed, have you ever met anyone who can predict where lightning will fall in advance? No, obviously.
The Bible slso states that the 2d Coming will occur like a thief coming at night.
How does a thief come at night?
….BY SURPRISE.
What does "by surpise mean?"
It means UNEXPECTEDLY….. again
What does this all mean? Let's sum it up again.
It means that no one knows the day and hour of Jesus' Second Coming because no one ON EARTH knows who Jesus is when he comes so all those who claim I'm not Jesus are false christs who are lying about Jesus and Jesus said to not follow those people.
So again let's look at what this means.
It means that no one can state I'm the Messiah and Jesus or deny it. Indeed, that would make them false christs.
Furthermore, when I state I'm the Messiah and Jesus, I'm not relying upon wishes or my whims to "self-aggrandize" or such.
I merely rely upon TWO FACTS.
What are those two logical and incontrovertible facts?
First, the fact that Obama's cursed by 666 in the lottery is a sign sent by heaven.
Therefore it's not some fact I'm imagining, making up or exploiting for my benefit. Indeed, I saw the news in a Newsweek article just like millions of others did likewise witness that article.
They also could have seen the lottery draw of 666 in the news after the lottery's draw was made public. It's not just something I'm making up and that's just in my mind.
Secondly, I could have just remained a silent witness and waited around for some other person to stand up could and proclaim in the news medias that Obama was the Antichrist. People would have gathered around that person and hailed him or her as the Messiah and Jesus' Second Coming. But nobody has stood up to do that since eight years now.
About me being the Messiah now….: being a Buddhist I didn't even imagine the role of Messiah for myself and didn't wish it in any way because I had turned my back on Christianity and it represented to me the epitome of evil … second only to Islam.
So as I said above, for a few years, Christians were a problem to me because they were stalling me from proclaiming that Obama was the Antichrist. Their arguments baffled me.
To begin with it was far from my mind to call myself the Messiah and Jesus, so I didn't think I had to stand up to the Christians and proclaim myself as Messiah to fend off their criticisms..
But they the Christians kept dragging the topic back to the fore that my main obstacle to spreading the news was that I couldn't be the Messiah and Jesus because I was a Buddhist.
Now I realize their whole arguments are not founded and they're dead wrong. And the best argument against them is Jesus HIMSELF who disqualfied all Christians in the end times.
I realize now that the Christians have no mandate to decide upon my being the Messiah or not and that furthermore, seeing my facts are ironclad concerning the lottery draw of 666, that means I'm the Messiah and Jesus' Second Coming beyond any possible doubt…..and the case is closed in fact because of those facts.
Obama's attack on Israel's very existence in his illegal abstaining from the UN Resolution, is the signal of the end of times and Apocalypse….
In 2013, during my battle to reveal Obama as the Antichrist among may people fighting to spread information about Obama I met upon
Linda Joy Adams
(browse for "Daily Recap") and we quickly hit it off as friends and "kin on the path" of searching for the truth. Her story made the hair rise on my head. She claims she's Obama's third cousin and his real name is Barry parks, the son of Jim T. Parks.
"Nobody's investigating it" she complains.
also see here for me…. Mentally ill and criminal trolls have been heckling me for years because they object to the fact I'm the Messiah and nothing they say, can change that truth because I alone reveal that the lottery in Obama's homestate drew 666 (the Mark of the Beast aka the Number of the Antichrist) the day after his election. Wikipedia says that to troll is a pathological behaviour. Ignore the trolls: they're crazy.
I'm a person of high spiritual realization (University Tibetan culture/language studies, 8-month meditation retreat, foremost Buddhist Kalachakra authority). My family is a royal family (our relative Count Leo Tolstoy is the highest/ most ancient royal aristocratic lineage in Russia. We have family-relatives who were Papal Chamberlains such as Baron Wilhelm Wedel-Jarlsberg and Count Christopher de Paus) from Norway, and among others my grandmother's aunt Else Werring was the Royal Norwegian Palace's "Mistress of the Robes" (the hostess/organizer of the royal palace's events) for 27 years, until 1985.
Sheriff Joe Arpaio has just started blasting Obama with the full force, so now Team Trump, Larry Klaymann and Orly Taitz and us all will have to sue Obama together for stealing our lives by his forged birth certificate. Follow me in revealing the Antichrist Obama and his forged birth certificate which proves his High Treason.