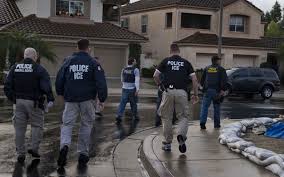 Illegal Immigrants Learning to Defy Federal Authorities
HOW MUCH LONGER IS THE REPUBLIC GOING TO ALLOW THIS TREASON AND SEDITION AGAINST THE NATION TO CONTINUE?
Activist groups in New York City and other major immigration hot spots are holding training sessions to teach illegal immigrants what to do if federal authorities come knocking.
In the sessions non-citizens are being told not to open the door to U.S. Immigration and Customs Enforcement officials, not to cooperate if taken into custody, and not to sign any documents without consulting with a lawyer.
Trainings are scheduled for areas like El Paso, Texas and New Mexico in the coming days.
The organizers of these "Know Your Rights" events say it's important for illegal immigrants to know what they can do to push back against the Trump administration's attempts to enforce the law. They want to let illegals know that unless the U.S. government can prove that they are here without documentation, they can't deport them back to their home countries.
From the Associated Press: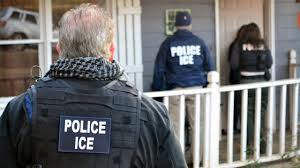 At a training session Tuesday in Queens, a little more than two dozen people sat in a room listening to Yaritza Mendez, an outreach coordinator at the pro-immigrant advocacy group Make the Road New York. She spoke about various ways ICE agents can find a person, and what to do if they come knocking.

Even people in the country illegally have constitutional rights, Mendez said, such as not being subjected to unreasonable searches and seizures, not answering questions and not signing any documents without speaking with an attorney.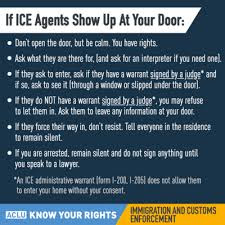 Hmm, so it seems that if ICE agents are having a difficult time finding illegal immigrants, they could…you know…just show up to one of these events and wait for people to emerge. Get the bus ready!
There's only so much patience to be had for these activist groups that exist solely to advocate for criminals. Non-citizens. People who flagrantly violated U.S. law and continue to do so every day they remain in the country.
These are the people these groups have dedicated themselves to protecting. Not American citizens or people who have been victimized by criminal foreigners, but people who are – by definition – not even supposed to be in the United States.
We can admit that there are portions of President Trump's agenda that are socially controversial, but we are astounded daily that this is one of them. Where is the controversy? Are we a nation of laws or aren't we? Do we have borders or not? Why is enforcing the law such a dreadful proposition?
We'll never understand.
http://patriotnewsdaily.com/illegal-immigrants-learning-to-defy-federal-authorities/
NESARA- Restore America – Galactic News
Source:
http://nesaranews.blogspot.com/2017/03/people-who-flagrantly-violated-us-law.html