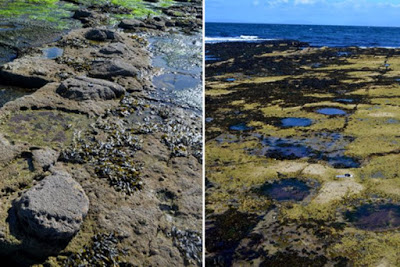 When you think of Scotland, you wouldn't usually think of dinosaurs. Well, there is that one famous one, but we're talking dinosaurs of the prehistoric variety. 170 million years ago it was an entirely different story however. Scotland was just right for dinosaurs to roam, and there were hundreds of large, long necked dinosaurs called sauropods roaming the northern coast of the Isle of Skye. Now we have the footprints to prove it.
Along with heather-filled moors, medieval castles, and ancient archaeological sites, Scotland's famous Isle of Skye can now add a stupendous array of prehistoric dinosaur footprints to its lists of must-sees. Researchers recently discovered the biggest site of its kind ever found in Scotland, NPR reports.

In the Scottish Journal of Geology, researcher Stephen Brusatte and his colleagues explain that 170 million years ago, long-necked dinosaurs called sauropods roamed the Isle of Skye's northern coast. (Scotland was much warmer then and covered by shallow seas, lagoons, and large rivers.) The large animals weighed 15 to 20 tons, and their footprints left hundreds of large depressions in a rocky swath of coast near the Atlantic. The prints were discovered by Brusatte and a colleague, who were fossil hunting and soon realized that hundreds of sunken pits zig-zagging across the rocks were the tracks of an ambling prehistoric beast. Scientific American writes that the two returned when the tide was low, and measured the footprints—one of which was 2.3 feet wide.
Source, click here.
Thanks http://bigfootevidence.blogspot.com/
Check out more contributions by Jeffery Pritchett ranging from UFO to Bigfoot to Paranormal to Prophecy