(N.Morgan) This is one of those amazing stories filled with compassion and love. In Elberton, Georgia Dr. Andy Mathis, a veterinarian was about to leave the hospital for the night. However at closing time, a woman called about a starving dog she found on a county dirt road. Dr. Mathis told her to bring the dog in so he could take a look at her.
The woman who called appeared at Granite Hills Animal Care with a gray pit bull in horrible condition. This dog was emaciated, anemic, hypothermic, and was suffering from a severe vaginal prolapse. Dr. Mathis wasn't sure if she would survive, so he turned to his fellow animal lovers on Facebook for help and support.
"So I had 2 choices," Dr. Mathis wrote on Facebook. "I can put her to sleep. Or try to save her. So I asked the universe … also known as Facebook … and the universe said 'Try.' The universe even named her as they said, 'we hate the thought that any pet gets sent to rainbow bridge or passes away without a name,' so they christened her Graycie Clair. Spelled with a Y for her gray coloring."
In the touching video below, Dr. Mathis sits down with Graycie inside her kennel to encourage her to eat breakfast. At this point, Graycie was already making drastic improvements and beginning to gain weight, but has serious trust issues. Dr. Mathis treats this dog with such kindness and respect, showing her that it's okay to dig in and enjoy her meal. He even takes his own breakfast into the kennel with him, eating out of a metal dog bowl to show her that they're equals.
Watch how Graycie reacts to her savior's incredible gesture. Will she eat her breakfast with him?
Watch This Animal Vet Sit in a Cage to Comfort Abandoned Dog
Little Graycie the pit bull was found abandoned on a dirt road. Starving, hypothermic, and suffering from a vaginal prolapse, Graycie fell into the hands of Dr. Andy Mathis in Elberton, Georgia
Dr. Mathis knew he had two choices — he could either put her to sleep or try to save her. Though the odds were stacked against her, he chose the latter.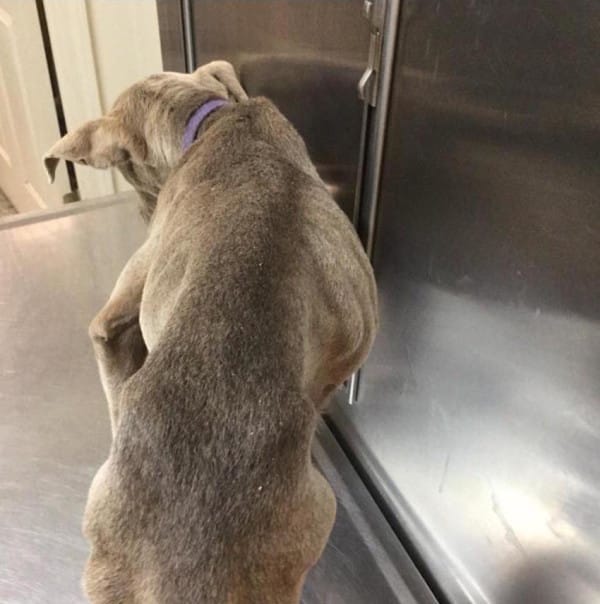 Graycie improved day by day. She began gaining weight and eating better. She became more alert and her gums returned to normal color. Graycie truly is a miracle.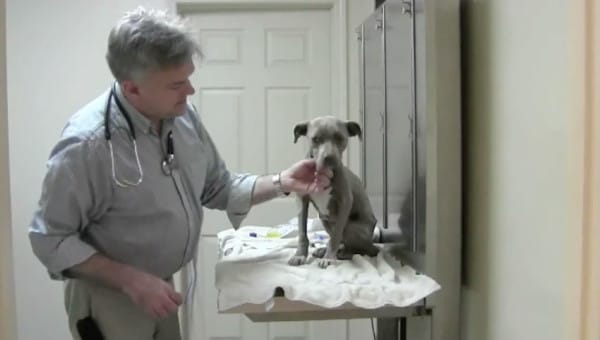 She needs more time to heal physically and emotionally, but Dr. Mathis looks forward to the day Graycie is ready to be adopted into a forever home. In the meantime, she's in wonderful hands.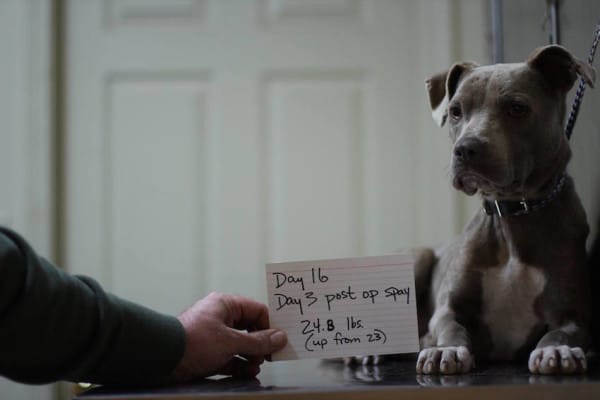 Thank you Dr. Mathis for teaching us all that even when the odds aren't in your favor not don't give up. This little girl will one day be loved by her forever family, thanks to your determination and compassion.
References:
http://www.littlethings.com/graycie-eats-lunch/