Story Views


Now:
Last Hour:
Last 24 Hours:
Total:
Would You Jump Off a 300 Foot Cliff If Your Dad Said Do It? These Crazy Chicks Will
Saturday, March 11, 2017 16:17
% of readers think this story is Fact. Add your two cents.

Before they have the wing span to actually permit them to fly, young guillemots (also known as murres) leap hundreds of metres off towering cliffs and flutter down towards the sea, guided by their fathers. Scientists have long wondered why these tiny chicks make this remarkable leap, hoping to avoid the rocks below them, in what seems an unlikely survival strategy for a species.
It had earlier been suggested that murre offspring headed off to sea once the chicks reached about one-quarter of their adult size and were large enough to defend themselves from potential predators and too large to be fed at the colony. So that this seemingly death-defying behaviour could be better understood as being, in some ways, a tradeoff between the safety offered in the colony and fast growth rates at sea, where more food is available.
This is a father and his offspring contemplating the leap off high cliffs at Saunders, Greenland.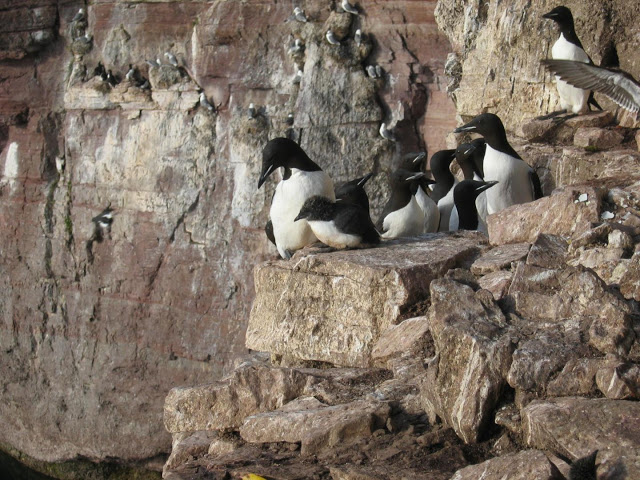 Credit: Knud Falk
But after tracking the behaviour of murre fathers and their offspring for six weeks in murre colonies in some of the most remote locations on the globe, in Nunavut, Greenland, and islands off Newfoundland, scientists have discovered that mortality rates were similar between chicks at sea and in the colonies.
Moreover, the team which was made up of researchers from McGill and Memorial Universities in Canada and Aarhus and Lund Universities in Denmark and Sweden discovered that chicks at sea grew at roughly twice the speed of those at the colony, because the murre fathers no longer needed to fly back and forth to the colony to feed them.
Just after the jump — a father who lost his offspring during the leap off the cliffs followed by another father whose chick survived the descent.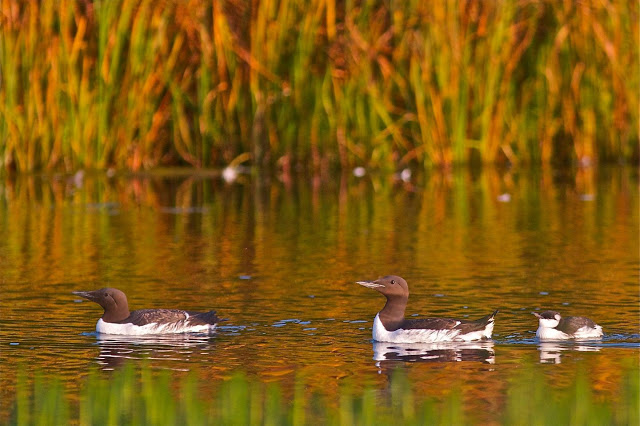 Credit: Kyle Elliott
The dads work hard while the mothers stay home and party
Unusually among animals, after three weeks of care by both parents, it is the father who then spends 5 to 7 weeks rearing the offspring by himself on the high seas. Meanwhile, the mother spends her time partying back at the colony, copulating with paramours to choose a potential suitor should her mate not return the next year. The study documented the hard work done by the father. The team recorded males spending up to six hours underwater each day to feed the chick, while the female spent only one to two hours underwater each day.
Credit: Kyle Elliott
"The Arctic summer is short", says Elliott, who teaches in McGill University's Department of Natural Resource Sciences. "The mother must produce an egg quickly. Murres have the highest flight costs of any animal, and the female works hard at the front end flying back-and-forth to the colony, leaving her exhausted by mid-summer. Nonetheless, we were astonished to see how hard the father worked through late summer, spending virtually every daylight hour diving to feed the chick."
Making sense of a death-defying leap
"Once you know that there are both higher growth rates for the chicks at sea, and similar survival rates compared with life in the colony, it then makes sense to see this seemingly death-defying leap as a win-win strategy when it comes to survival," says Kyle Elliott, the lead author on a paper on the subject that was published online March 8 in The American Naturalist. Elliott teaches in McGill University's Department of Natural Resource Sciences. "We would never have been able to discover this without using the kind of state-of-the-art recorders that are now available and provide a glimpse into the life of murres on the high seas."
Contacts and sources:
Chris Chipello
Source: