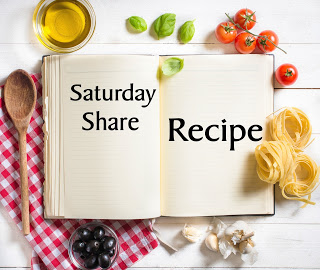 I hope you don't mind if I give another casserole recipe for today's Saturday Recipe Share, but, face it, a casserole is the easiest and tastiest way to have dinner on the table in a flash.
Even on weekends, I want to spend as little time as possible in the kitchen because there's always work to catch up on.
If I blow that off, then there are books I want to read–and my garden calling me. Working in my garden is not only pleasure but also stress relief.
So casseroles are always my go-to recipes to feed the family. Today I'm sharing Tex Mex Green Chile Corn, another family recipe.
Ingredients
1/4 cup butter
1/2 cup finely chopped onion
1 clove minced garlic, use 2 if you like a strong garlic flavor
1 cup sour cream
1 egg, beaten
2 11-ounce cans Mexi-Corn, drained
1 16-ounce cream corn
12 ounces canned diced green chiles, liquid too
1 cup grated cheddar or mixed cheddar and Jack cheese
1 cup grated cheddar or mixed cheeses, saved to top the baked dish
9 ounces of Aunt Jemima Cornmeal Mix
Directions
Melt butter, add onion, and cook until soft and translucent. Add the minced garlic and cook 2-3 more minutes. Do not let it brown because that makes the garlic taste bitter.
Set aside to cool to room temperature.
Now, preheat oven to 350 and prepare a 2 1/2 quart baking dish.
In a large mixing bowl, combine: cooked onion mixture, sour cream, the egg, the drained corn and creamed corn, green chiles, and 1 cup of the grated cheese. Mix together.
Add the cornmeal mix and stir until moistened.
Pour into prepared baking dish.
Bake for 45 minutes.
Remove from oven and top with the remaining 1 cup of cheese.
Return to oven for another 15 minutes or until the top is golden brown.
This is delicious as is or served with your favorite salsa. Ours is Pace Picante.
Bonus Recipe: A Planned Over
Planned Over is what I call using leftovers to create a new dish. If there is any of the casserole left, here's how to use it to create a new dish with the same flavor profile.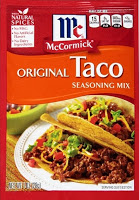 Brown a pound of ground beef. Add 1 package of Taco Seasoning Mix and follow the instructions on the packet. Blend well.
If you don't happen to have a packet of that seasoning, just make your own using ingredients from your spice cabinet.
Use 2 tablespoons of the homemade mixture and 1/3 cup of water.
(The packet instructions call for more water because the packet has corn flour in it which needs the additional water to thicken up.)
Homemade Taco Seasoning
Place either a square or scoop (depends on what kind of dish you baked in) of the Green Chile Corn Casserole in a bowl and microwave till heated through.
Ladle the meat mixture over the bread. Top with whatever taco additions you like, i.e., sour cream, picante, avocado, etc.
Takeaway Truth
There you have it. A way to have 2 entrees from 1 dish. Bon appetit!