Francis: No Catholic Mass available? Just go to the Anglicans!
NOTE: Not an endorsement for sedevacantism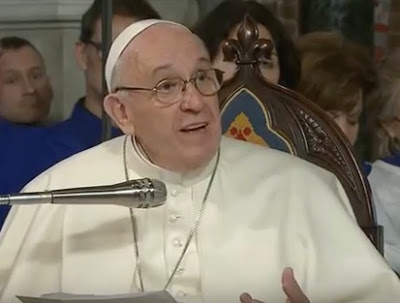 Every day we are being drowned in news about "Pope" Francis and the Vatican machinery. The incessant flood of information is becoming increasingly difficult for everyone to process, which means it is easy for stories to get missed.
Such was apparently the case with a real bombshell Francis dropped on February 26, 2017 while visiting an Anglican parish church in Rome. Virtually everyone seems to have missed it. What happened? During a Q&A session in which Francis was answering people's questions off the cuff, he related an anecdote about ecumenical practice with Anglicans in his homeland of Argentina.
Have a look at what Francis said, and don't forget to close your mouth afterwards:

And then, there is my experience. I was very friendly with the Anglicans at Buenos Aires, because the back of the parish of Merced was connected with the Anglican Cathedral. I was very friendly with Bishop Gregory Venables, very friendly. But there's another experience: In the north of Argentina there are the Anglican missions with the aborigines, and the Anglican Bishop and the Catholic Bishop there work together and teach. And when people can't go on Sunday to the Catholic celebration they go to the Anglican, and the Anglicans go to the Catholic, because they don't want to spend Sunday without a celebration; and they work together. And here [at the Vatican], the Congregation for the Doctrine of the Faith knows this. And they engage in charity together. And the two Bishops are friends and the two communities are friends.
I think this is a richness [treasure] that our young Churches can bring to Europe and to the Churches that have a great tradition. And they give to us the solidity of a very, very well cared for and very thought out tradition. It's true, — ecumenism in young Churches is easier. It's true. But I believe that – and I return to the second question – ecumenism is perhaps more solid in theological research in a more mature Church, older in research, in the study of history, of Theology, of the Liturgy, as the Church in Europe is. And I think it would do us good, to both Churches: from here, from Europe to send some seminarians to have pastoral experience in the young Churches, so much is learned. We know [that] they come, from the young Churches, to study at Rome, at least the Catholics [do]. But to send them to see, to learn from the young Churches would be a great richness in the sense you said. Ecumenism is easier there, it's easier, something that does not mean [it's] more superficial, no, no, it's not superficial. They don't negotiate the faith and [their] identity. In the north of Argentina, an aborigine says to you: "I'm Anglican." But the bishop is not here, the Pastor is not here, the Reverend is not here . . . "I want to praise God on Sunday and so I go to the Catholic Cathedral," and vice versa. They are riches of the young Churches. I don't know, this is what comes to me to say to you.
("Pope's Q & A at Anglican All Saints Church", Zenit, Feb. 27, 2017; underlining added. Original Italian at Vatican web site here.)
Wow. Anglicans worship with "Catholics" and "Catholics" with Anglicans because they "want a celebration", as though sacred worship were about them and not about God primarily. (To see what God thinks of unauthorized worship, even if not heretical, have a look at the demise of Core in Numbers 16; cf. Jude 11.)
Does Francis condemn this practice? Does he denounce it as offensive to God, dangerous, and favoring the heresy of indifferentism? Of course not. No, it is clear from the words, the context, and the absence of a condemnation that he is effectively endorsing it, using it as an example of ecumenically "working together", which he calls a "richness" (or "treasure") that churches in Latin America can give to Europe! The man is an indifferentist and a Modernist through and through. This should make it even more clear now why Francis couldn't have had the slightest bit of a problem with the Anglican evensong service that was recently performed in the Vatican's St. Peter's Basilica.
For those who cannot believe Francis actually said this, we invite you to watch the video recording, and you will see Francis saying exactly this (in Italian, of course). The anecdote starts at the 1:27:57 mark:

And then, there is my experience. I was very friendly with the Anglicans at Buenos Aires, because the back of the parish of Merced was connected with the Anglican Cathedral. I was very friendly with Bishop Gregory Venables, very friendly. But there's another experience: In the north of Argentina there are the Anglican missions with the aborigines, and the Anglican Bishop and the Catholic Bishop there work together and teach. And when people can't go on Sunday to the Catholic celebration they go to the Anglican, and the Anglicans go to the Catholic, because they don't want to spend Sunday without a celebration; and they work together. And here [at the Vatican], the Congregation for the Doctrine of the Faith knows this. And they engage in charity together. And the two Bishops are friends and the two communities are friends.
I think this is a richness [treasure] that our young Churches can bring to Europe and to the Churches that have a great tradition. And they give to us the solidity of a very, very well cared for and very thought out tradition. It's true, — ecumenism in young Churches is easier. It's true. But I believe that – and I return to the second question – ecumenism is perhaps more solid in theological research in a more mature Church, older in research, in the study of history, of Theology, of the Liturgy, as the Church in Europe is. And I think it would do us good, to both Churches: from here, from Europe to send some seminarians to have pastoral experience in the young Churches, so much is learned. We know [that] they come, from the young Churches, to study at Rome, at least the Catholics [do]. But to send them to see, to learn from the young Churches would be a great richness in the sense you said. Ecumenism is easier there, it's easier, something that does not mean [it's] more superficial, no, no, it's not superficial. They don't negotiate the faith and [their] identity. In the north of Argentina, an aborigine says to you: "I'm Anglican." But the bishop is not here, the Pastor is not here, the Reverend is not here . . . "I want to praise God on Sunday and so I go to the Catholic Cathedral," and vice versa. They are riches of the young Churches. I don't know, this is what comes to me to say to you.
("Pope's Q & A at Anglican All Saints Church", Zenit, Feb. 27, 2017; underlining added. Original Italian at Vatican web site here.)
Wow. Anglicans worship with "Catholics" and "Catholics" with Anglicans because they "want a celebration", as though sacred worship were about them and not about God primarily. (To see what God thinks of unauthorized worship, even if not heretical, have a look at the demise of Core in Numbers 16; cf. Jude 11.)
Does Francis condemn this practice? Does he denounce it as offensive to God, dangerous, and favoring the heresy of indifferentism? Of course not. No, it is clear from the words, the context, and the absence of a condemnation that he is effectively endorsing it, using it as an example of ecumenically "working together", which he calls a "richness" (or "treasure") that churches in Latin America can give to Europe! The man is an indifferentist and a Modernist through and through. This should make it even more clear now why Francis couldn't have had the slightest bit of a problem with the Anglican evensong service that was recently performed in the Vatican's St. Peter's Basilica.
For those who cannot believe Francis actually said this, we invite you to watch the video recording, and you will see Francis saying exactly this (in Italian, of course). The anecdote starts at the 1:27:57 mark: