Television: An Occasion of Sin?
Pope Pius XII: Encyclical Miranda Prorsus,
(Sept. 8, 1957)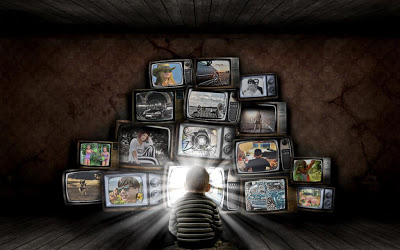 "A child came to confession one day and accused himself of having serious temptations against the angelical virtue, perhaps even of having given in, by thoughts and, who knows, maybe in actions.
However, the priest sought the cause of such a misfortune: "So, do you have television at home?" he asked. The child had to admit it and that he did watch the cursed box, sometimes behind his parents' back, sometimes with them, as a family, and that was the cause of his temptations.
The priest gave the unfortunate and sorrowful child the holy absolution, but could he give it to his parents?

Dear Christian parents, are you CONSCIOUS of your terrible responsibility? Do you realize that due to the weakness of accepting and of keeping at home that tool, a source of corruption of minds and souls, you are the cause of unsuspected damages to innocent souls? Because of your cowardice, souls, tender and pure, are stained by the infamous sin? These children will stand up at the last judgment and will accuse you of having been the cause of their damnation….
Let us remember the Saviour's grave words: "He that shall scandalise one of these little ones that believe in me, it were better for him that a millstone should be hanged about his neck and that he should be drowned in the depth of the sea" (Matt.XVIII,6).
Do you understand, by this sad example, what is an occasion of sin? Our catechism teaches us that we must avoid not only sin, but also the occasion of sin and that it is as grievous to put ourselves (or to put others) in the occasion of sin as it is to commit the sin itself, when we know by experience that we will fall into that sin. (…).
Let us suppress courageously all the occasions of sin for ourselves and for those under our care. Let us determine at this time to get rid of the dirty box. Give it back to your dealer and let there be no more mention of it. Instead, you should re-establish the nice family oratory, you should enthrone the statue of the Sacred Heart of Jesus and that of Our Blessed Lady. And long live Jesus Who will have freed you from a nasty slavery!" – By a Catholic Bishop
Examination of conscience for Catholic Parents:
Have you voluntarily exposed yourself to the occasion of sin by sinful curiosity, by watching impure movies, or indecent plays or videos?
Have you listened with willful pleasure to immodest language on TV?
Have you harmed anyone's soul by giving scandal, destroying this soul by bad example?
Have you, by your wicked words, deeds or bad example, ruined innocent children?
Have you exposed your children to impure temptations resulting from watching TV?
Have you kept a TV in your home knowing it is an occasion of sin for you and your children?
Have you allowed your children to watch TV, especially without your knowledge and consent?
Importance and Power of Motion Pictures:
As long ago as 1936, Pope Pius XI, warned of the dangers of the cinema. "It admits of no discussion that the motion picture has achieved these last years a position of universal importance among modern means of diversion. There is no need to point out the fact that millions of people go to the motion pictures every day; that motion picture theatres are being viewed in ever increasing number in civilized and semi-civilized countries; that the motion picture has become the most popular form of diversion which is offered for the leisure moment not only of the rich but of all classes of society.
At the same time, there does not exist today a means of influencing the masses more potent than the cinema. The reason for this is to be sought in the very nature of the motion pictures projected upon the screen, in their popularity and in the circumstances which accompany them.
The power of the motion picture consists in this, that it speaks by means of vivid and concrete imagery which the mind takes in with enjoyment and without fatigue. Even the crudest and most primitive minds which have neither the capacity nor the desire to make the efforts necessary for abstraction or deductive reasoning are captivated by the cinema. In place of the effort which reading or listening demands, there is the continued pleasure of a succession of concrete and, so to speak, living pictures.
(…) Since then the cinema, being like the school of life itself, which, for good or for evil, teaches the majority of men more effectively than abstract reasoning, it must be elevated to conformity with the aims of a Christian conscience and saved from depraving and demoralizing effects.
Everyone knows what damage is done to the soul by bad motion pictures. They are occasions of sin; they seduce young people along the ways of evil by glorifying the passions; they show life under a false light; they cloud ideals; they destroy pure love, respect for marriage, affection for the family. They are capable also of creating prejudices among individuals and misunderstandings among nations, among social classes, among entire races.
The motion picture is viewed by people who are seated in a dark theatre and whose faculties, mental, physical and often spiritual, are relaxed. One does not need to go far in search of these theatres: they are close to the home, to the Church and to the school and they thus bring the cinema into the very centre of popular life.
Moreover, the acting out of the plot is done by men and women selected for their artistic ability and for all those natural gifts and the employment of those expedients which can become, for youth particularly, instruments of seduction. Further, the motion picture has enlisted in its service luxurious appointments, pleasing music, the vigour of realism, every form of whim and fancy. For this very reason, it attracts and fascinates particularly the young, the adolescent and even the child. Thus at the very age when the moral sense is being formed and when the notions and sentiments of justice and rectitude, of duty and obligation and of ideals of life are being developed, the motion picture with its direct propaganda assumes a position of commanding influence.
It is unfortunate that, in the present state of affairs, this influence is frequently exerted for evil. So much so that when one thinks of the havoc wrought in the souls of youth and of childhood, of the loss of innocence so often suffered in the motion picture theatres, there comes to mind the terrible condemnation pronounced by Our Lord upon the corruptors of little ones: