The Malice of Mortal Sin
http://tradcatknight.blogspot.com/2017/03/the-malice-of-mortal-sin-by-st-anthony.html
by St. Anthony Mary Claret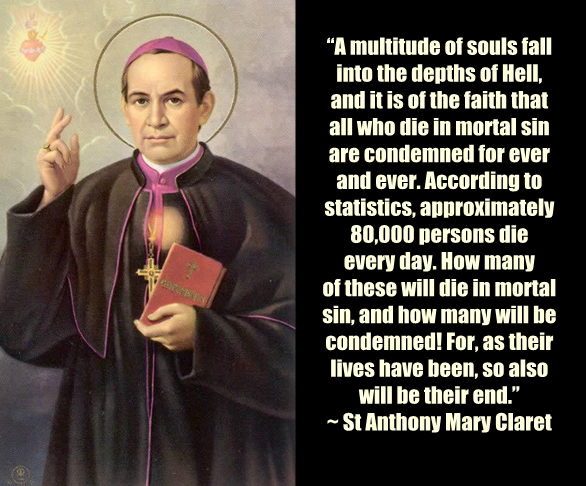 This meditation 5 is taken from The Golden Key to Heaven, an explanation of the Spiritual Exercises of St. Ignatius. Golden Key is available from The Fatima Crusader Book Service.
First Prelude
—Composition of Place —
Imagine you see God seated on a throne of majesty and grandeur as Judge, and yourself, guilty sinner that you are, with hands bound standing before the Judge, and an account concerning yourself is read of all the sins that you have committed in the whole course of your life, with all the circumstances of places and persons, with mention of your state in life and your age at the time. You cannot excuse yourself nor deny anything.
Prayer of Petition — My God and Lord, I beg that I may know the number and gravity of my sins, and may be sorry and repentant for having committed them.
First Point
The text of Saint Ignatius:
"… Recall to mind … the particular sin of any person who went to hell because of one mortal sin. Consider also the countless others who have gone to hell for fewer sins than I have committed … We speak of this as the third particular sin (the first being of Lucifer, the second of Adam and Eve).
"Call to mind the grievousness and malice of sin against our Creator and Lord. Let the understanding consider how in sinning and acting against Infinite Goodness, one has justly been condemned forever. End this reflection with acts of the will, as we said above …
"I shall call to mind all the sins of my lifetime, considering them year by year, period by period. Three things will help me to do this: first, I will recall the place and home where I live; secondly, the associations I have had with others; thirdly, the positions I filled.
"The second point is to weigh my sins, considering the loathsomeness and malice which each mortal sin committed has within itself, even if it were not forbidden.
"Next, consider who I am … Let me see myself as a sore and an abscess from which there have come forth so many sins, so many evils and very vile poison.
"… Next consider who is God, against Whom I have sinned, recalling His attributes and comparing them to their contraries in me."
Explanation
(1) In the very moment in which sin is committed, the soul, from being a likeness of God, becomes transformed into a very horrible monster. It is not possible for a man to comprehend the wonderful beauty with which a soul which enjoys God's grace, is adorned. When in that state it is a portrait and a copy of the Divine Beauty. For its formation, nothing less is required than Infinite Wisdom and Power.
One day, when God had enabled her to see this beauty, a great saint, Teresa of Avila, declared that she would gladly give a thousand lives and suffer a thousand deaths, to preserve the beauty of a single such soul. But just as grace makes a soul lovely, sin makes it ugly. A soul in sin and a condemned spirit are quite equal in ugliness. Just as a man could not see a demon in any vision that would fairly represent it, without dying of fright, neither could he see a soul that is in sin without dying of terror.
(2) In the moment in which sin is committed, a soul becomes extremely repulsive to God. It is not possible for any intelligence in Heaven or on earth to come to a comprehension of how great the abhorrence is, how profound the hatred is, with which God regards sin. Yes, indeed! God hates sin and necessarily abhors it. Just as it is not possible for Him to cease loving Himself as the Supreme Good, likewise it is not possible that He cease hating sin as the supreme evil.
(3) The moment one sins, his soul, from being a child of God, becomes a slave of the devil. The condition of a possessed person moves us to compassion; for he is compelled to make room day and night within his body, for a demon from hell. But much more pitiful is the condition of someone's soul who, by sin, becomes a slave of the devil and is constrained to live under his tyrannical power.
Someone possessed may happen to be a child of God and enjoy His grace, having full confidence that he will succeed in enjoying Him forever in Heaven. But one in sin is God's enemy, is without His grace, and is liable to fall into hell at any time, with the same slave-master accompanying him to torment him there forever.
(4) The moment one sins, his soul falls into the vilest, most deplorable condition. There is nothing more shameful than sin, nothing more blameworthy than the sinner. Imagine, O my soul, that God opened everyone's eyes so that they could look into your heart clearly and see all your vices, all the sins you have committed during your lifetime by thought, word and deed. Oh God! What embarrassment! What shame you would have!
Would you not first seek a hiding place in the grottos and caves of deserts rather than appear before men? Even in the judgment of the same natural right reason, there is nothing more shameful than sin, nor anything more vile than the sinner. Ah! How much you ought to blush before God, in Whose presence you have committed so many sins and before Whose eyes all the hideous things of your life continually lie bare!
Affective Acts
(1) Shame — O my God, how many sins I have committed! There is not a faculty of my soul nor a sense in my body that has not offended Thee. O unfortunate memory! How many unworthy recollections you have fed to yourself! O unhappy mind! How many bad thoughts have you not produced! O wretched will! How many bad desires you have entertained!
O unhappy tongue! How many loose words have you not uttered! O unworthy hands! How many forbidden acts have you not performed! O disorderly heart! How many objects have you not wrongfully loved or wrongfully hated!
O my God, if a single sin arouses in Thee a nausea, a horror and an infinite displeasure, how in Thy sight does my soul appear in which nothing else is seen but sin? Where shall I flee to hide myself and conceal my shameful guilt? O sin! How lovable you seem to one who commits you! How bitter and hateful you are after you have been committed! Truly, if everybody knew me as God does, there would not be a saint in Heaven nor a man on earth who would not look away in greatest horror …
(2) Prayer of Petition — O my God, as I consider my madness I am ashamed and completely horrified. Ah, my God! To whom shall I turn but to Thee, O God of Eternal Goodness and Infinite Mercy! In Thy Pity deign to grant me a sorrow that will penetrate my whole heart and will have power to successfully purify my soul of all uncleanness. I cannot have this sorrow without a special help of Thy grace. Grant it to me, O Lord! And Heaven and earth will have another reason to praise and bless Thy Mercy.
Second Point
The evil of sin is something supreme by reason of the supreme meanness and lowliness of the man who offends God … O my soul, reflect attentively on what you are, and then make your judgment about sin.
(1) You are a creature who possesses, of yourself, nothing good. For, what goodness can a creature possess — a creature which can be called nothingness? A few years ago such a creature was nothing. Now, as to the body, it is a handful of clay. In a little while it will be put in a grave, to change into powdery substance, to serve as food for very disgusting worms, and change back into dust.
Who can have an existence so contemptuous, the low status of which no mind can comprehend, and whose nothingness not even sovereign (angelic) intelligence, not even the Blessed Virgin's intelligence, can fathom and measure? For that is something for God's intelligence alone to do … And yet this handful of dust, this worm of the earth, this wretched creature, has dared to be bold against God and oppose His Will, and its rashness has gone so far as to treat God lightly and say in deeds, if not in words, "Who is the Lord, that He should want me obedient to His voice? I know no master who is superior to myself … "