Story Views


Now:
Last Hour:
Last 24 Hours:
Total:
TradCatKnight; Jesuit Superior: Jesus Was Not 'Black and White' on Man/Woman Marriage
Friday, April 7, 2017 17:05
% of readers think this story is Fact. Add your two cents.

Jesuit Superior:

Jesus Was Not 'Black and White' on Man/Woman Marriage
http://tradcatknight.blogspot.com/2017/04/jesuit-superior-jesus-was-not-black-and.html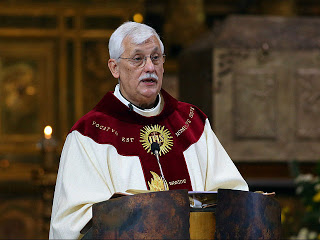 The new superior of the worldwide Jesuit religious order said recently that, as Jesus Christ's words about marriage were never recorded, there is no basis for a "black and white" church doctrine centering on lifelong marriage between one man and one woman.
In a recent interview with Vatican journalist Giuseppe Rusconi of the Italian Catholic blog Rossoporpora, Father Arturo Sosa Abascal states that Jesus's words about marriage must be "contextualized" and "discerned."
"Human reality is much more nuanced" and "never black and white," said Abascal, who was elected superior of the Society of Jesus in October.
LifeSiteNews has published the translation of the interview – which included the topic of remarriage following divorce. Abascal, who is from Venezuela, was asked by Rusconi about Jesus's teaching regarding marriage as provided in the Gospel of Matthew:
He said to them, "Have you not read that He Who made them in the first place made them man and woman? 5 It says, 'For this reason a man will leave his father and his mother and will live with his wife. The two will become one.' 6 So they are no longer two but one. Let no man divide what God has put together."
Rusconi stated to Abascal that the prefect of the congregation for the doctrine of the faith, Cardinal Gerhard Műller, observed the words of Jesus were clear, and that "no power in heaven and on earth, neither an angel nor the pope, neither a council nor a law of the bishops has the faculty to modify them."
"At that time, no one had a recorder to take down his words," the Jesuit superior responded. "What is known is that the words of Jesus must be contextualized, they are expressed in a language, in a specific setting, they are addressed to someone in particular."
Asked whether the words of Jesus, then, have an "absolute value," Abascal replied:
Read more »
TCK: "Black Pope" = Not Catholic
If you enjoy the TradCatKnight blogs, please recommend above as a contributor!
Read more at article link above.