Say What? "Catholic" university supports abortion, suspends prof for calling it murder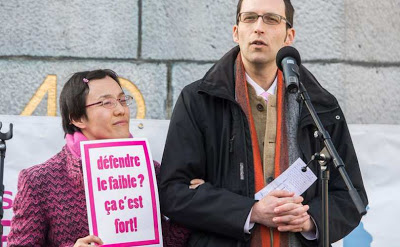 Supporters have launched a petition backing a suspended professor at Belgium's largest Catholic university for statements he made against abortion in material given to students.
Stéphane Mercier, a lecturer in philosophy at the Catholic University of Louvain (UCL), expressed the Catholic Church's official position on abortion, the
petition
says, and renouncing him is "a renunciation of Christian witness in the world."
Mercier distributed the paper to his students during a recent lecture. He challenged the concept of a "right to choose" and referenced abortion as murder in the paper.
"The murder of an innocent person capable of defending himself is revolting," Mercier wrote in the
paper
, "but to attack someone who does not have the strength or the resources to defend himself is even more dreadful."
Mercier
told
the
Catholic Herald
that he simply asked students to "reflect on the arguments by themselves. I said repeatedly that no one should feel forced to agree with me."
He said he was only encouraging the students to consider the issues.
"I did my job," Mercier said, "and I'm now under a disciplinary procedure which really doesn't make any sense to me."
Mercier is suspended from UCL until further notice while the university investigates him.
According to the university website, "UCL authorities decided to initiate disciplinary proceedings against him."
UCL leadership supported a woman's so-called right to choose in its
statement
about the suspension. In Belgium, abortion is legal.
"The UCL recalls that, in the spirit of the Act decriminalizing abortion voted in 1990, it respects the autonomy of women to make this choice, in the circumstances specified by the legislator," it stated.
A feminist group, Synergie Wallonie, had complained to university officials about Mercier's material.
An
earlier statement
from the Catholic institution said: "Whatever the outcome of the inquiry, the right to abortion is enshrined in Belgian law and the note that was brought to the attention of UCL is at odds with the values upheld by the university. Conveying standpoints that contradict these values in the framework of a teaching course is unacceptable."
Mercier noted that Catholic bishops serve on the university's board.
If you enjoy the TradCatKnight blogs, please recommend above as a contributor!
Read more at article link above.