"That Poppy" : The YouTube Star Under Illuminati Mind Control
Warning: Sensitive Material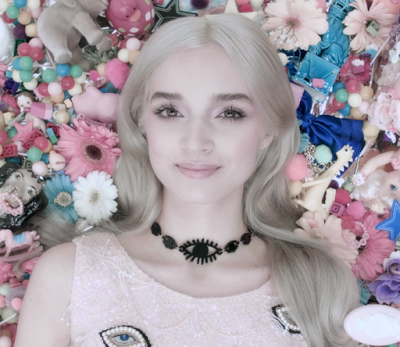 The YouTube channel of an artist named That Poppy has been mystifying viewers for years. Behind the weirdness of her videos is a disturbing story: The mind control of a young pop star.
After receiving several e-mails requesting to check out That Poppy, I sat down and went through the 70+ videos on her YouTube channel. The experience was, to say the least, perplexing. Spending more than a few minutes watching this girl speaking in a childish and robotic tone, repeating specific words and phrases, quickly leads to thoughts such as: "What am I doing with my life?" and "I really should be doing something else right now".
If you enjoy the TradCatKnight blogs, please recommend above as a contributor!
Read more and watch related video at article link above.
But That Poppy is not a random YouTube personality who is simply being "random". She's an actual musical artist signed to Island Records (owned by Universal). Her singles Lowlife and Money were heavily promoted by the label and obtained significant radio and TV airplay.
While her official VEVO channel contains the few music videos she released on Island Records, That Poppy also stars in a separate YouTube channel where bizarre, absurdist videos are uploaded on a regular basis. For example, this video is That Poppy repeating "I'm Poppy" for over 4 minutes.
Many of these shorts videos appear to satirize YouTube stars who babble about inane things, beg for "likes, comments, and subscribers" and use their fame to sell their products. But, as the videos progress, themes associated with Monarch mind control and the satanic occult elite begin surfacing. Through subtle clues peppered throughout her videos, we see That Poppy being introduced to the dark side of the industry … and humanity being sucked out of her. Her robotic voice and the constant repeating of specific keywords are reminiscent of neuro-linguistic programming (NLP) practices, causing YouTube viewers to instinctively ask "Am I being brainwashed by That Poppy?".
What makes these video even more disturbing is that they are getting darker as That Poppy – the musical artist – is going deeper into the industry.
Let's look at the most important themes of the video – which happen to be the entertainment industry's favorite themes. Of course, I will not go through all 70 videos because that would be INSANE … Kind of like making a 30-minute video of a girl playing a tiny xylophone.
Mind Control
In her early videos, That Poppy was somewhat 'human', expressive, and talked about music and being an artist. Then hints to Monarch mind control appear in her videos and things get darker.
In My Phone is Not Plugged In, That Poppy talks into a phone that is clearly not plugged in, a classic symbol in Monarch Mind Control representing a slave controlled by a handler.
"Hello, my phone is not plugged in".
Poppy then says:
"I need to be a new person. I need to change my clothes".
This is a reference to the ultimate goal of Monarch programming: Creating a new alter persona controlled by a handler.
In the video 3:36, That Poppy obsesses about the number 3:36.
That Poppy looks at her watch and keeps repeating "It's 3:36" and "3+6=6". She was programmed to react to that number. It will become more relevant later on.
In Am I OK?, That Poppy alludes again to the process of creating an MK ULTRA alter. She says:
"Do you ever wish you could just restart? What if you could reboot yourself like a computer?"
The video ends with her saying:
"I believe that everything's gonna be OK"
Then her nose starts bleeding.
Her nosebleed hints to the fact that NOTHING is OK and that she is being programmed to repeat phrases like "Everything's gonna be OK" and "Don't worry about it".
In They Have Taken Control, things become rather blatant.
Poppy looks completely out of it. She wears a rainbow-themed sweater.
MK slaves are encouraged to go "over the rainbow" to dissociation when they are being programmed. In the background a robotic voice says:
"You will pledge allegieance to Poppy. You will do everything Poppy says".
The video ends with the robot voice saying:
"Prepare yourself for programming sequence 2 … Programming complete".
Of course, the title of that video "They have taken control" explains it all.
The following video, entitled Oh No!, depicts the result of the programming.
If you enjoy the TradCatKnight blogs, please recommend above as a contributor!
Read more and watch related video at article link above.