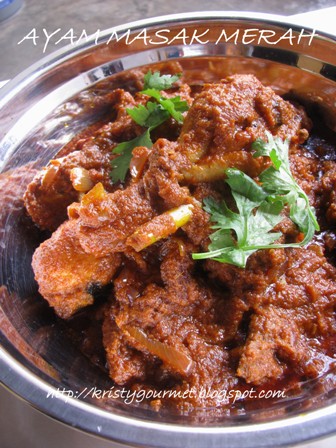 My home cook ayam masak merah or well known as red-cooked chicken, one of the Malaysian traditional dish and also one of my family favourite dish. This is a dish that the chicken is fried then slowly braised in spicy tomato sauce with some fragrant spices. And it is best to serve with Malay yellow rice or white rice with some pickled vegetables. I love especially the gravy.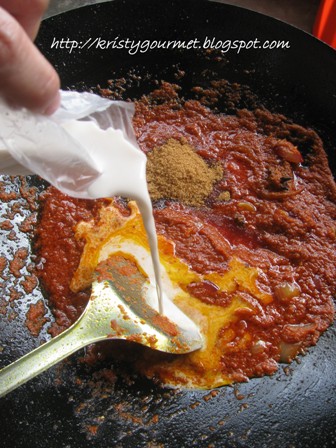 Ingredients :
3 whole chicken thigh, cut into 3 portion each
4 TB turmeric powder
1/2 cup coconut milk
2 TB brown sugar
salt to taste
2 cinnamon sticks
3 star anise
5 cloves
2 stalk lemongrass, roughly smashed
2/3 cup tomato paste
2 large onion, sliced
Ingredients for blended paste :
5 shallots
5 cloves garlic
2 inches ginger root
1 inch galangal / blue ginger
15 dried red chilies, soaked in warm water till soft
(blend everything into electrical grinder to form paste)
Method :
(1) marinade chicken meat with turmeric powder for 20 minutes, then fry till brown & crispy.
(2) preheat wok with 1/2 cup of cooking oil, saute lemongrass, cinnamon stick, star anise, cloves & sliced onion till fragrant.
(3) stir in blended paste & tomato paste and continue saute over medium heat till well mixed.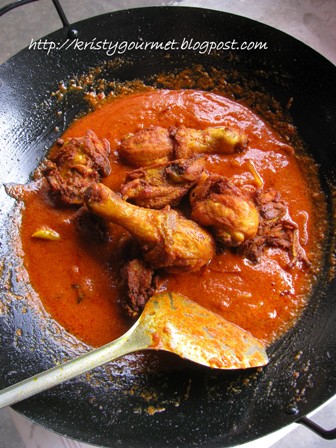 (4) now, add in coconut milk, sugar & salt and mix well. Finally, add in fried chicken and continue cooking or slowly braised over medium heat for about 15-20 minutes till chicken meat became tender.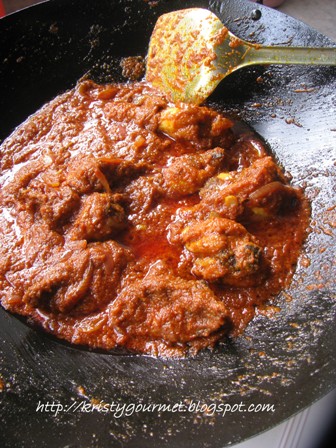 (5) at this stage, the gravy as well became thick and tasty. Taste test the gravy if extra salt need to be added in. Then off the heat and serve warm.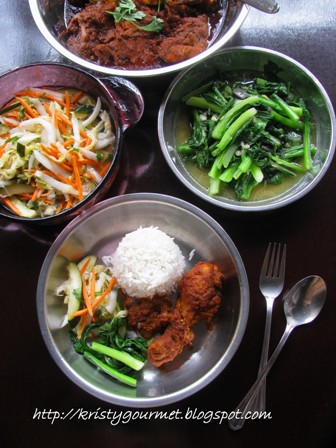 I was in a rush. Not enough time to prepare hard boiled eggs for the menu. Just make it simple by serving the full course meal with pickled napa cabbage, which I prepared one day before and stir fried choy sum (green mustard).
Source:
http://kristygourmet.blogspot.com/2017/03/ayam-masak-merah.html