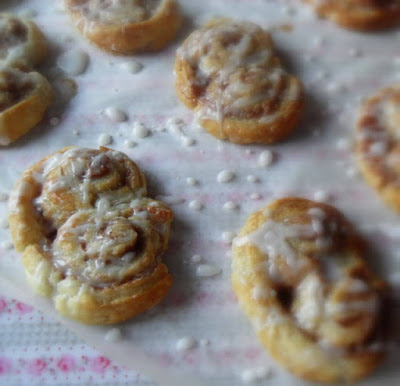 I love puff pastry. Well, I love any pastry actually. I am a pastry afficionado from way back and the butterier and flakier the better! I am a very good pastry maker if I don't say so myself, must be all the years of practice I have had. One thing I don't do however is make my own Puff Pastry from scratch. Call me lazy or whatever. It is very time consuming and the end results are not much better than a good quality all butter puff pastry you can buy in the shops.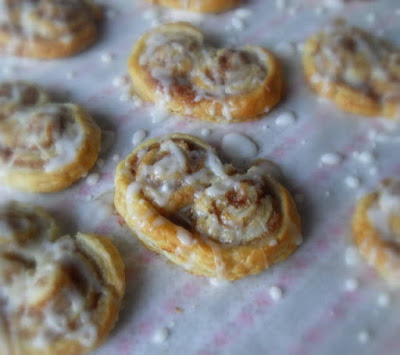 I always, always have it in the freezer and it comes in very handy for all sorts. For topping meat pies, for making spur of the moment danishes, cheese straws, etc, I especially like it for things like these crisp and buttery little Lemon Glazed Cinnamon Scrolls.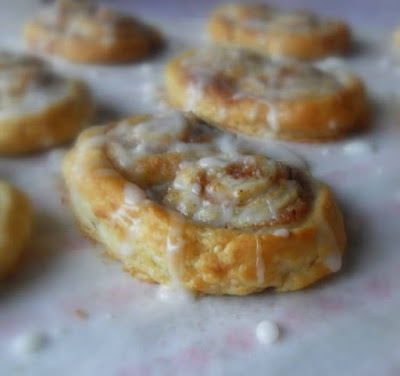 These are perfect little flakey bites . . . stogged full of cinnamon sugar and glazed with butter and demerara sugar before baking, to give it an extra little bit of crunch.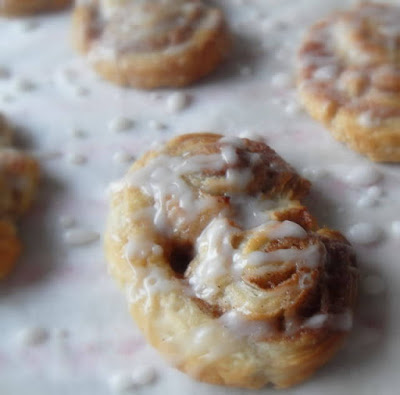 Baked until golden brown . . . and then glazed with a tangy lemon drizzle icing, these would be perfect a hot drink for elevenses . . . or for a special tea with the gals, or even just when you feel like indulging yourself just a tiny little bit.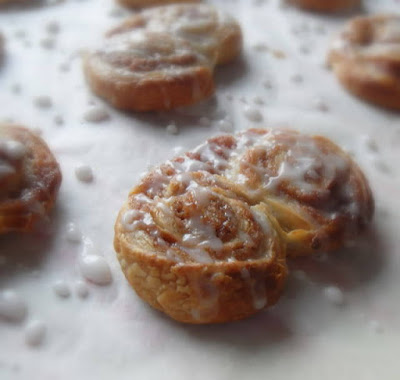 *Lemon Glazed Cinnamon Scrolls*
Makes 12
Perfect little puffed bites, stogged full of cinnamon and glazed with a tangy sweet lemon drizzle. Delicious!
1 package of all butter puff pastry
2 heaped tsp of ground cinnamon
4 TBS of demerara sugar (Turbinado)
2 TBS butter melted
more demerara sugar for sprinkling
For the glaze:
8 TBS of sifted icing sugar
the juice of half a lemon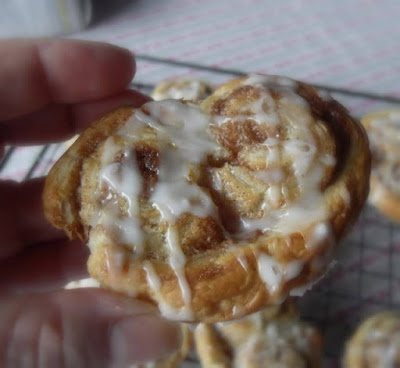 Preheat the oven to 220*C/425*F/ gas mark 7. Line a large baking sheet with parchment. Set aside.
Unroll your puff pastry, leaving it on the liner paper. Combine the cinnamon and sugar. Sprinkle evenly over top of the pastry. Starting at one short end and using the liner paper to help you, roll up tightly as a jelly roll, up to the centre of the pastry. Flip around and then repeat from the other side, again meeting in the middle. Place in the refrigerator to chill for about 15 minutes. Remove from the refrigerator and cut into 12 equal slices. Place evenly spaced and leaving at least 3 inches between each, onto the baking sheet. Flatten slightly with the palm of your hand and brush each with some of the melted butter. Sprinkle with some of the demerara sugar

Bake for 12 to 15 minutes until crisp and golden brown, checking after 12 minutes. Remove from the oven and allow to cool completely.

Whisk together the glaze ingredients until smooth, only adding enough lemon juice to give you a smooth drizzle. Drizzle decoratively over the cinnamon slices. Allow to set before serving. Store in an airtight container.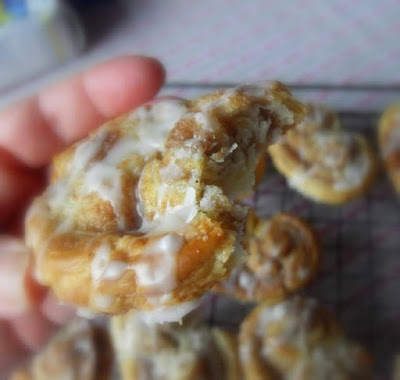 If you can stop yourself from eating more than one of these you are a better man then me Gunga Din! Bon Appetit!
Debunking the myths of English Cookery, one recipe at a time.
The English Kitchen
http://theenglishkitchen.blogspot.com/
Source:
http://theenglishkitchen.blogspot.com/2017/03/lemon-glazed-cinnamon-scrolls.html