from Wolf Street: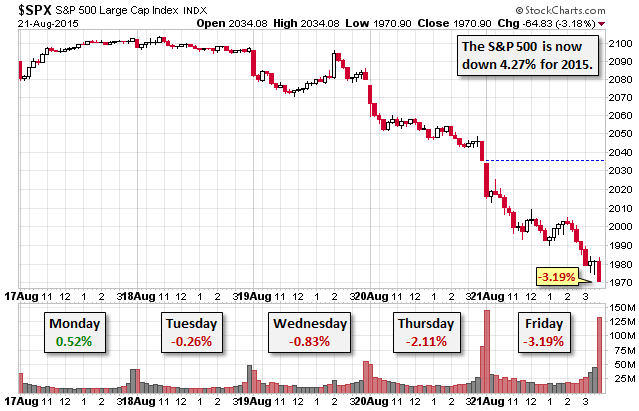 This wasn't supposed to happen. The week was already on a crummy downhill path globally, and emerging-market currencies were blowing up, when on Friday in China the Caixin's Purchasing Manager's Index hit the worst level since March 2009; manufacturing is sinking deeper into the mire.
So the Shanghai stock index plunged 4.3% for the day, and 11.5% for the week, to 3,508, closing at the same level as the bottom of its July rout.
The entire machinery that the Chinese government and the People's Bank of China had set in motion to bail out the markets during the July rout, which had worked for a couple of weeks, has now proven to be useless. And the markets, thought to be controllable by fiat or manipulation, suddenly regained a will of their own.
Other Asian stock markets plunged too: Hong Kong's Hang Seng dropped 1.5% on Friday and 6.6% for the week; it's 5.1% in the hole for the year. The Nikkei fell 3% on Friday and 5.3% for the week.
Europe was next. The German Dax, the British FTSE 100, French CAC 40, the Spanish IBEX 35, the Italian FTSE MIB, they all plunged about 3% for the day and lost between 5% and 6.5% for the week, except for the German Dax which lost nearly 8% for the week. It has now plummeted 18% since its dizzying peak in early April. Easy come, easy go.
Have central banks lost their omnipotence?
That despicable, unpredictable force that central banks were thought to have vanquished – markets with a will of their own – ricocheted in its unruly manner around the world.