Two weeks ago, I told subscribers of my high-priced True Wealth Systems service to bet against oil…
Subscribers are already up double digits. But the fall in oil prices is just beginning…
Why did we bet against oil?
Last month, bullish bets on oil hit their highest level in history. It was the popular trade.
But a popular trade is often a crowded trade – one that's nearing a top. That's because when everyone who wants to buy is already in, no one is left to push prices any higher.
So instead of being fashionable and joining the crowd, whenever I see an extreme like that, I like to do the opposite.
We can see today's sentiment extreme most clearly in the Commitment of Traders (COT) report…
The COT report tells us what futures traders are doing with their money. And it's a fantastic contrarian indicator when it hits extreme levels.
Last month, it showed futures traders were more bullish on oil prices than any other time in history. And prices are down since then.
Bullish bets have come down a bit as well. But as you can see from the blue line on the chart below, folks still haven't given up on oil…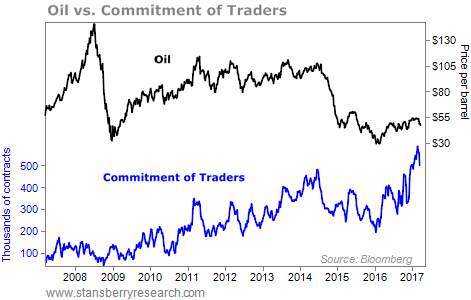 What does this mean going forward? To find out, let's take a look at the last two times traders were this committed to higher oil prices…
Bullish COT bets on oil last peaked in mid-2014. You know what happened next… Oil prices crashed by 50% over the next six months. And they ended up falling 75% to their bottom last year.
Let's look further back…
In 2011, the oil COT broke out to a then-all-time high. Bullish bets peaked just before oil prices did. Oil rose for another two months… then crashed 30% in five months.
In short, it's dangerous to bet on higher oil prices after a bullish extreme in the COT.
Recently, the COT broke out above its 2014 high… It hit a new all-time high in December and has climbed consistently since then.
This is NOT a good sign for oil prices. It tells me that oil is a crowded trade.
It's hard to know exactly how far prices could fall based on sentiment alone. In 2014, similar sentiment led to 75% declines… But in 2011, oil prices "only" fell 30%.
Oil is already down 13% from its recent peak. And I wouldn't be surprised to see oil fall another 15%-20% from here.
That means the smart bet today is still on lower oil prices.
Good investing,
Steve
P.S.
My True Wealth Systems
subscribers are already up double digits in two weeks from betting against oil. I can't give away the exact details of how my readers are profiting today… But I can tell you it's a special way to bet on falling oil prices, with 30%-plus upside. It doesn't require futures, options, or anything like that. And you can make the trade in any brokerage account. You can learn more about
True Wealth Systems
, and how to access this oil trade, by
clicking here
.
Source:
http://www.stansberryresearch.com/dailywealth/3499/the-fall-in-oil-prices-is-only-beginning