by Dr. Susan Berry, Breitbart.com: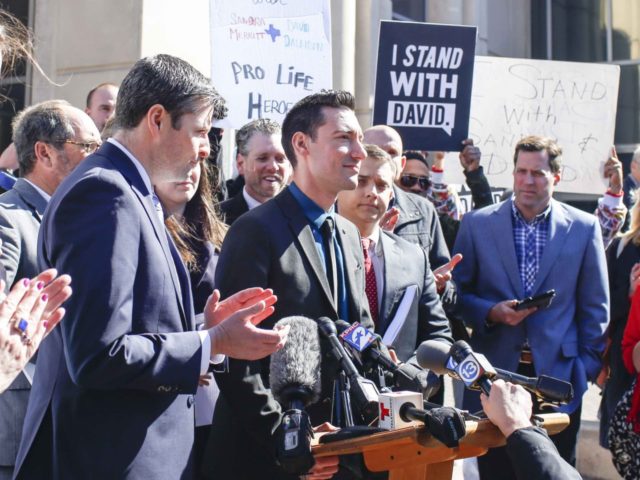 California prosecutors have charged the two undercover journalists who produced videos of Planned Parenthood officials allegedly selling the harvested body parts of aborted babies for a profit with 15 felonies.
The office of state Attorney General Xavier Becerra is alleging that David Daleiden and Sandra Merritt of the Center for Medical Progress (CMP) recorded 14 individuals connected to the abortion and fetal tissue industries in Los Angeles, Pasadena, San Francisco, and El Dorado, without their consent.
The explosive videos of the individuals, allegedly discussing how they obtain the highest quality fetal body parts during abortions in order to maximize sales to biotech companies, rocked the nation and set off multiple congressional investigations into the abortion and fetal tissue procurement industries.
In CMP's most recent video, Planned Parenthood abortionist Dr. DeShawn Taylor allegedly describes to the video journalists how she delivers intact fetuses during late-term abortions. Taylor also explains the difficulties abortionists face when a baby comes through the procedure with signs of life, and complains about the laws in a "conservative" state like Arizona, where she once served as medical director of a Planned Parenthood facility.
"In Arizona, if the fetus comes out with any signs of life, we're supposed to transport it. To the hospital," she says.
When asked if there is "any standard procedure for verifying signs of life?" Taylor responds by saying, "The key is, you need to pay attention to who's in the room, right?"
Becerra, a former Democratic congressman who became attorney general after his predecessor, Kamala Harris was sworn in as a U.S. senator, said his office "will not tolerate the criminal recording of confidential conversations,"
reports
the
Los Angeles Times.
"The right to privacy is a cornerstone of California's constitution, and a right that is foundational in a free democratic society," Becerra added.
Charges brought against Daleiden and Merritt in Harris County, Texas – under suspicion of bias – were ultimately dropped. One of Planned Parenthood's biotech partners – StemExpress – also backed off a lawsuit against the videomakers.
In a statement released on CMP's website, Daleiden said:
The bogus charges from Planned Parenthood's political cronies are fake news. They tried the same collusion with corrupt officials in Houston, TX and failed: both the charges and the DA were thrown out. The public knows the real criminals are Planned Parenthood and their business partners like StemExpress and DV Biologics—currently being prosecuted in California—who have harvested and sold aborted baby body parts for profit for years in direct violation of state and federal law. We look forward to showing the entire world what is on our yet-unreleased video tapes of Planned Parenthood's criminal baby body parts enterprise, in vindication of the First Amendment rights of all.
Though Planned Parenthood has denied any wrongdoing in its alleged sale of body parts, it also announced in October 2015 that it would no longer accept payments for aborted fetal tissue.
The organization and its media and political allies continue to insist the CMP videos were "deceptively edited." However, a Democrat opposition research firm named Fusion – hired by Planned Parenthood itself to review the videos – said while their analysts observed the videos had been edited, "the analysis did not reveal widespread evidence of substantive video manipulation."
Additionally, Fusion noted, "[A]nalysts found no evidence that CMP inserted dialogue not spoken by Planned Parenthood staff."
An analysis by Coalfire, a third-party forensics company hired by Alliance Defending Freedom, found that the videos were "not manipulated" and that they are "authentic."
MUST WATCH RELATED: