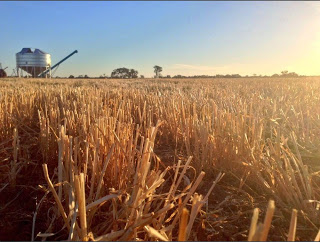 Last night The Pundit went to an enjoyable town hall meeting in which a variety of good folk were discussing the issues raised by recent scientific advances deliberate gene editing on crops (eg CRISPR/Cas9 editing).
(Gene editing means deliberately changing a small number of letters in the genetic code in a predetermined way. )
The hosts for the occasion were very convivial and encouraging of conversation. There was a plentiful supply of cheese and biscuits, a variety of alcoholic beverages and even the Pundit's favourite sparkling mineral water.
Some people are worried about it now becoming far too easy for scientists to deliberately introduce mutations into crops, and even more worrisome if it could be done outside the laboratory environment by amateurs such as horticulturalists.
A big deal was made at the meeting that deliberate gene editing was very definitely "genetic manipulation".
Therefore, the chain of reasoning at the meeting ran, because gene-editing was "genetic manipulation", it must not escape being subject to (onerous) legal GM regulatory requirements. It was implied scientists that say gene-editing is different from "genetic manipulation" were being a bit deceptive.
At the town hall meeting no discussion occurred about whether regulation of new gene editing methods by government could be a bad idea.
Those who were keen about regulation seemed unaware or unconcerned that unjustified and badly constructed regulations might actually do (unintended) harm.
But what most surprised the Pundit was a general lack of appreciation by the presenters at the meeting, supposedly experts on gene technology, that novel mutations occur repeatedly every growth generation in every plant we eat.
Every bit of plant food we eat, irrespective of its source, will contain novel mutations introduced by natural processes (such as cosmic ray induced damage or spontaneous DNA mutation events affecting a few DNA bases).
So by the logic promoted a the meeting, everything we eat is genetically manipulated. The Pundit is not surprised at this implication.
Which brings him to the point of this post ,which is to highlight a recent scientific paper — which the meeting presenters could gain much insight by reading — where the scientific evidence about genetic changes in plants is comprehensively reviewed and summarized by Canadian gene technology regulators: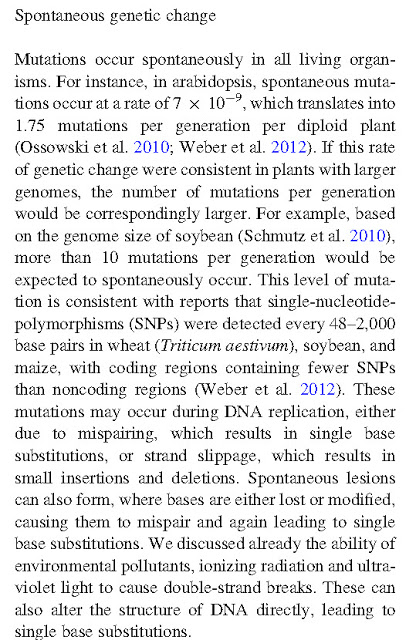 From
A comparative analysis of insertional effects in genetically engineered plants: considerations for pre-market assessments (Review)
Jaimie Schnell • Marina Steele • Jordan Bean • Margaret Neuspiel • Ce´cile Girard • Nataliya Dormann • Cindy Pearson • Annie Savoie •Luc Bourbonnie`re • Philip Macdonald
Transgenic Res (2015) 24:1–17 DOI 10.1007/s11248-014-9843-7

During genetic engineering, DNA is inserted into a plant's genome, and such insertions are often accompanied by the insertion of additional DNA, deletions and/or rearrangements. These genetic changes are collectively known as insertional effects, and they have the potential to give rise to unintended traits in plants. In addition, there are many other genetic changes that occur in plants both spontaneously and as a result of conventional breeding practices. Genetic changes similar to insertional effects occur in plants, namely as a result of the movement of transposable elements, the repair of double-strand breaks by non-homologous end-joining, and the intracellular transfer of organelle DNA. Based on this similarity, insertional effects should present a similar level of risk as these other genetic changes in plants, and it is within the context of these genetic changes that insertional effects must be considered.Increased familiarity with genetic engineering techniques and advances in molecular analysis techniques have provided us with a greater understanding of the nature and impact of genetic changes in plants, and this can be used to refine pre-market assessments of genetically engineered plants and food and feedsderived from genetically engineered plants.
Source:
http://gmopundit.blogspot.com/2017/03/natural-gmos-part-258-every-plant-we.html